Description
BBC Academy Developing Digital Skills Day will have a series of hands-on workshops including a guide to podcasting, making movies on your mobile, tips on creating the best short form content and digital storytelling presented by industry experts.
This day of FREE training from the BBC Academy is for both experienced professionals wanting to brush up on their digital skills and new entrants to digital production.
A ticket gives you access to the day. We will ask you to choose your sessions in the morning and afternoon via the order form when you book (sessions that are struck out are fully booked).
Sessions on the day explore:
BBC Writers Room: Short-Form Storytelling

- Invaluable tips on short form storytelling and writing compelling short drama or comedy for social media

BBC Academy: APPSolutely Amazing Content -

Get hands-on with the latest apps that can enhance your content with animated text and graphics for a professional finish

Google Garage: Build a Digital Marketing Plan -

Learn how to create a bespoke digital marketing plan for your business

BBC Academy: Filming and Editing on your phone -

Learn basic principles of how to use your smartphone to create broadcast quality sound and video

Google Garage: Intro to Digital Advertising -

This session is designed to help small business owners or aspiring digital marketers understand how to use Search, Social and Display advertising using a simple, straightforward approach

Amrit Singh: How to build a Brand using Social Media -

Join Livestreaming influencer and artist Amrit Singh, as he gives you the inside story about building a brand using Twitter, Livestreaming, Facebook and Instagram

Mark Steadman: Murder in Podcastville -

Join Podcaster Mark Steadman founder of Birmingham Podcasting Festival on this journey and find how to create your own podcast

Ting @ The Ting Thing: Blogging Workshop -

Join beauty, fashion and lifestyle blogger Ting from the TingThing and start your blogging journey

Google Garage: Writing for Social Media -

In this session you'll learn how to create content with confidence, across key social platforms while learning how to define your brand and tone of voice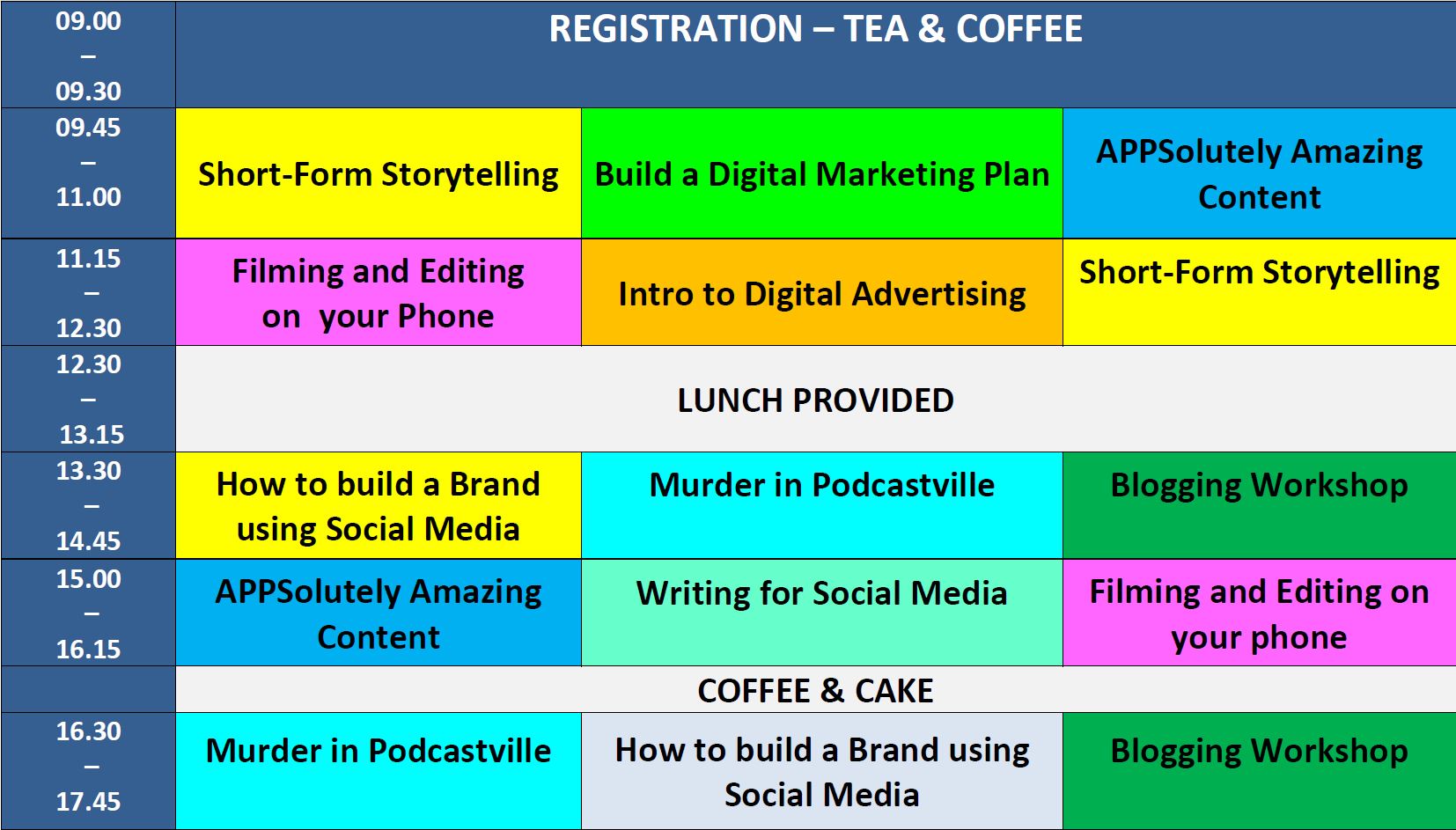 Registration will be from 9.00am. The first session starts promptly at 9.45am.
If you have any access needs please email academy.events@bbc.co.uk - You need to be over 18 to attend this event.