Join Sarah Wood, Sas Bonser, and Billy Clarke, as they give us an insight into the BBC Studios Assistant Producer Accelerator Programme
About this event
Are you a creative Researcher who is passionate about TV and online content? Do you watch every new show and know what is trending? Are you ready to supercharge your career with a 12-month contract and the most amazing training by joining BBC Studios?
Join Sarah Wood - Co-Director, Assistant Producer Accelerator Programme, Sas Bonser - BBC Studios' Talent Exec, NHU, and Billy Clarke - AP on the Assistant Producer Accelerator Programme, as they discuss the BBC's Assistant Producer Accelerator Programme (APAP), followed by time for Q&A with NHU APs who are on the Programme.
This webinar will explore the APAP and how to navigate applying for the position with multiple roles open at BBC Studios across the UK. This opportunity is aimed at experienced members of the wildlife filmmaking industry who want to apply for the programme.
This webinar is FREE for EVERYONE to attend.
Join us on Zoom
You will be sent a Zoom link to the webinar 2 hours before the start time. If the email does not come to your inbox please check your spam folder.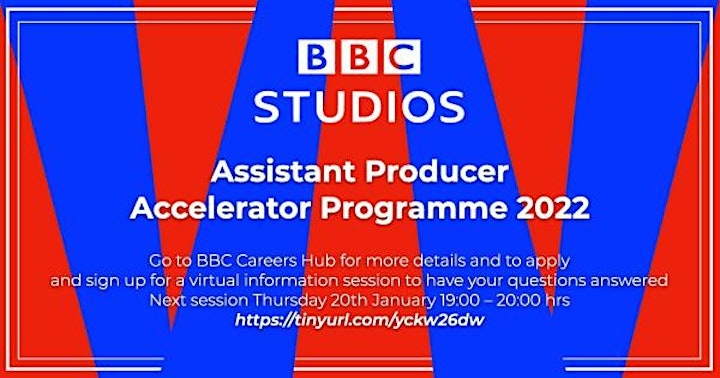 SPEAKERS
Sarah Wood
Sarah is a creative Series Producer/Series Editor/Development Exec/ Exec Producer with extensive experience in shaping first series and winning re-commissions. She has a great track record in delivering high rating series for the BBC, ITV, Ch4 and Ch5. Experienced in running large teams, producing programmes on daytime & digital budgets as well as high end popular factual and entertainment series. She has managed programmes with complex compliance needs and know how to get the best out of both on & off screen talent.
Sas Bonser
Sas is a Talent Executive across Natural History Production, with a real commitment to diversity and inclusion across the sector. In Sas's role as the talent executive for the Natural History Unit at BBC Studios, she looks after editorial staff. Across a busy slate which encompasses lots of genres. She works out where people's skills best fit the different types of genres which include live, presenter-led and landmarks. Her day-to-day job entails meeting a lot of people, reading a lot of CVs, advertising for roles that will last over 3 months, interviewing and credit-watching!
Billy Clarke
Billy is currently working as an Assistant Producer at the BBC Natural History Unit. His passion for wildlife filmmaking stems from watching shows such as Planet Earth and Springwatch as a child, and in his school years he made short films about nature on my home patch, as well as running a wildlife rescue service he founded to treat injured animals in the local area. He completed a diploma in Zoology and is currently studying a distance learning Ornithology course by Cornell Lab of Ornithology. In 2017, Billy was featured on the BBC New Talent Hotlist, and in 2021 he was selected for the BBC Studios Assistant Producer Accelerator Programme.