BBMM Open Day: Film Screenings, Quiz, Mini Stall

Saturday, July 16, 2016 from 1:00 PM to 8:30 PM (BST)
Event Details
A family-friendly fun, open day where you can support our mini stall by buying CDs, vinyl, books, T-shirts, posters and some African artefacts; watch some of our films; and wrap the evening with a quiz, where there will be goodies for the winners!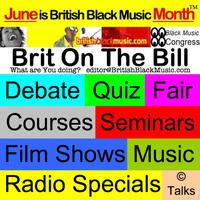 1-3pm* Mini Stall
CDs, vinyl, books, T-shirts, posters and some African artefacts for sale. *Stocks will be available for purchase until the end of the day's event

3-7.30pm Film Screening & Mini Q&As
This family-friendly session will be the first opportunity to see a number of films from BritishBlackMusic.com/Black Music Congress (BBM/BMC) and related projects; plus live YouTube video jockeying.

Attendees decide what they want screened from a selection, most of which is listed below. Each screening is followed by a mini Q&A - some of the film contributors may be on hand  to answer questions.
Britain's Contribution To The Development Of Reggae: First time screening of the finished version of guerilla vox pops documentary initially made by Kwaku to mark JA@50 in which contributors opinion on how British-based businesses and creatives have helped with the development of reggae. Contributors include Akala, Keith Waite, Tunde Jagede, Prof Paul Gilroy, Zita Holbourne, Diane Abbott MP, HKB Finn, Patrick Vernon, Toyin Agbetu, Empress Jai, Andrea Encinas, Mandingo, Delroy Washington, King Sounds, Mykell Riley, etc

1974: That Carib Club Story: First time screening of the finished version of vox pop documentary on sound system operators Dennis Bovell and Count Nicks, who recall the infamous incident at the Cricklewood cluba, where punters had a run-in with police, which resulted in an Old Bailey cause célèbre court case.

Talking Heads: London & Black Music: Notable personalities give their personal reflections of places in London and their connections to black music. Contributors include 1Xtra DJ Semtex, Island-Universal UK co-president Darcus Beese, Mercury promotions executive Rob Pascoe, saxophonist Yolanda Brown, Westbury Music publisher Paulette Long, DJ Errol D, musician-songwriter Des Chisholm, Playvybz Radio owner Andrea, musician-promoter Spoonface, musician-tutor Ray Hubbard, ring-tones pioneer Alexander Amosu, culturalist Ekow Eshun, and live promoter Fred-E.

Brent Black Music History Project: This documentary highlights Brent's rich black music history. It covers record stores, record labels, radio stations, etc. Contributors include Sonny Roberts, Teddy Osei, Root Jackson, TC Curtis, Delroy Washington, Valerie Skeete, Carroll Thompson, Janet Kay, Omar, Camille Hinds, Phil Fearon, Lindsay Wesker, King Sounds, Popsie, Robbo Ranx, Gappy Ranks, Daddie Ernie, etc

Dennis Bovell On Songwriting & The Music Industry: Two interviews with noted songwriter, producer, and bassist Dennis Bovell, who draws on his wide experience, from writing lovers rock classic 'Silly Games', to playing in Matumbi and the Linton Kwesi Johnson band, to dropping some science on songwriting, income streams, music industry issues, etc.
Soul Searching: A 1991 documentary made for BBM/BMC predecessor organisation Black Music Industry Association (BMIA) on the then state of the black music sector (mainly R&B/soul). 25 years on, what has changed? It underscores the saying: 'The more things change, the more things stay the same'. Issues the highlighted are still with us: poor marketing spend on African acts; few Africans in executive positions or on daytime mainstream radio; and European artists selling black music by the bucket-load. Contributors include veteran industry player and manager Keth Harris, musician and BMIA co-founder by Root Jackson, singer Caron Wheeler, Loose Ends head honcho Carl McIntosh, singer/musician Omar, and BBC radio executive Chris Lycett.

The Great British Black Music Singalong Concert: In the BBM Radio studio, Kwaku BBM schools a couple of young people by giving some history to the records he plays. Except the sound of a wifde range of domestic black music, from big hits to underground faves, comes from the Niles Hailstones and Noel McKoy front a crack band playing live! Guest performers include kora player Maya Jobarteh who opens the set, and Paul 'Barry Boom' Robinson, who sings 'Should I', a song he wrote and which was popularised by Maxi Priest. The songs range from 'Revival', 'Feel So High', 'Baby Come Back', 'You To Me Are Everything', 'Silly Games', 'Back To Africa', 'I Should Have Known Better', 'Smooth Operator', 'London Town', 'The Message', 'I'm In Love With A Dreadlocks', 'There's Nothing Like This', to 'Keep On Movin''. For this to be screened, attendees must promise to sing along! There will be a prize or two for the most fun renditions!!

Songs Of Life, Survival & Empowerment Concert: Using the same format and band as above, this time the music speaks to the African British history, 60 years after the arrival of Empire Windrush at Tilsbury. Guests includes rapper Kof performing '80s Baby', singer Don-e singing 'UK Black', and gospel singer Neresa Maye singing 'Ultimate Love'. Songs include 'Black Pride', 'London Is The Place For Me', 'Sunshine Day', 'Children Of The Ghetto', 'Black Boys', and 'Family'.

From The Talking Drums To Rap And Grime Concert: An edu-tainment concert marking the bicentennial of the 1807 Abolition Of The Slave Trade Act. Kwaku provides some enslavement-related narratives, whilst Niles Hailstones leads a fine band that includes singer Noel McKoy, kora player Tunde Jegede, rapper HKB Finn, guitarist Derek Johnson, percussionist Adesose Wallace, singer Amasade Shepneki, rappers Got2Remember, and DJ KMT.

Akoben Awards Conscious Black Music Mini Discussion & Freestyle Session: Snippets of video capture rappers Paradise, Kimba, and R&B/hip-hop duo Native Sun, consisting of rapper Mohammed Yahya and singer Sarina Leah, talking about conscious music, the challenges, the music industry, and their songs and some of their inspirations. They also perform live and intimate, which the audience appreciate! Evidence that conscious music can also be rocking and fun. The young ones particularly need to watch this.

Young People's Contribution To BBM/BMC Copyright Confab: In an effort to have voices of young people input into our first Talking Copyright event, we filmed young people and young adults from Convent Of Jesus & Mary Language College, Crest Boys Academy, and Collage Arts, giving their views on copyright, illegal downloads and music industry practices.
BBMM2015 Race/Ethnic Diversity In Music Conference Background By Kwaku (18 mins): This video is compiled from online articles on 'race', racism and ethnic diversity within the music/creative industries, starting with the dialogue within the film, TV and broadcast media championed by the recently knighted comedian and actor Lenny Henry, and ending with a few excepts from videos featuring the likes record producer/label owner Neil 'Mad Professor' Fraser, artist manager and industry executive Keith Harris, Carl McIntosh of Loose Ends, and Caron Wheeler of Soul II Soul fame, former BBC Radio 1 head Chris Lycett, and former MCA Records MD Tony Powell.
Black Music Appropriation: Culture, Copyright, Ownership: Background For Discussion By Kwaku (25 mins): A collection of clips that speak to Music, Creativity, Authorship, Appropriation, Copyright, Contracts, Power, 'Race', Politics, Money, Global South v the West.

7.30-8.30 Music Quiz
Whether you're an anorak with great knowlege of British black music, or not, feel free to be part of this quiz. Contestants can play as individuals or as a group of up to 4 max. There will be prizes for the winners, and those who beat the Quizmaster's challenge questions. This session is meant to wrap up the the evening with fun!

When & Where

Harrow Mencap
1st floor (ring middle buzzer), 3 Jardine House, Harrovian Business Village
Bessborough Road
HA1 3EX Harrow
United Kingdom


Saturday, July 16, 2016 from 1:00 PM to 8:30 PM (BST)
Add to my calendar
Organizer
BBM/BMC in association with Akoben Awards
We organise events around black music, culture, business and copyright.
Please note that because of non-attendance, we over-book all free events, so entry and seating is on a first come, first served basis.
Please note that we photograph and/or film/video our events. By attending, you are deemed to implied your conscent. NO Filming/Video recording events by attendees without prior permission from organisers.
All our events are listed at: www.BBM.eventbrite.com
BBMM Open Day: Film Screenings, Quiz, Mini Stall