BBMM@10 (British Black Music Month @ 10) 2016-17 Events
Description
PLEASE NOTE: THIS PAGE IS NOT BEING UPDATED!!!
FOR BBMM UPDATES: www.BBM.eventbrite.com
Here is where you can find at a glance all the BBMM@10 2016-17 events, updates (and some related activities).
Our current and upcoming events can be accessed via www.BBM.eventbrite.com. That's the URL to pass on to friends and other contacts who may be interested in our events.
You can also follow us via @BBMBMC /BBMBMC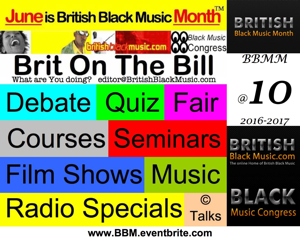 In marking the 10th year of its British Black Music Month (BBMM) initiative, BritishBlackMusic.com/Black Music Congress (BBM/BMC), will be delivering a 2 year programme, spanning 2016-17, in association with various strategic partners in order to embed the BBMM concept within the music industry, legal and education sectors.
Got any partnership initiatives or queries? Then contact: Kwaku, BBM/BMC founder, editor@BritishBlackMusic.com
British Black Music Month (BBMM) is a BBM/BMC initiative started in 2006. It takes place throughout June into mid-July. It offers an opportunity to celebrate domestic black music, discuss issues, better understand the music industry and copyright issues, and network. It's not aimed exclusively at Africans nor at just those in the music industry.
BBM/BMC has worked with a number of partners, including PRS For Music, BPI, MMF, AIM, BASCA, University Of Westminster, to deliver its BBMM programmes. BBMM uses a wide range of platforms including seminars, conferences, courses, debates, film screenings, radio specials, live performances, networking, fairs, and Talking Copyright sessions, which have been delivered in community centres, civic centres, libraries, educational instutitions, boardrooms, plus House Of Commons, and City Hall.
PLEASE NOTE: THIS PAGE IS NOT BEING UPDATED!!!
FOR BBMM UPDATES: www.BBM.eventbrite.com
2016

Sat. July 30, 6.30-8.30pm
Licensing: Monetising Your Rights
By: BBM/BMC in association with Akoben Awards

Sat. July 30, 1.00-6.00pm
Tues. July 19 at 6.00pm
The History Of Phonograms And Its Impact On Copyright Law/Vinyl Memories
By: BritishBlackMusic.com/Black Music Congress (BBM/BMC)
Online poll ends Sat. July 16
British Black Music Album Top 20 Poll
By: BritishBlackMusic.com/Black Music Congress (BBM/BMC)
Sat. June 11 at 6.00pm
The AntiUniversity History Of Black History Month In Britain
By: BTWSC Events/African Histories Revisited
Thur. June 9 at 5.30pm
The AntiUniversity History Of Black Music In Britain

Thu, Feb 25 at 18:30
Tue, Feb 23 at 18:00