BBMM2012 1 Or A Pair Of Soul II Soul & Loose Ends @ Electric Brixton 22/06/12 Tickets Up For Grabs!

Friday, June 22, 2012 from 1:00 PM to 7:30 PM
Event Details
On Friday June 22, Soul II Soul return to their former haunt now known as Electric Brixton to start a weekly Friday residency called Back2Life presents... They launch a massive Soul II Soul gig,  which celebrates the original era of the Soul II Soul movement by returning to its original & freshly refurbished legendary Brixton home. This live music and club night event is hosted by Jazzie B and will feature original Soul II Soul singer Caron Wheeler performing with the Soul II Soul sound system, alongside very special guests Loose Ends. Soul II Soul DJs will keep the crowd dancing until the small hours (10pm-4am!).
Fancy grapping 1 or a pair ofv tickets? Well, tio be in with a chance, you had better answer this question correctly: Which music industry body has acknowledged Soul II Soul's association with the club in Brixton now known as Electric? (Don't forget to add your phone number)
Tickets costs £15. For more information or to book ticket, click here.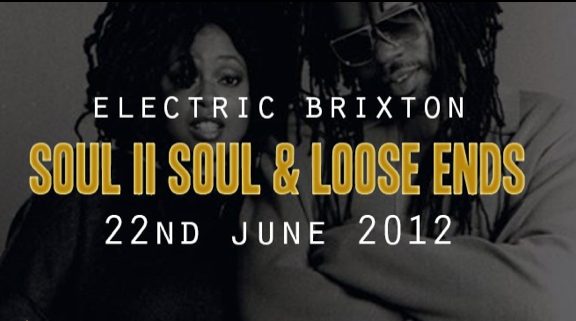 In a related news, Soul II Soul are to be honoured by a PRS for Music Heritage Award. A special plaque is to be erected on the Electric (then known as The Fridge), in Brixton, where the group fronted by the legendary, Jazzie B, played their first full live gig 21 years ago in 1991.

PRS for Music set up the Heritage Award in 2009 to recognise the unusual 'performance birthplaces' of famous bands and artists. Soul II Soul and the cutting-edge south London scene have contributed significantly to shaping the British music landscape and hold huge nostalgic significance to thousands of fans.

PRS for Music chairman Guy Fletcher said: "Soul II Soul redefined British music in the 1980s with their unique style, achieving global success and going on to work with other instrumental artists such as James Brown, Public Enemy and Destiny's Child. Those early gigs are where the magic first happens and Soul II Soul continues to be an inspiration to many other musicians. It really is a privilege to celebrate their achievements in this way."

Jazzie B and members of the group including vocalist Caron Wheeler, Aitch and Q will be there to see the plaque unveiled on the wall of the Electric in Brixton on Thursday June 21 at 11.30am.

Jazzie B said: "I am honoured that the place where our musical career really took off has been chosen to be marked in this way. We had some unforgettable nights in Brixton and nothing beats playing to a live audience. We are about to start a new residency at the Electric too which is really exciting, especially given how important the venue is to our story."

Soul II Soul has sold over 6.8 million albums worldwide.  Jazzie has accreditation on over 35 million albums in over 100 territories and has appeared at some of the most famous venues in the world including Wembley and New York's Universal Amphitheatre.  In 1990 they picked up two Grammy Awards and Jazzie B was given the keys to seven cities in the US, including LA and New York. In May 2008 Jazzie, "the man who gave British black music a soul of its own" won the Ivor Novello Award for inspiration. The same month Jazzie B was awarded an OBE for services to music, the first sound man to be honoured by Her Majesty the Queen.