BBMM2012 2 Pairs Of Tickets Up For Grabs: Hip-hop On Trial: Hip-hop Doesn't Enhance Society, It degrades it. Versus – The Google+ Debates From Intelligence Squared

Ends Tuesday, June 26, 2012 at 12:30 PM (BST)
Event Details
Get set for potentially one of the most controversial debates to hit London! And we've got 2 tickets for grabs!


Intelligence Squared and Google team up for a never-before-seen global debate on hip-hop.

Is rap an art form that gives the street a voice? Or is it all just money, misogyny and materialism?

Come and see hip-hop pioneer and legend KRS-One, celebrated civil rights activist Jesse Jackson, computer scientist and composer Jaron Lanier, and many more stars lock horns in the unique Intelligence Squared/Google+ courtroom debate format. Some of the speakers will be on stage in London, others beamed in from around the world, thanks to the Google+ Hangout technology.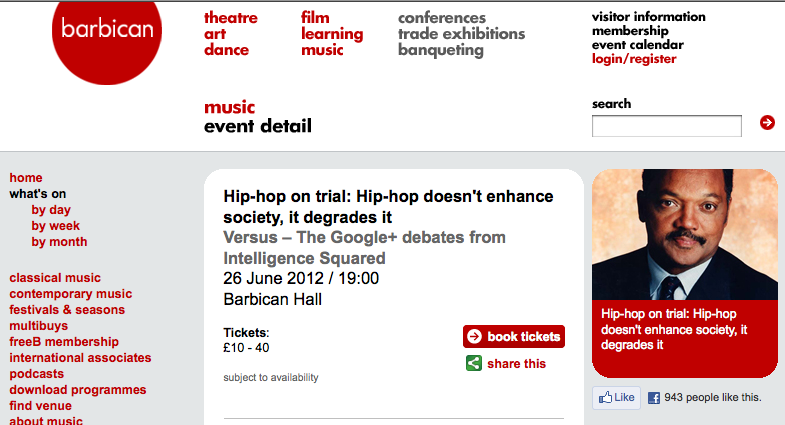 Hip-hop on trial: Hip-hop doesn't enhance society, it degrades it: Versus – The Google+ debates from Intelligence Squared on June 26 2012, 7pm at Barbican Hall.  Tickets cost: £10 - 40.
Click for more details or to buy tickets.
Click to see event trailer.
Click to post comments.
Click to watch youth mentor and debate participant Shaun Bailey's views: We Are Profiting Off The Backs Of Our Young Dead.
Expect contributions froim the following (subject to change, plus more names to be added):

Web host
Jemima Khan - British writer and campaigner, associate editor of the New Statesman and European editor-at-large for Vanity Fair

Chair
Emily Maitlis - BBC Newsnight presenter

Advocate for the motion
Eamon Courtenay - Attourney at Courtnenay Coye law firm in Belize

Advocate against the motion
Touré - American TV presenter, novelist, journalist and cultural critic

Speakers
Shaun Bailey - David Cameron's adviser on youth and crime
Hattie Collins - Music editor of i-D magazine
Deeb - Egyptian "Arab Spring" rapper
Michael Eric Dyson - Hip-hop intellectual and Professor of sociology at Georgetown University
Estelle - Grammy Award-winning singer and songwriter (via Google+ Hangout)
dream hampton - American hip-hop journalist, cultural critic and film-maker
Marc Lamont Hill - Columbia University professor (via Google+ Hangout)
Jesse Jackson - Civil rights activist, Baptist minister and president of the Rainbow PUSH Coalition
KRS-One - Hip-hop pioneer, record producer and activist
Jaron Lanier - American computer scientist, virtual reality pioneer and musician
?uestlove - Co-founder of Grammy Award winning band The Roots, DJ, music journalist and producer (via Google+ Hangout)
Q-Tip - American rapper, producer and frontman of iconic hip-hop act A Tribe Called Quest
Tony Sewell - CEO of the charity Generating Genius
John Sutherland - Former Professor of Modern English Literature at University College London
Tricia Rose - Brown University Professor and author of the groundbreaking book on hip-hop: Black Noise and Hip Hop Wars
Jason Whitlock - Columnist for Foxsports.com


Have questions about BBMM2012 2 Pairs Of Tickets Up For Grabs: Hip-hop On Trial: Hip-hop Doesn't Enhance Society, It degrades it. Versus – The Google+ Debates From Intelligence Squared?
Contact BBMM2012 Recommended Gig