BBMM2012 5 Pairs Of Tickets Up For Grabs For Debut UK Performance For Wildcookie (Sweden) and Kendra Cash (US) at MusicConnex Live Showcase @ Adam Street Private Members' Club 08/07/12

Ends Saturday, July 7, 2012 at 11:00 PM
Event Details
"MusicConnex is all about supporting emerging and independent artists. Since our first artist showcase in 2011, we have had such an overwhelming response to our unique approach to providing artists that take part a multi-layered promotion way beyond the event itself. This has been achieved by joining forces with strong partners Purple Reign PR, JMSoul, Soul Independence, Solar Radio and many more behind the scenes," says MusicConnex CEO, Jon Mansfield, whom I remember from his Kiss FM and Touch mag days as JM.
If you want an entertaining R&B and soul experience, with a dash of UK (including Opaz's 20th anniversary show) and international acts thrown into the mix (see acts' biogs below), then this event at the posh Adam Street Private Members Club (WC2N 6AA) is not to missed!
We've got 5 pairs of tickets up for grabs - you have a choice to select 1 or 2 tickets, depending on what you can use (on Sunday July 8 2012, 6pm). To be in with a chance to win, you'll have to correctly name the now defunct black music mag R&B/soul presenter JM used to write for!

Competition closes on Saturday July 7 2012, 11pm - please add your phone number, and make sure you can attend before entering, by clicking on the Register button.
To watch trailer: click here.
For further details, and to book tickets (£5-£15): click here. For exclusive free VIP tickets: click here.
Why not make a night of it with a *2 Course Meal with Entry to showcase for £15 from 3pm (*limited availability- purchase tickets early to avoid disappointment); or £15 ticket with a Free Wildcookie CD. *Limited availability while stocks last
Standard Showcase entry only £10. Doors open at 6pm @ Adam Street Private Members Club (9 Adam Street, The Strand, London WC2N 6AA): click here.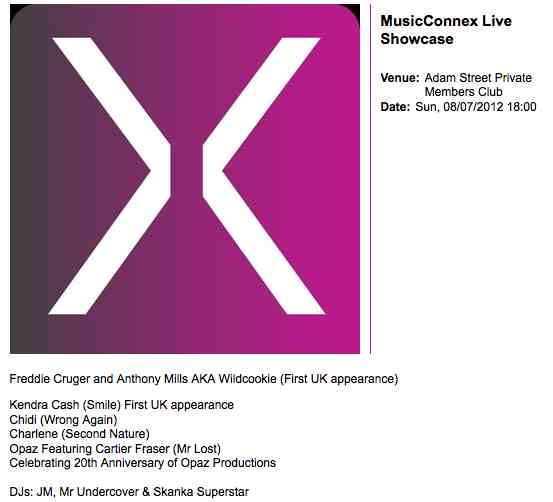 Wildcookie
Freddie Cruger and Anthony Mills aka Wildcookie are set to headline this summer's MusicConnex Showcase. Big on Sweden's Music and Arts scene, Wildcookie are known for smashing the stylistic boundaries between Jazz, Hip-Hop, Funk, Drum & Bass and Latin fusion. Music aficionados will know that Wildcookie's music is playfully experimental. Performing many of their underground hits and tracks from their current album Cookie Dough fans can expect to hear 'Touchy Touchy', 'Heroin' and 'Serious Drug'.

Kendra Cash
Kendra Cash is a native of Jacksonville, Florida and this performance – her first ever in the UK - at MusicConnex's Summer Showcase is a date for the diary of any lover of Contemporary/Urban Gospel music. Performing her summer anthem 'Smile' and other tracks from her debut album of the same title, Kendra's performance at this event is high anticipated.
A seasoned artist, Kendra has lead worship for 14 years at the famous The Potter's House in Jacksonville and worked with many famous Gospel acts such as Leon Timbo, Lisa McClendon and Allen and Allen; as well as background work on projects produced by Troy Sneed, Kenneth Andres, Luke Shumpert, Leon Timbo, Elisha Parris and Ben Sturgill.
*'Smile' is available on Soul Independence: Liberated and limited press collector's edition 7" vinyl.

Chidi
UK Singer/Songwriter and professional Voice Coach, CHIDI, is a phenomenon in every sense of the word. Her persona oozes a genuine charisma that is refreshing and revitalizing, and her amazingly powerful voice is in a class of its own. It is this gift that has enabled her to share the stage with legends such as James Brown, Prince, and Stevie Wonder, as a session singer. Performing her underground smash hit single 'Wrong Again' from her 2009 album entitled 'Unrehearsed' and material from her current album Exhale, Chidi is another UK artist to watch.

Charlene
MusicConnex's resident performer as part their Artist Development Programme - Charlene, will be performing again to her growing fan base and as well as co –hosting the event. Charlene is currently busy writing and recording her forthcoming debut album.

Opaz featuring Cartier Fraser
Opaz productions headed up by renowned UK producer Ray Hayden is celebrating their 20th anniversary at the event. Opaz first gained notoriety with their hit Revival by Martine Girault since then have worked with Ronny Jordan, Mica Paris, Swing Out Sister, Incognito, Guru, Maysa, George Howard, Omar, to name a few, with much of their impressive catalogue available to download later this year for the first time. To help celebrate this momentous occasion Opaz introduces their latest protégé the talented young singer Cartier Fraser who had her vocal style compared to Amy Winehouse. She will be performing tracks from her highly anticipated forthcoming debut album including 'Mr Lost' which since its inclusion on Soul Independence: Liberated has received critical acclaim and is building into another summer anthem.
Have questions about BBMM2012 5 Pairs Of Tickets Up For Grabs For Debut UK Performance For Wildcookie (Sweden) and Kendra Cash (US) at MusicConnex Live Showcase @ Adam Street Private Members' Club 08/07/12?
Contact BBMM2012 Recommended Gig