BBMM2012 7 Fly Girls Make Noise 22/07/12 Tickets Up For Grabs!

Ends Thursday, July 19, 2012 at 9:00 PM
Event Details
Building upon the successes of 'Seizing The Screen' and 'Pandora's Box;' we bring you Fly Girls Make Noise, which is a live music, film and visual arts extravaganza curated by The Something Girls Club for Black British Music Month (BBMM), aimed at creatives involved, influenced or inspired by Bass Culture & Sounds.
Please note: males are welcome :-)


To be in with a chance of winning tickets, correctly answer this question: What's the name of the Noisettes' singer/bassist? Closing date Thursday July 19 2012, 9am.
Date: Sunday 22 July 2012

Time: 4pm - 12.00 am

Venue: CLf Art Cafe/ The Bussey Building, 133 Rye Lane, Peckham, SE15 5TH

Transport: Peckham Rye Station

Ticket Price: £5 Advance or £7 On the Door

Ticket URL: http://fgmnoise.eventbrite.co.uk

Event URL: http://on.fb.me/MLja6E

Contact Us: E: fgmnoise@gmail.com or T: @grrlsclub P: 0794 048 7611

▲▼▲▼▲▼▲▼▲▼▲▼▲▼▲▼▲▼▲▼▲▼▲▼▲▼▲▼▲▼▲▼▲

Hosted by: FLOetic Lara

Acts: Live music from Josephine Lloyd, Shuanise, Vaitea and spoken word poetry by Zena Edwards.

DJs: Josey Rebelle, Orsii, Anarkali Elektra and Bella Soul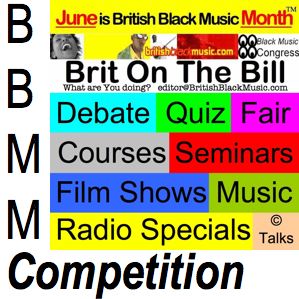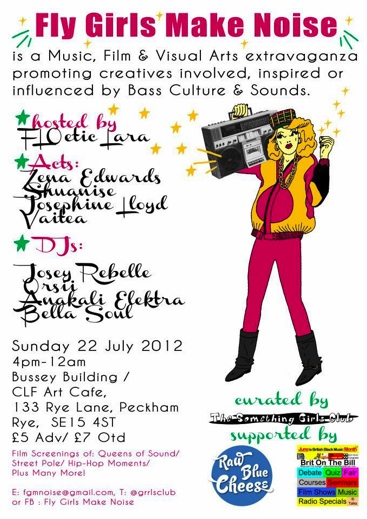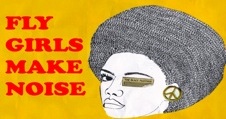 ▲▼▲▼▲▼▲▼▲▼▲▼▲▼▲▼▲▼▲▼▲▼▲▼▲▼▲▼▲▼▲▼▲

Films on the night

Queens of Sound: A documentary exploring the roles of women in Reggae
AU|2006| Sandra Krampelhuber

http://www.youtube.com/watch?v=QNsG6KOIr0o

Hip-hop Moment: A series of interviews with hip-hop artists defining their favorite moments.
UK| Delphina Scott

http://www.youtube.com/watch?v=HJQgXnhkYVQ&feature=BFa&list=PLB8034C2B106CF782

NCG Streetpole is a A Short Film Shot & Cut by Giada D from Little Wonder Productions. Starring: Street Pole Innovator Nicola Cher Geismar, Photographer Normski and Stylist Storm E Knight
UK|2012|Nicola Cher Geismar

▲▼▲▼▲▼▲▼▲▼▲▼▲▼▲▼▲▼▲▼▲▼▲▼▲▼▲▼▲▼▲▼▲


When & Where

CLf Art Cafe/ The Bussey Building
133 Rye Lane
Peckham
SE15 5TH London
United Kingdom


Ends Thursday, July 19, 2012 at 9:00 PM
Add to my calendar
Organizer
Please note that our events are photographed and/or videotaped, hence your attendance implies you've given consent to be photographed and/or videotaped.
BritishBlackMusic.com/Black Music Congress online and offline - www.BBM.eventbrite.com www.BritishblackMusic.com