BBMM2012 Tickets Up For Grabs For Sounds Of Blackness Routes & Rhythm Workshops And Performance

Ends Thursday, July 12, 2012 at 9:00 AM
Event Details
Angie Amra Anderson is a dancer, choreographer, singer, actress and percussionist, who has acquired a vast performing experience and is one of the UK's top African arts practitioners. She co-founded the award-winning Ekome National Dance Company, England's pioneer African dance group.
Through her Amra production company, she produces high quality presentations within the matrix of African arts. This summer's activities include Sounds Of Blackness (SOB) masterclasses (July 13 and 14 2012) and a performance and an east African famine appeal (July 15 2012). Holding it all together will be 3 times Grammy award-winning musical director Dr Gary Hines.
To be in with a chance of winning 1 or 2 tickets for masterclass and/or performance, you'll need to correctly state what was SOB's biggest UK hit single?(Please check addresses and make sure you can attend, before entrying!) - we've got 2 tickets for the two-day masterclass and 6 tickets for performance

Sounds Of Blackness Masterclasses
Friday-Saturday July 13 & 14 July 2012
New Dimemsions Building, 374 Brigstock Road, Thorton Heath, Croydon, Surrey CR7 7JF. 020 8761 4400
Cost: £25 in advance per day
Contact: Amra Productions
www.amraproductions.co.uk
E: amraproductions.co.uk
Tel: 01494 438513


Sounds Of Blackness Routes & Rhythm Performance
with International guest artists DR Gary Hines of Sounds Of Blackness, Janet Kay, Victor Romeo Evens, Claudio Kron, Johnny Amobi, 1st Gen, Angie Amra Anderson and many more... in aid of east African famine relief.
Sunday July 15, 7.30pm
Tickets: £20, £15 conc
Wycombe Swan Theatre, St Marys Street, High Wycombe, Bucks HP11 2XE
Book online at: www.wycombeswan.co.uk
Or contact Amra Productions www.amraproductions.co.uk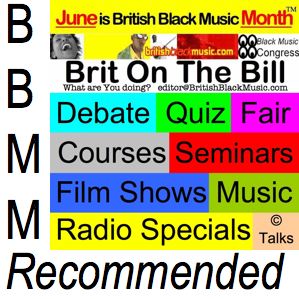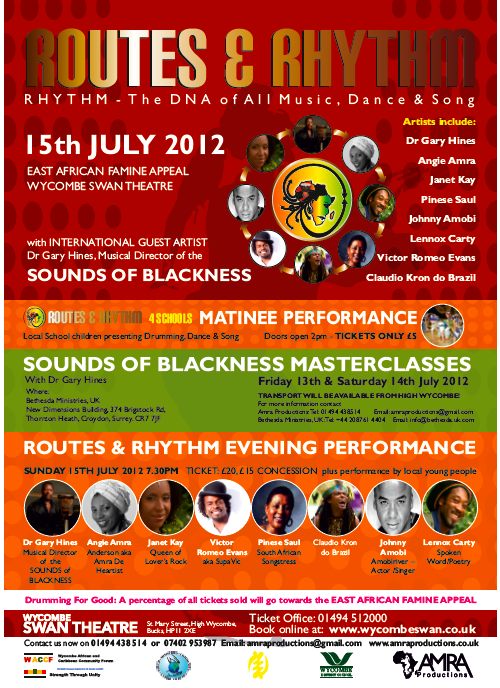 Routes & Rhythm is an exploration into the Voice and the routes of rhythm from Africa, the African Diaspora to the West. Routes & Rhythm is inspired by the Sounds Of Blackness hit album 'Journey Of The Drum', and we are pleased to announce that we will be joined by international special guest artist, the musical director of the Sounds Of Blackness, Dr Gary Hines.
This unique experience will culminate into performance: a choir and a rrum orchestra like no other. An integrated programme of African American & South African gospel, soul,  R&B, samba to salsa, performed to the compelling beats of the drum.  Be prepared to be enlightened, be prepared to sing, be prepared to release the ancestral spirit in Movement, Voice and Sounds. 
To watch trailer: click here.
When & Where

Wycombe Swan Theatre

St Marys Street
HP11 2XE High Wycombe
United Kingdom


Ends Thursday, July 12, 2012 at 9:00 AM
Add to my calendar