BBMM2016 Recommended Album: Andrew Roachford 'Encore' (M3)
Description
Buy CD @ Amazon Download CD @ iTunes
"A delicious soul album that rinses songs from pop, soul to rock, displaying an eclectic musical knowledge typical of British artists."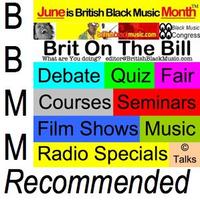 BBMM2016 Recommended Album: Andrew Roachford 'Encore' (M3)
I love CDs, although I notice the iTunes download version includes two bonus tracks - piano and vox versions of 'Your Song' and 'You Do Something To Me'.
If you remember Andrew in his days as leader of the CBS-signed Roachford band, then you'll know his music blended pop, soul and a tinge of rock. Now in his solo phase, his music, although essentially is soul/R&B, give a nod to pop and rock sensibilities. That eclecticism is quite British, which I put down to pre-specialist radio days of Radio 1 where listeners were exposed to a wider diet of music.
There seems to be a trend whereby strong writer-artists release cover albums - Seal, Beverley Knight, spring to mind. So I'm not surprised that Andrew is continuing the trend. He does a fine job interpreting the songs in his own way. From Sly's 'Family Affair' opener, through a couple of Bill Withers songs, including the delightful 'Grandma's Hand', Elton John's 'Your Song', to Simply Red's 'Holding Back The Years'.
However, what I like most is Andrew taking a song like American rock band Red Hot Chili Peppers' 'Under The Bridge', and giving it a soulful edge. It's the lack of same-old, same-old, which makes this a BBMM recommended album.

Go discover - click here to buy album, and here to book for Andrew's December gig at London's Jazz Cafe.
1. Family Affair
2. Ain't No Sunshine
3. Having You Around
4. Under The Bridge
5. Grandma's Hands
6. Your Song
7. This Years Love
8. Holding Back The Yeras
9. You Do Something To Me
10. I Don't Know Why I Love You
11. Imagine