BBMM2017 Competition: Win One Of Two Pairs Of African & Caribbean Memorial Remembered Celebration Concert Tickets

Wednesday, June 21, 2017 from 5:30 AM to 5:00 PM (BST)
Event Details
We've got 2 African & Caribbean Memorial Remembered Celebration Concert pairs of tickets to give away for this BBMM2017 offer taking place on Thursday June 22, 6pm-midnight @ POW (Prince Of Wales, 467- 469 Brixton Road, London SW9 8HH)!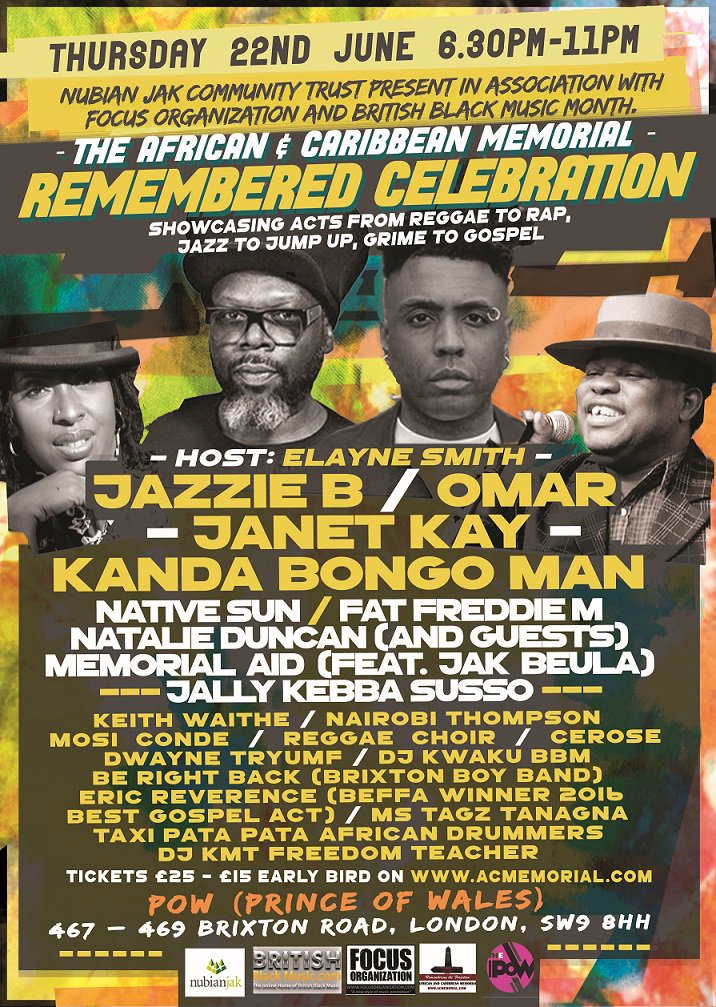 https://www.eventbrite.com/e/remembered-world-celebration-concert-tickets-33655324983
After the unveilling of ACM's memorial commemorating the contributions of Commonwealth African/African-Caribbean service personnel in World War I and II, we'll commemorate the contributions of those Africans who sacrificed for King and country by performing BBM live - and recorded. It's an evening of musical celebration from Grime to Gospel, Jazz to Jump Up, Reggae to Rap.
The Elayne Smith-compered show includes the likes of Jazzie B on decks duty, Omar, Janet Kay, Kanda Bongo Man, Keith Waithe, Taxi Pata Pata African Drummers, Reggae Choir, Nairobi Thompson, Mosi Conde and Native Sun, doing the live thing, and DJs such as Fat Freddie M, KMT The Freedom Teacher, and yours truly Kwaku BBM. 
Please note that the celebration starts earlier and ends later now - 6pm-midnight!

Tickets cost £15 (this early bird deal ends on Wednesday) and £25 - click here to buy your ticket.

However, if you fancy winning one of 2 pairs of tickets, then answer this question correctly to be in with a chance of winning: Which Caribbean island are Jazzie B's parents from? 
Click on Register to enter. Closing date is Wednesday June 21 2017, 5pm - winners will be drawn live on the BBMM2017 On BCR (BrentCommunityRadio.org) show this afternoon - 4-6pm live, and repeated 6-8pm. 

This event is organised by the Nubian Community Trust in association with the Focus Organization and BBM/BMC's British Black Music Month 2017

Organizer
Please note that our events are photographed and/or videotaped, hence your attendance implies you've given consent to be photographed and/or videotaped.
BritishBlackMusic.com/Black Music Congress online and offline - www.BBM.eventbrite.com www.BritishblackMusic.com