BBMM2018 Recommended Book: 'Covers: Retracing Reggae Record Sleeves In Lond...
Description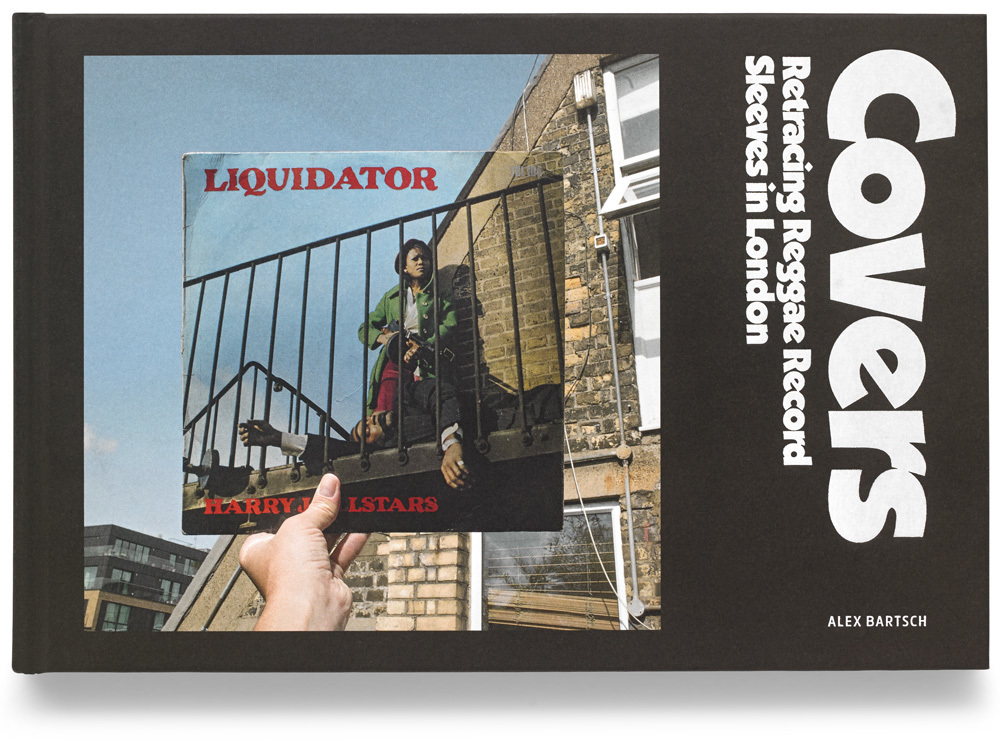 From the moment I chanced on one of Alex Bartsch's "retraced" photos - the Harry J Allstars' 'Liquidator' album sleeve which looked like it was shot behind one of those Craven Park Road properties where Starlight Records is and where Unique FM used to broadcast from (which incidentally is actually featured in album 38),I wanted to find out more!

Thankfully this photo is the cover image of a book which contains more fascinating "retraced" images shot in different locations across London. Indeed there are 50 album covers (featuring front or back artwork) shot across London, from East Molesey in the south-west edge which technically is in Surrey to Abbey Wood in the south-east, Tottenham in the north to Penge in the south. However, not surprisingly, the north-west borough of Brent, which includes Harlesden, which claims to be the home of reggae in the UK and Europe, has the highest number of shot locations! There's a site map to prove it. The only other area with a proliferation of locations is Soho, and that's on account of the then marketing arm of Trojan, B&C, being based there.
Reggae historian and compiler Noel Hawks provides a very useful history of some of the reggae album covers, whilst the author's introduction reveals so of the lengths he went to, and the good fortune and contacts that helped him find and capture his in-location shots. The amount of research needed to identify the locations was no mean feat. Even more amazing is not just how he aligns the album cover in one hand to the background location, but the fact that he holds the covers perfectly horizontally in one hand, whilst using the other hand to shoot the shots!
The 50 covers are presented chronologically - from Jackie Mittoo's 'Jackie Mitto In London' (1) shot in Trafalgar Square and released in 1967, to Dr Alimantado's '(Tell Me Are You Having A) Wonderful Time' (5) shot on Westminster Bridge. In between, these are some of the most striking images: Aisha's 'High Priestess' (47) shot at Cleopatra's Needle, Desi All Stars' 'Dubbing In The UK' (36) shot in Coldharbour Lane, Dandy's 'Your Musical Doctor' (2) shot on Molesey Lock, Smiley Culture's 'Police Officer' (12inch single) shot in front of Penge police station, and Al Campbell's 'Rainy Days' (21) shot at King Edward VII Park in Brent.
Other Brent locations featured are 'Club Reggae Volume 5' compo (14) shot in Wembley, King Tubby's And The Agrovators' (sic) 'Dubbing In The Back Yard' (39) shot in Wembley, Carroll Thompson's 'Hopelessly In Love' (34) shot in Harlesden, Johnny Clarke's 'I Man Come Again' (38) shot in Harlesden, Delroy Wilson's 'Go way Dream' (40) shot in Harlesden, 'Hot Numbers Volume 2' compilation shot in Roundwood Park, John Holt's 'Before The Next Tear Drop' also shot in King Edward VII Park.
Each cover includes record title, artist, label, year of release, catalogue number, producer, photographer, designer, and location. The book also has images of some of the key reggae labels.
The only criticism is that although it has a useful index, the contents page could have done with a listing of album covers, for ease of jumping directly to a particular image. Nevertheless, this is a fantastic book, which will make an excellent gift for any reggaephile! A very useful resource to help mark Reggae @ 50, and the International Reggae Day 2018 theme of Jamaica To UK: The Reggae Revolution.
Click here to watch the clip of Alex Bartsch's location shots, here to see how Alex set his location shots, and here for the One Love Books website.
Review by Kwaku (BBM editor)