BBO PA Network ONLINE 9/12/21 Exceptional EA & 2021 Learnings Shared
Sales Have Ended
Ticket sales have ended
Thank you so much!
Sales Have Ended
Ticket sales have ended
Thank you so much!
Join us for the evening as we welcome Shelagh Donnelly and the BBO Panel with Sarah & Marianne 'Key Learnings From 2021'. #BBOPANetwork
About this event
You are cordially invited to attend the Bucks, Berks & Oxon (BBO) PA Network's online event on Thursday, 9th December 2021 at 7:30pm.
We will welcome our speakers for the evening:
▶ Exceptional EA 'Less is More: Elevating your Minutes' with Shelagh Donnelly.
▶ Key Learnings from 2021 with Sarah Howson, Marianne Whitlock & BBO PA Network Panel.
Sarah & Marianne will be hosting the online event live from Mapledurham Estate, Reading in Berkshire.

About Mapledurham Estate:
Mapledurham Estate is a 12th Century family house and farming estate tucked in beside the Thames in the heart of a unique English village away from the distractions of town, business or busy hotels, Mapledurham is an oasis of peace. The estate is a haven of tradition coupled with a sustainable commerce to maintain the estate viability and ensure its longevity.
They have a diverse range of operations on the estate and these include a dairy farm, a hydro electric Archimedes screw turbine, traditional watermill for flour, an arable farm, golf course, several commercial lettings, tea room, two art studios, moorings and passenger boats to and from Mapledurham, a biomass heating system and a country events park to name but a few.
The location has attracted many film and television productions including The Eagle has Landed, Miss Marple, Midsomer Murders, Sharpe and The Big Allotment challenge. More recently we seen in Taboo, Hunderby and even Mr Tumble came to play!
Mapledurham also plays host to numerous wedding receptions, car rallies, reunions, corporate events, dog shows, falconry displays and craft fairs. The grounds of the House make a unique riverside venue for any number of events.
We are delighted to be hosting our online event from Mapledurham Estate with Kate White, Executive Assistant at Mapledurham Estate.
Shelagh Donnelly
Shelagh's session: Exceptional EA 'Less is More: Elevating your Minutes'.
About Shelagh Donnelly: Shelagh walked the walk for almost 3 decades. When you hear Shelagh speak, you know she understands both the career and employers' needs. She's been a direct report to CEOs and wrapped up her office career in 2018, after a decade supporting a board of directors. Assistants around the globe have been reading Shelagh's Exceptional EA website ( https://exceptionalea.com/ ) since 2013. They turn to it for Shelagh's career insights, her Real Careers interviews with assistants, and for her Weekend Polls.
She knows what it's like to navigate, survive and thrive in times of uncertainty and change. Her successful career spanned a corporate merger, economic recessions, the dissolution of one institution, and helping establish the culture of its successor.
A compelling speaker, trainer and thought leader, Shelagh Donnelly will join us from Vancouver, Canada. Shelagh is in demand internationally. She brings her authentic, positive and pragmatic approach and expertise to everything from meetings and minutes to resilience, perfectionism, communications, cybersecurity, governance, and strategic acumen.
In addition to presenting for professional networks such as BBO PA, Shelagh has her own webinar series ( https://exceptionalea.eventbritestudio.com/ ). A popular conference speaker, her client list also includes government, higher education, governance and business audiences, including corporations such as the NBA.
In her session Shelagh will be giving tips on all things 'Minutes' and how to elevate them!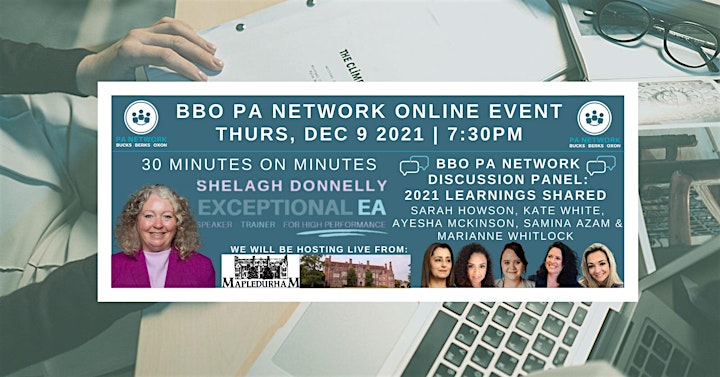 Sarah Howson & Marianne Whitlock:
BBO PA Network Panel 'Key Learnings From 2021'
Sarah and Marianne are delighted to host a special BBO PA Network Panel discussing 'Key Learnings From 2021', welcoming:
- Samina Azam, Executive Assistant, Founder of Oculus Learning and BBO PA Network Committee Member
- Ayesha McKinson, Executive Assistant and BBO PA Network Committee Member
- Kate White, Executive Assistant at Mapledurham Estate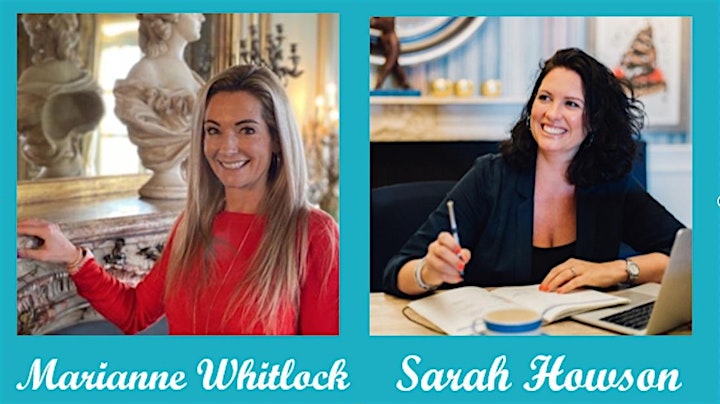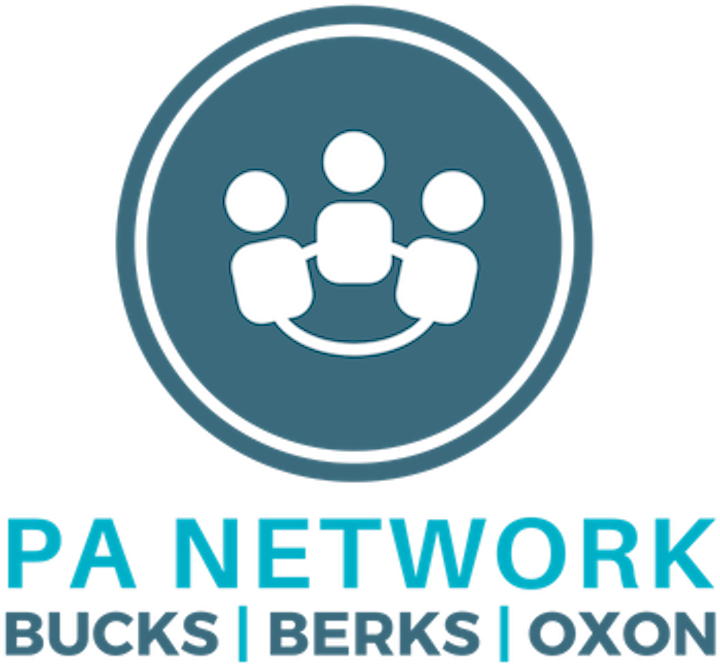 BBO PA NETWORK EVENING FORMAT
7:25pm - Get 'Online' - Log on and get settled ready for a 7:30pm start, make sure you have your drink of choice in your favourite mug/glass!
7:30pm - Welcome and Introduction by Sarah & Marianne, BBO PA Network
7.35pm - Welcome from Kate White, Mapledurham Estate
7:40pm - BBO CSR Member of the Month #BBOCSRChampion
7:45pm - First Keynote Speaker
8:15pm - BBO PA Network Panel
8:45pm - Finish / 'After Show Catch Up' / Informal Networking - for those who would like to stay on and have a catch up!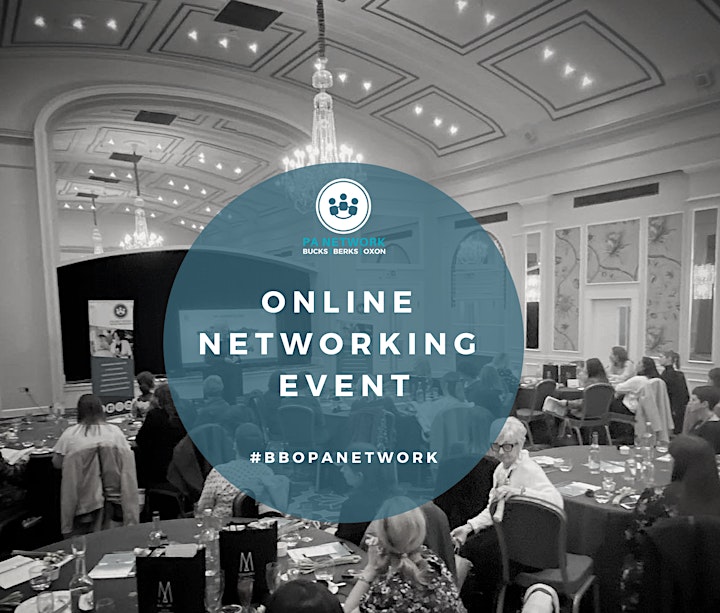 Date and time
Location
Refund policy
Organiser of BBO PA Network ONLINE 9/12/21 Exceptional EA & 2021 Learnings Shared
STRATEGIC PA RECRUITMENT
I'm passionate about PEOPLE and building long-term relationships which is exactly why I launched Strategic PA Recruitment in 2019. As a former C Suite level Executive Assistant, I understand how fundamental the role of an EA is to a business.

Strategic PA Recruitment is a boutique agency based in Buckinghamshire specialising in Chief of Staff, Executive Assistant, Personal Assistant and Office Manager positions all over the Thames Valley/South East. We work across all business sectors matching high calibre experienced Personal and Executive Assistants to clients from Entrepreneurs to CEOs.

I love what I do and I'm proud of the company I've created. We pride ourselves on providing exceptional, personal service. If you'd like to get in touch, please contact me on s.howson@strategicparecruitment.com.

BBO PA NETWORK
I am also the Founder and Director of Bucks, Berks & Oxon PA Network, an active professional network for Personal Assistants (PAs), Executive Assistants (EAs), Virtual Assistants (VAs), Administrators and Office Managers who live or work in Bucks, Berks or Oxon. The aim of the network is to connect like-minded business professionals enabling them to build relationships, learn and inspire one another. I love networking, bringing people together and enjoy championing the Business Support industry.

FORMER EXECUTIVE ASSISTANT
I am a former Executive Assistant with over twenty years' of C Suite level experience. I began my working career straight from university assisting the CEO of a small start-up semiconductor company (30 employees) and then moved to a FTSE250 international oil and gas support services company (20,000 employees), where I supported both the CEO and the CFO. I have a BA Hons in Business Management & IT as well as being CIPD qualified.