BBO PA Network ONLINE - Alice Dartnell '2021 Goalsetting' - 14/01/21
Sales Have Ended
Ticket sales have ended
Thank you so much!
Sales Have Ended
Ticket sales have ended
Thank you so much!
Join us for: 'Visualisation & Goalsetting for 2021' with Alice Dartnell & 'Transitioning from an EA to Chief of Staff' with Rory Hibbler
About this Event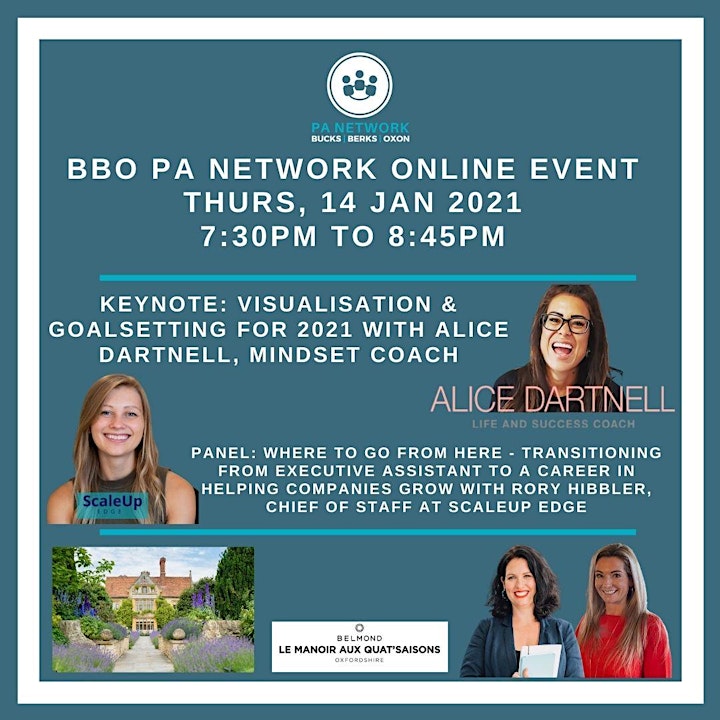 You are cordially invited to attend the Bucks, Berks & Oxon (BBO) PA Network's event on Thursday 14th January 2021 at 7:30pm.
We are thrilled to announce Sarah & Marianne will be hosting the online event LIVE from a Trusted BBO Hotel Partner, Belmond Le Manior aux Quat'Saisons.
We will welcome our speaker for the evening:
Alice Dartnell, Mind Coach with her KEYNOTE 'Visualisation & Goalsetting for 2021'
Alice will take us through the super powerful art of visualisation and show us how to start 2021 as we mean to go by setting achievable goals!
The power of visualisation to reach your goals
What do Arnold Schwarzenegger, Oprah Winfrey and Jim Carrey all have in common? They use the power of visualisation to help them achieve their goals!
Visualisation is a powerful technique that can boost your feelings of control, calmness and clarity to improve your mindset for success! This webinar will show you what it is, how to make it work for you and practical tips for implementation, with all your goals.
This will be a mix of theory, the science behind it, as well as real life examples and tips for you using this tool for your goals and success!
There will be an opportunity for Q&As with Alice during the session to get hands on coaching, support and advice!
We will also welcome Rory Hibbler with her presentation 'Where to Go From Here - Transitioning from Executive Assistant to a Career in Helping Companies Grow'
Your experience as an EA is invaluable for the rest of your career - learn to lean on it and also grow from it
How to transition a career when you're ready
Facing challenges that can arise from the transition of role
OUR KEYNOTE SPEAKERS
ABOUT ALICE DARTNELL: Life and Success Coach, Workshop Trainer, Author, Speaker, Founder of 'Success Box' Personal Development Book Club
Hi, I am Alice.
I am on a mission to help people create a life by design, empowering them to maximise their results by maximising their time management and mindset.
I work with individuals who are looking to create something more in their lives, navigate change or become better versions of themselves.
Past client wins include Emma creating the right mindset for a new promotion after 6 years of dreaming about it, Patricia finding a healthy work-life balance as a business owner in just four sessions working together (taking her from a rating of 2 out of 10 to 9 out of 10!), and Zoe securing her first clients in her new business right on target.
I also work with organisations who want to support the development and wellbeing of their staff and believe you can balance profit and productivity with their staff development. I have collaborated with the likes of Cisco, Indeed, Mind (mental health charity), and local NHS CCGs.
I officially started my business in 2019, after 8 successful years in the corporate world, however my coaching journey began back in 2016 when enrolling for training with The Coaching Academy.
My passion to empower others comes from my own personal journey and transformation. Overcoming my past hurdles of depression, an eating disorder and anxiety, I know that we have it within us to create a life we love but can often hold ourselves back. My recovery journey taught me that mindset is absolutely critical for success and creating what you want in life. My geeky obsession with time management came from never wanting to waste any of my precious time going forward, having wasted too many years to feeling inadequate, unhappy, anxious and holding myself back.
I now have a business I love, empowering people to reach their potential, break through anything holding them back, use their time properly, create new positive habits, discover how to get the best from themselves and find clarity.
I am also the founder of "Success Box" a personal development book club, which is a place to inspire action, growth and success through personal development books.
When I am not helping others with my business, my passions are travelling, learning Japanese, baking, fitness, reading, and art.
ABOUT RORY HIBBLER:
Rory Hibbler is an Executive Assistant turned Chief of Staff who lives and breathes in the startup/scaleup SaaS world. Previous to her current position, she was the right-hand Exec Assistant to the CEOs of two early-stage technology startups, helping them build their companies to their first major round of funding. Currently, she is the Chief of Staff at ScaleUp Edge, a platform that provides resources and coaching to help grow ScaleUp companies. She enjoys mentoring Executive Assistants and first-time Chief of Staffs and building a community to help others rise in their careers. Rory resides in Austin, Texas, and loves to rock climb, cook, spend time with her dog Winnie.
BBO PA NETWORK EVENING FORMAT
7:20pm - Get 'Online' - Log on and get settled ready for a 7:30pm start, make sure you have your drink of choice in your favourite mug/glass!
7:30pm - Welcome and Introduction by Sarah & Marianne, BBO PA Network
7:35pm - Introduction to BBO Trusted Hotel Partner, Belmond Le Manoir aux Quat'Saisons
7:40pm - BBO CSR Member of the Month #BBOCSRChampion
7:45pm - Keynote Speaker - Alice Dartnell 'Visualisation & Goalsetting for 2021'
8:15pm - Rory Hibbler, leading a panel with 'Where to Go From Here - Transitioning from Executive Assistant to a Career in Helping Companies Grow'
8:35pm - Finish / 'After Show Catch Up' / Informal Networking - for those who would like to stay on and have a catch up!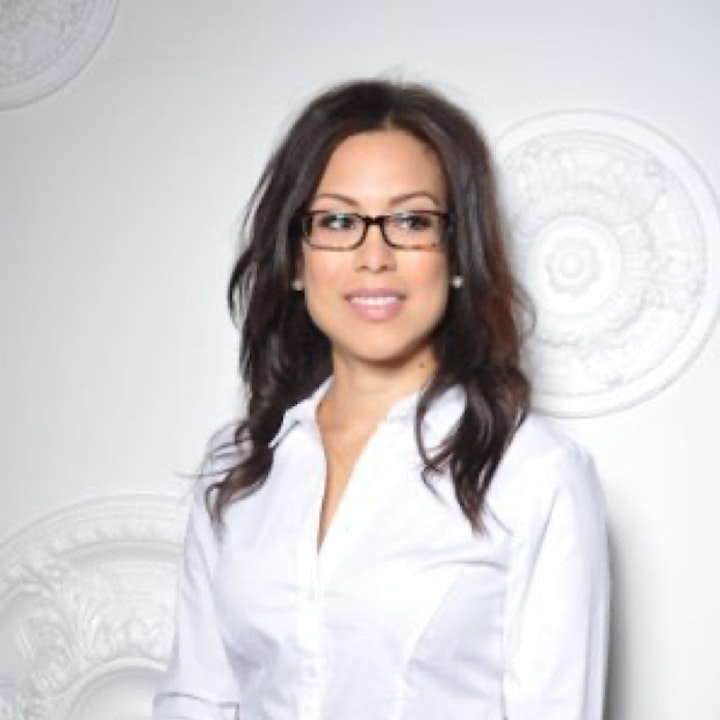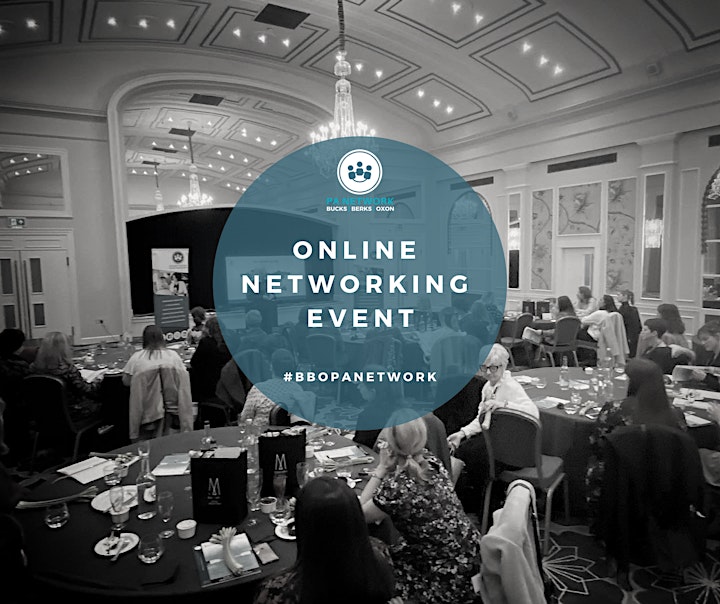 Date and Time
Location
Refund Policy