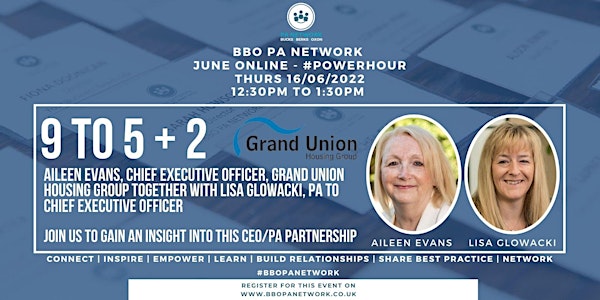 #BBOPANetwork ONLINE 16/06 | 9 to 5 + 2 | AILEEN EVANS & LISA GLOWACKI
Sales Have Ended
Ticket sales have ended
Join our PA Network Power Hour with CEO Aileen Evans and her Personal Assistant Lisa Glowacki with their session 9 TO 5 + 2.
About this event
You are cordially invited to attend the Bucks, Berks & Oxon (BBO) PA Network's power hour online event on Thursday, 16th June 2022 at 12:30pm.
We welcome our speakers for this session:
▶ Aileen Evans | Chief Executive - Grand Union Housing Group
▶ Lisa Glowacki | PA to Chief Executive - Grand Union Housing Group
In this session we will be joined by Powerhouse CEO Aileen Evans along with her Personal Assistant Lisa Glowacki. Aileen has a unique view on the role of an Assistant and along with Lisa, will be sharing their thoughts and learnings online for our Power Hour. This will be an informative session enabling PA Network Members to gain an insight into how Aileen and Lisa work in a strategic partnership.
Sarah and Marianne will be hosting this Online Event live from Grand Union Housing Group, Milton Keynes.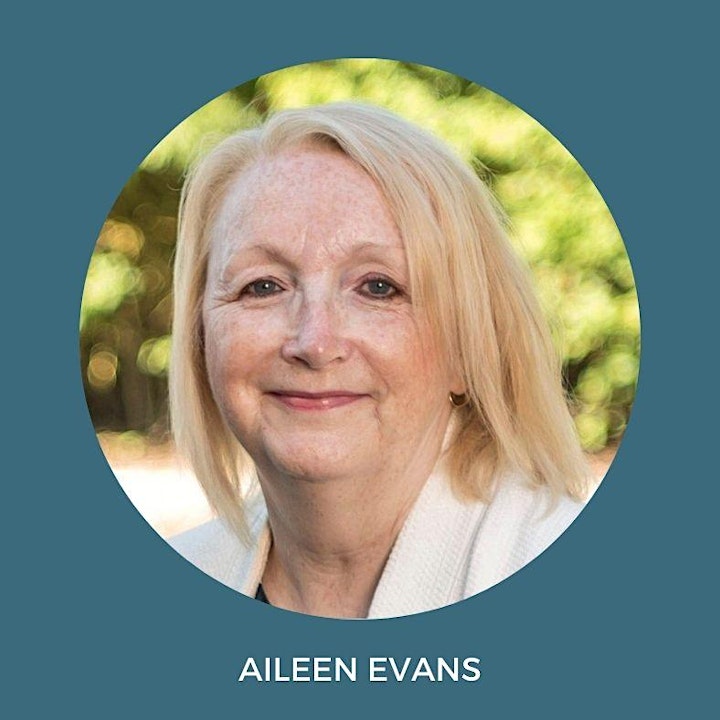 Aileen Evans
Aileen has had a career spanning over 30 years in housing and in her role as Group Chief Executive oversees everything at Grand Union Housing Group. She believes passionately that building properly affordable social rented homes is fundamental to solving the housing crisis.
Prior to joining Grand Union, Aileen was Housing Services Director at South Yorkshire Housing Association and before that worked for Leicester Housing Association, North East Derbyshire District Council and Nottingham City Council.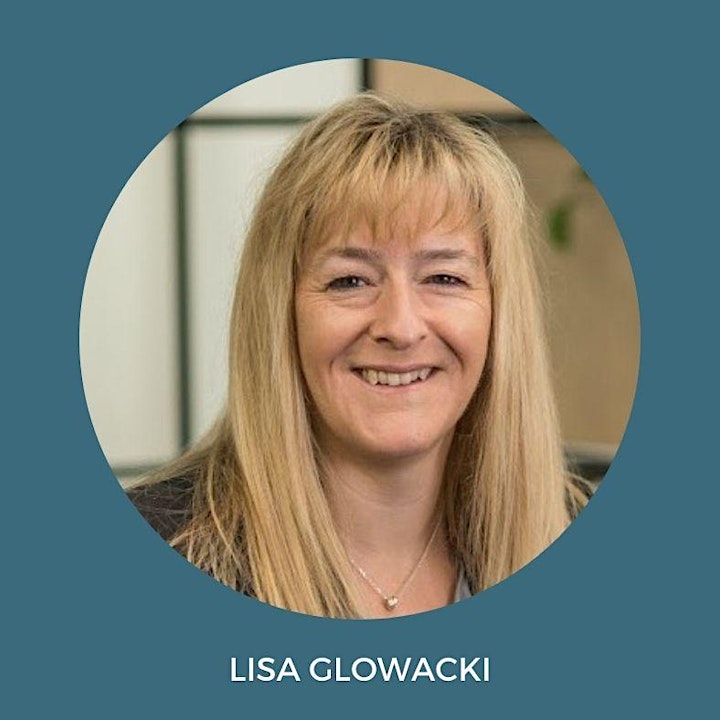 Lisa Glowacki
Lisa has worked with Aileen for almost 2 years and has been learning and developing her skills since her first role as a Secretarial Assistant in 1995. Lisa's career initially started in the Education sector at The Open University. After taking redundancy in 2016 and covering a FTC maternity leave in the Housing Sector the desire to get back into Housing led her to Grand Union.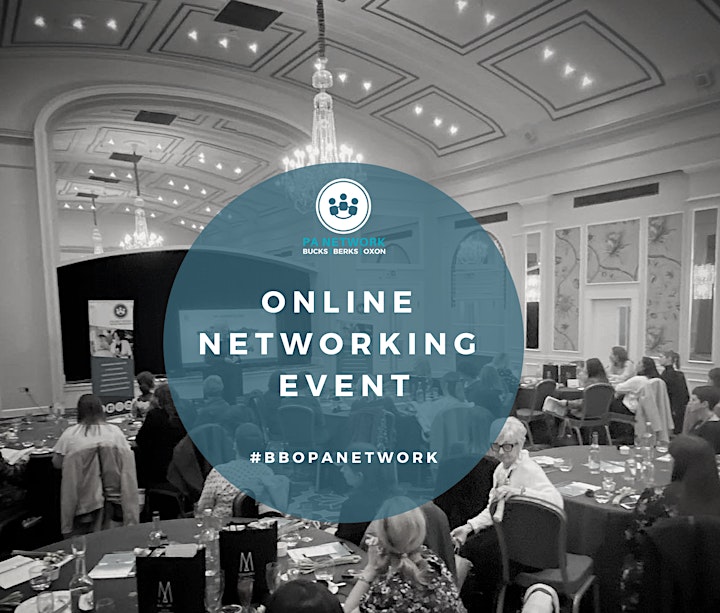 BBO PA NETWORK POWER HOUR
12:20 pm - Get 'Online' - Log on a bit earlier if you can with your favourite wrap and drink of choice ready to settle in for a 12:30pm prompt start!
12:30pm - Aileen Evans & Lisa Glowacki
1:30pm - Finish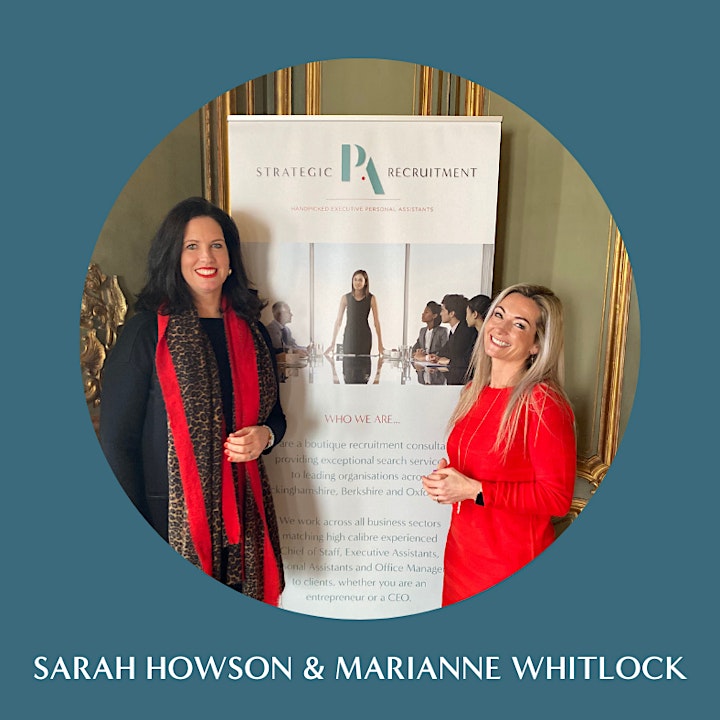 ABOUT THE NETWORK:
Bucks, Berks and Oxon PA Network (BBO PA Network) is an active professional networking group for Personal Assistants, Executive Assistants, Virtual Assistants, Administrators and Office Managers who work or live in or around the Bucks, Berks & Oxon area. We are not county specific, anyone is welcome to attend!
It doesn't matter where you are in your career journey, whether you are just starting out in the Business Support industry or are very experienced – as long as you are in a support role you are more than welcome to join our membership and attend our events.
We are an all inclusive network, we empower each other, lift each other up and support each other!
Sarah Howson founded the network 7 years ago whilst off on maternity leave. A former Executive Assistant herself, she understands how important it is to build and have a network of likeminded Assistants you can turn to for support. Marianne Whitlock is very much a people person through and through and has a interesting sales, marketing and events background as well as a huge passion for fitness. Together, Sarah and Marianne run Strategic PA Recruitment alongside building the PA Network community. Championing the Business Support profession as well as enabling a platform to build an incredibly professional, warm and friendly network.