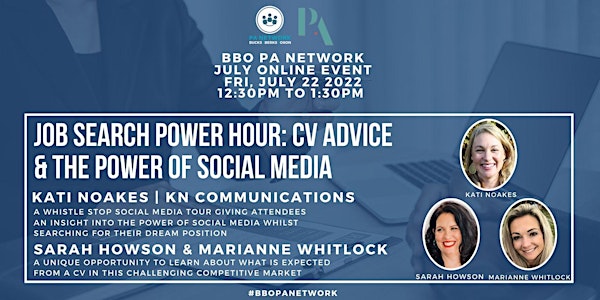 #BBOPANetwork ONLINE 22/07 | Whistle Stop Social Media | CV | Power Hour
Sales Have Ended
Registrations are closed
Join BBO PA Network with Kati Noakes for our a 'Whistle Stop Social Media Tour' Power Hour event.
About this event
You are cordially invited to attend the Bucks, Berks & Oxon (BBO) PA Network's power hour online event on Friday, 22nd July 2022 at 12:30pm.
Join us for Kati's Social Media Whistle Stop Tour focused on job searching from a PR Social Media experts prospective.
BBO PA Networks Sarah Howson and Marianne Whitlock guide you through their top CV tips. Our webinar is a unique opportunity to learn about what is expected from a CV in this challenging competitive market, and aims to help you feel more confident preparing your CV for success.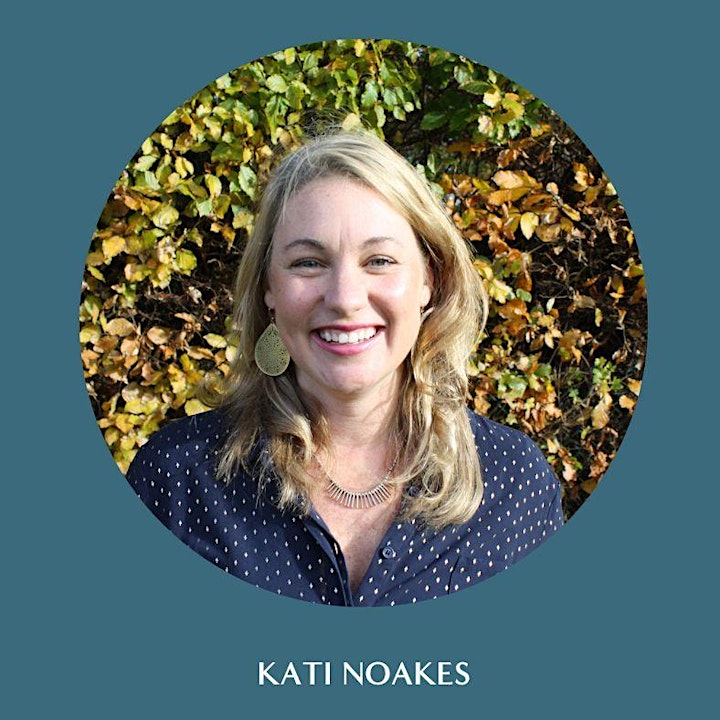 We welcome our guest speaker for this session:
▶ Kati Noakes | Founder KN Communications
Former Marketing and Communications Director at Saatchi & Saatchi and the BBC, Kati is passionate about helping businesses create innovative digital marketing campaigns. At Saatchi & Saatchi, she delivered large scale PR initiatives like a 2-hour documentary about the agency on BBC2, a PR launch at the Cannes Film Festival and created strong relationships with key journalists (national, local, and industry). At the BBC, she worked more strategically, leading large-scale communications and marketing campaigns across teams, targeting key opinion formers and leading small opinion former events with David Attenborough and Stephen Fry. She founded KN Communications in 2018 to help businesses and charities create engaging marketing and communication campaigns across social media platforms as well as develop partnership and outreach programmes. She offers 121 workshops and 6 -week group courses through to fully integrated marketing and communication campaigns for clients.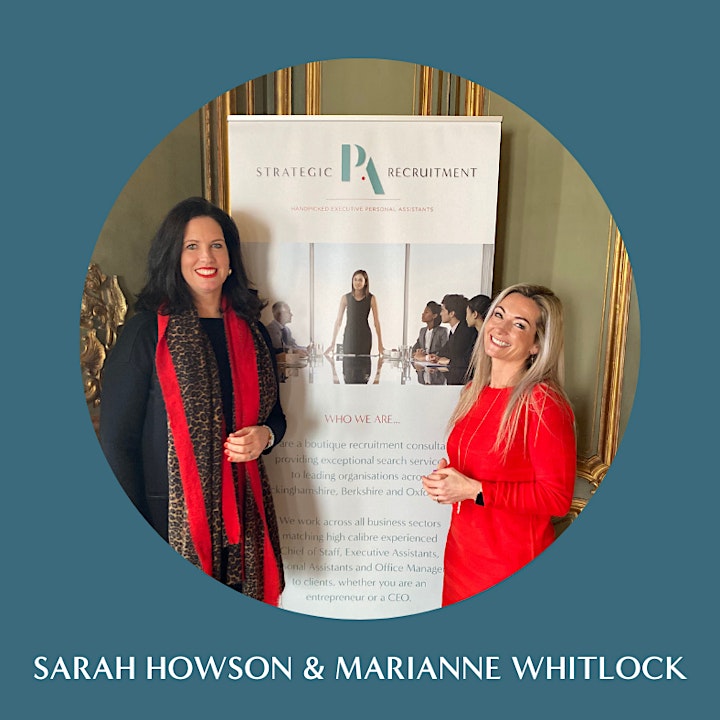 Sarah Howson
Sarah is a PA/EA professional with over twenty years of C Suite level experience. She began her journey straight from university assisting the CEO of a small start-up semiconductor company, before moving to a FTSE250 international oil and gas support services company, where she supported both the CEO and the CFO.
Sarah's talent for building relationships and connecting people, as well as her extensive EA experience is a great foundation for launching Strategic PA Recruitment.
Marianne Whitlock
Prior to co-Founding Strategic PA Recruitment in 2019, Marianne was previously in Sales at a luxury Canadian train company and worked in the travel industry for over 15 years, specialising in client relationships and networking. More recently Marianne has managed several charity fundraising events.
Marianne is passionate about empowering people and helping them achieve their full potential. She believes the most fundamental building block for any business is the relationships we have with others. Along with Marianne's attention to detail is an extensive network and she is well known for her professional, honest but fun approach.
BBO PA NETWORK POWER HOUR FORMAT
12:20 pm - Get 'Online' - Log on a bit earlier if you can with your favourite wrap and drink of choice ready to settle in for a12:30pm prompt start!
12:30pm - Kati Noakes - LinkedIn, Instagram and Facebook
1:00pm - Sarah Howson and Marianne - CV Top Tips
1:30pm - Finish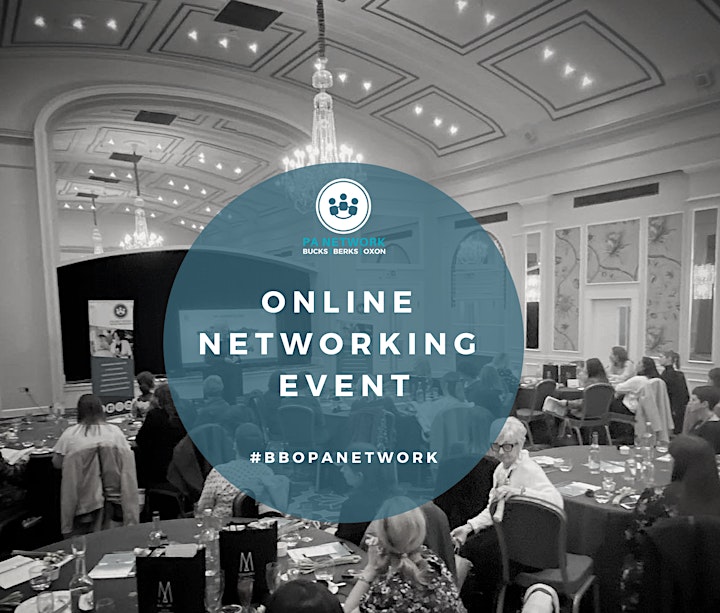 ABOUT THE NETWORK:
Bucks, Berks and Oxon PA Network (BBO PA Network) is an active professional networking group for Personal Assistants, Executive Assistants, Virtual Assistants, Administrators and Office Managers who work or live in or around the Bucks, Berks & Oxon area. We are not county specific, anyone is welcome to attend!
It doesn't matter where you are in your career journey, whether you are just starting out in the Business Support industry or are very experienced – as long as you are in a support role you are more than welcome to join our membership and attend our events.
We are an all inclusive network, we empower each other, lift each other up and support each other!
Sarah Howson founded the network 7 years ago whilst off on maternity leave. A former Executive Assistant herself, she understands how important it is to build and have a network of likeminded Assistants you can turn to for support. Marianne Whitlock is very much a people person through and through and has a interesting sales, marketing and events background as well as a huge passion for fitness. Together, Sarah and Marianne run Strategic PA Recruitment alongside building the PA Network community. Championing the Business Support profession as well as enabling a platform to build an incredibly professional, warm and friendly network.