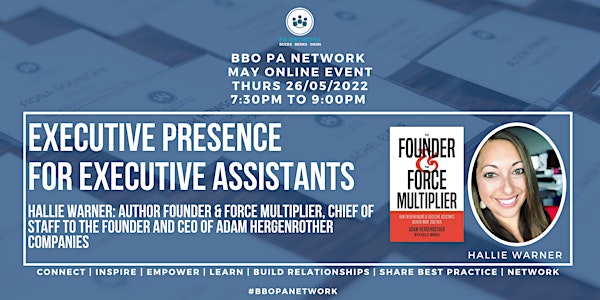 #BBOPANetwork ONLINE Hallie Warner 26/05 | Executive Presence for EAs
Sales Have Ended
Ticket sales have ended
#BBOPANETWORK Online Event | Join us with Hallie Warner | Executive Presence for Executive Assistants
About this event
You are cordially invited to attend the Bucks, Berks & Oxon (BBO) PA Network's online event on Thursday, 26th May 2022 at 7:30pm.
We welcome our speaker for the evening:
▶ Hallie Warner - 'Chief of Staff to the Founder and CEO of Adam Hergenrother Companies' with her keynote 'Executive Presence'
Sarah & Marianne will be hosting this online event from The Castle Hotel in Windsor.
Hallie Warner
Hallie serves as Chief of Staff to the Founder and CEO of Adam Hergenrother Companies. She is also the co-author of The Founder and The Force Multiplier: How Entrepreneurs and Executive Assistants Achieve More Together. Hallie has worked side-by-side with Adam Hergenrother for over eleven years, ensuring that Adam's vision is clarified, communicated, and executed. Hallie also provides strategic counsel to key leaders within the organisation and leads special projects focused on the growth of the organisation.
Hallie's session: Ah, executive presence. The often elusive leadership coaching catchphrase. What is it and why do you need it? Executive presence is quite a broad term and yet one of the key skills leaders must master at all levels of an organisation. Executive presence is not just for CEOs or "Executives." It is not something you are born with, but rather a leadership skill that can be developed over time. Yes, that means you too!
In this session, Hallie will discuss:
• What is executive presence
• Why do you need executive presence
• How to build executive presence
After this session, you will have a fresh perspective about what it means to have executive presence and "think like an executive." In addition, you will be able to create a personal and professional vision statement that will be your roadmap for being an unstoppable strategic partner.
BBO PA NETWORK EVENING FORMAT
7:25pm - Get 'Online' - Log on and get settled ready for a 7:30pm start, make sure you have your drink of choice in your favourite mug/glass!
7:30pm - Welcome and Introduction by Sarah & Marianne, BBO PA Network
7.35pm - BBO CSR Member of the Month #BBOCSRChampion
7:40pm - Keynote Speaker - Hallie Warner
8:20pm - Interactive BBO Discussion
8:45pm - Finish / 'After Show Catch Up' / Informal Networking - for those who would like to stay on and have a catch up!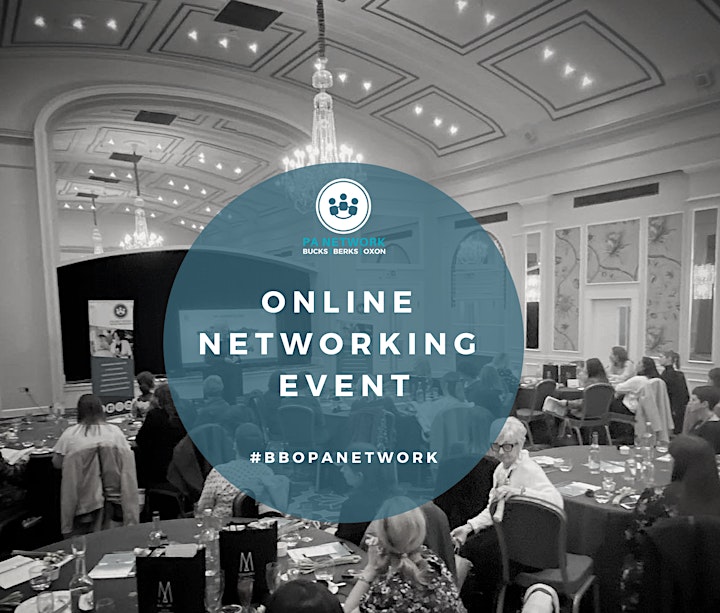 ABOUT THE NETWORK:
Bucks, Berks and Oxon PA Network (BBO PA Network) is an active professional networking group for Personal Assistants, Executive Assistants, Virtual Assistants, Administrators and Office Managers who work or live in or around the Bucks, Berks & Oxon area. We are not county specific, anyone is welcome to attend!
It doesn't matter where you are in your career journey, whether you are just starting out in the Business Support industry or are very experienced – as long as you are in a support role you are more than welcome to join our membership and attend our events.
We are an all inclusive network, we empower each other, lift each other up and support each other!
Sarah Howson founded the network 7 years ago whilst off on maternity leave. A former Executive Assistant herself, she understands how important it is to build and have a network of likeminded Assistants you can turn to for support. Marianne Whitlock is very much a people person through and through and has a interesting sales, marketing and events background as well as a huge passion for fitness.
Together, Sarah and Marianne run Strategic PA Recruitment alongside building the PA Network community. Championing the Business Support profession as well as enabling a platform to build an incredibly professional, warm and friendly network.