Black Cultural Archives invites you to attend our digital public meeting to share the 2030 vision
About this event
Black Cultural Archives invites you to our digital public meeting on Wednesday 20 May 2020 at 7pm. We would like to share our vision for the next ten years.
Our Managing Director, Arike Oke, will be sharing a preview of BCA's new 10 year vision and strategy through a meeting on Zoom. The conversation facilitated by Sabrina Clarke-Okwubanego, co-founder of Niche On Demand will be followed by a Q&A session.
As the Home of Black British History, BCA uses Britain's shared histories to inspire and give strength to individuals, communities and society.
We collect, preserve and celebrate the histories of people of African and Caribbean descent.
By 2030 we aim to:
Be resilient, flexible and entrepreneurial
Use our active voice to make a difference
Make teaching and learning about Black history available to everyone
Share our collections in person touring and online
Extend our workforce development programme internationally
Help us think about how to get there.
We know the decisions we make today secures our shared legacy, so your contribution is vital. We hope that you can join us on the day.
NB: This meeting will be recorded so that It is available to watch for people who are unable to attend. If you would like not to be featured in the video, please switch off your video during the meeting.
The format of the session will be:
7PM - 7:05PM: Welcome and Public Meeting Overview
7:05PM - 7:25PM: In conversation with Arike Oke - an intro to the new MD
7:25PM - 7:55PM: Audience Q&A using Slido
7:55PM - 8:00PM: Summary/Close
LIVE INTERACTION AND Q&A ON THE DAY
To ensure we capture all of your questions and comments during the Zoom public meeting we will be using Slido to interact live through Q&A, Polls and Idea sharing.
To submit a question and take part in the live surveys click on this link . The link allows you to send questions to the moderator via your phone. Don't worry if you haven't used Slido before, the session moderator will explain how to use it in advance of the conversation and Q&A.
TWITTER
We will be tweeting live on the event from @bcaheritage. If you would like to tweet about the event please use the hashtag #BCA2030
INTERPRETERS & CLOSED CAPTION FOR ACCESSIBILITY
The meeting will have Closed Caption and a live interpreter.
Captions will be displayed using StreamText which is also available at: https://www.streamtext.net/player?event=BCA
It provides an additional way for you to view the captions. The link needs to be put in your web browser on a phone, tablet or laptop and is set to go live at 18:55.
We look forward to seeing you on Wednesday 20 May at 7pm BST.
If you interested in being part of the team who help to 'Secure the Future of the Black Cultural Archives', take a look at the vacancies currently on the site for a Project Manager and Relationship Manager. Application deadline closes on 26 May 2020.
For more details click here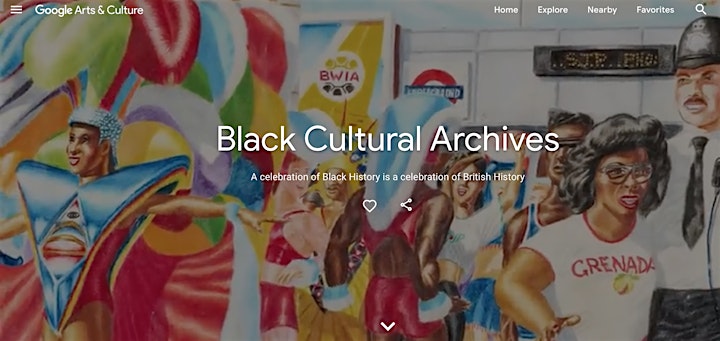 To find out more about the Google Arts & Culture collaboration with the Black Cultural Archives click here