Event Information
Location
Talent Garden Barcelona
169 Carrer de Ramon Turró
#A
08005 Barcelona
Spain
At Forward Fooding, we're over the moon to bring to life a special phygital event to unveil the Official 2021 FoodTech 500
About this event
At Forward Fooding, our mission is to showcase the global startup talent at the intersection of food, technology and sustainability. 
The FoodTech 500, the Fortune 500 of AgriFoodTech showcases companies (from early-stage startup to scaleup businesses) that are building and scaling AgriFoodTech businesses, addressing the rapid need for change across the food system.
During the first event of this series, we will unveil The Official 2021 FoodTech 500 list. Join us as we showcase 2021's definitive list of the most inspirational businesses in the world of AgriFoodTech, and deep-dive into the amazing entrepreneurial talent behind these companies.
We will also be joined by some top-notch (yet secret) speakers from the '2021 FoodTech 500 pack' to learn more about their businesses.
During the event we'll get the chance to introduce some of the Top Spanish companies in the ranking through their founders - some of the confirmed speakers include:
Benoit Vandevivere, Co-founder and CEO, Consentio
Meritxell Ventura, Founder, Noweat
Marc Coloma, Co-founder & CEO, Heura Foods
Lynette Kucsma, Co-founder & CMO, Natural Machines
Alex Campos, Business Development, Nova meat
Come down to our FoodTech Innovation hub in Barcelona as we sit down with FoodTech experts and leaders to learn the latest about the global Agri-FoodTech sector.
A special thank goes to our sponsors: Dole & Neom
We look forward to seeing you there as we taste the future of food!
The Forward Fooding Team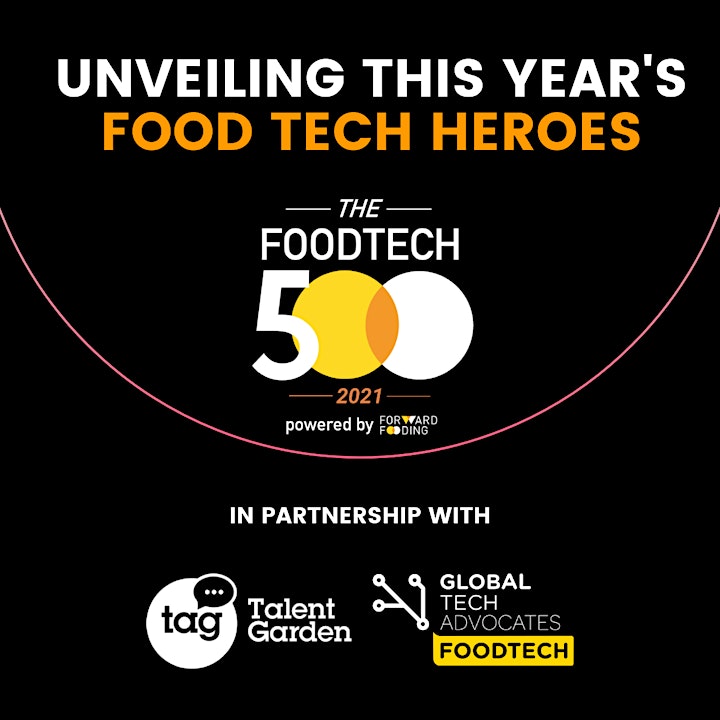 Date and time
Location
Talent Garden Barcelona
169 Carrer de Ramon Turró
#A
08005 Barcelona
Spain