Description
The ​Neurosciences ​Specialist ​Group ​is very ​excited ​to ​be ​running ​its ​6th ​Annual ​Study ​Day, ​and ​we ​have ​invited ​a ​range ​of ​exciting ​speakers ​this ​year ​to ​cover ​topics ​including: ​
​- ​end ​of ​life, ​
​- ​decision ​making ​around ​tube ​feeding, ​
​- ​supporting patients with complex cognitive and communication difficulties with decision making
​- ​stroke ​and ​dietetic ​practice, ​and ​
​- ​gluten ​ataxia. ​ ​

This one ​day ​event includes: morning tea/coffee with pastries and bacon rolls, ​a seated buffet lunch in the Mulberry Restaurant, ​refreshments during the day, as well as ​opportunities ​to ​network ​with ​fellow ​neuro-dietitians ​and representatives ​from ​various ​nutrition-related ​companies. ​

Programme below: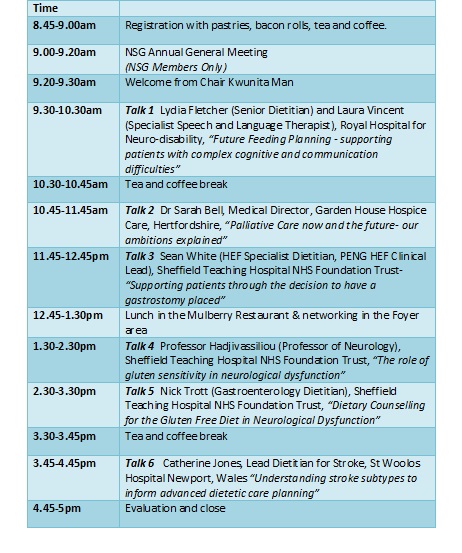 This year, the ticket prices reflect the additional option of online live streaming which has been requested by NSG members on a few occasions in the past. Please note, prices also include Eventbrite booking fees.
The below prices includes an EARLY BIRD discount until 10th November, after which the tickets will revert to full prices (£15 extra each ticket)
-NSG Member £70 (for NSG members only which also includes AGM attendance)
-Non-NSG Member £95
-Non-BDA Member £130
-Online Attendee £45 (for those who wish to live stream into the study day without attending in person). Instruction on how to access this will be send out closer to the day. You will need a good internet connection to access this. We will aim to send out paper copies of the presentation slides prior to the event, and you will need to provide us with your postal address. Unfortunately the live stream is only one-way, so you will be unable to ask questions in real time.
Please note that a camera crew will be present to film the live stream during the event. Please indicate on the registration form that you are aware of this and consent to filming. There is an option to choose an off-camera seat if you wish.

To ​register ​for ​this ​study ​day, ​please ​use ​this ​registration ​form ​and ​follow ​the ​on ​screen ​instructions. ​Unfortunately ​we ​are ​uable ​to ​raise ​invoices ​due ​to ​previous ​payment ​issues. ​ ​Payment ​needs ​to ​be ​made ​in ​advance ​and ​your ​confirmation receipt ​can ​be ​used ​to ​claim ​back ​expenses ​from ​your ​employer. ​ ​

If ​you ​have ​any ​difficulties ​registering, ​please ​contact ​us ​via ​email: ​bdansg@gmail.com

We ​look ​forward ​to ​seeing ​you ​on ​the ​day!
Disclaimer: Livestreaming tickets will only be refunded if there is a confirmed issue with the transmission from the livestreaming company - BDA NSG cannot be held liable for any other connection-related problems and support on the day will be limited to providing log-on/access instructions only. Technical support to ensure these instructions can be followed should be sought locally.