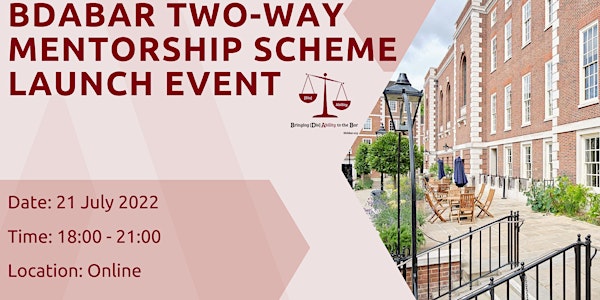 BDABar Two-Way Mentorship Scheme Launch Event (Online Attendance)
BDABar is launching its Two-Way Mentorship Scheme. This is a fantastic opportunity to learn more about the scheme and network.
About this event
Join Bringing [Dis]Ability to the Bar for our first hybrid event, available both in-person in the hallowed halls of Inner Temple, and by remote attendance from your living room!
BDABar proudly brings you the launch of our Two-Way Mentorship Scheme. This is a pioneering system to give disabled people the opportunity to gain insight into life at the Bar, and to give practising barristers (and the chambers or employers) an opportunity to gain a greater understanding of how to give disabled mini-pupillage and pupillage applicants the best and fairest chance at obtaining a mini-pupillage and/or pupillage.
You will hear more from BDABar about how the scheme works, for both students and practitioners, along with insight from those that have already signed up to take part on what they expect the scheme will bring to their practice, and the ways they will be able to enrich their chambers' recruitment practices in the future.
After hearing from our panel of speakers, there will also be space for networking and the opportunity to sign up for our scheme, either as an aspiring barrister or practitioner.
If you intend to attend our two-way mentorship launch event at Inner Temple in person, please use the dedicated link at [https://www.eventbrite.co.uk/e/bdabar-two-way-mentorship-launch-event-in-person-attendance-tickets-371064101717] so that spaces are allocated appropriately.