About this Event
Round Two of #BDC2019 - Domination, takes place at Driftland on the 25th & 26th of May. It's Europes only custom built drift circuit and we are going to be showing just what can be done at an amazing venue like this.
Our packed driver grid will be challenged like never before!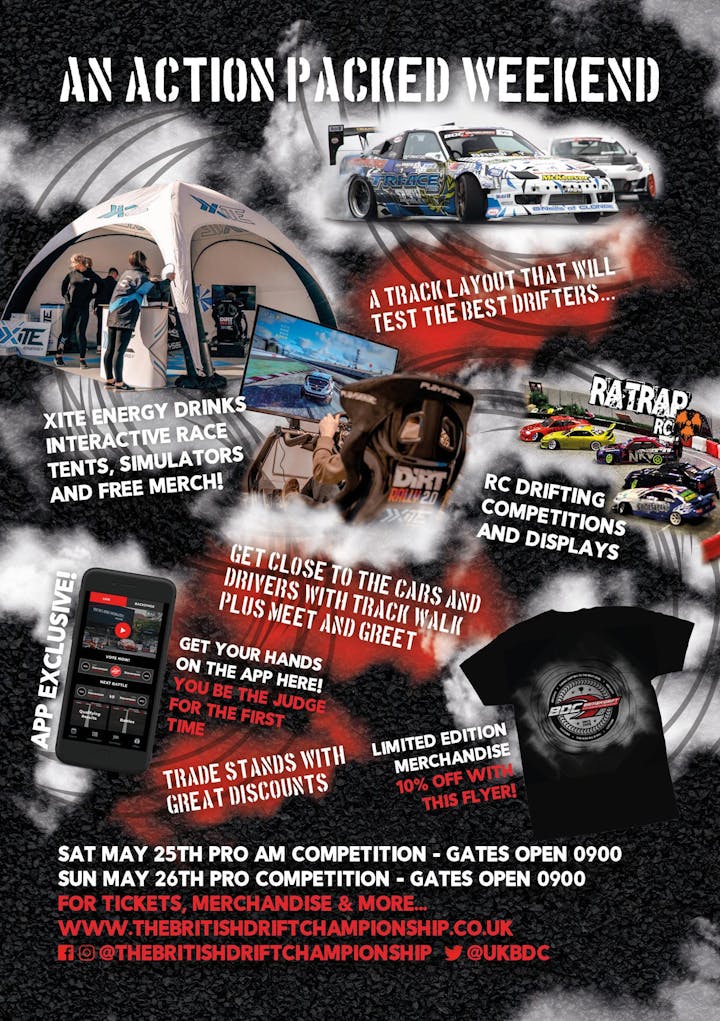 Saturday -
Pro-am Practice
Pro Practice
Qualifying
Top 32
Podium Ceremony
Sunday -
Pro practice session all morning
Qualifying
Parade
Top 24
Podium Ceremony
Gates open 9am - 6pm both days
Also look out for all our other surprises for 2019!
Don't miss out, buy your tickets NOW!
KIDS:
General standing admission for kids 12 and under is free. 13s and over must purchase tickets at regular ticket prices. Under 18s must be accompanied by an adult.
TICKET DELIVERY:
All tickets purchased will be sent out via email only. Please enter the correct email address when ordering. If you purchase multiple tickets, you will receive one email containing a link to download each ticket.
NAMES ON TICKETS:
By default, all tickets on your order will be in the name of the person who purchases them. On the day of the event, any person presenting a ticket at the gate may be asked for ID to confirm the ticket is for them.
In the email you will receive after purchasing a ticket/tickets, you will receive a link where you will have the facility to update the name and email address associated with each ticket.
If the person who purchased the tickets will not be attending (such as where tickets are being purchased as a gift) please change the names on any relevant tickets via this link and ensure you print the tickets with the correct name on them and bring them to the event.
ONE-USE POLICY:
Each ticket purchased can be used a maximum of one time only. Any persons attempting to gain entry with a duplicate ticket will not be granted admission under any circumstances.
REFUND POLICY:
BDC event tickets are non-refundable under any circumstances. By purchasing tickets for this event, you are agreeing to this refund policy.