From the world-changing to the wondrous: explore what really goes on inside a university with our LATES events, exclusively for adults!
About this event
From field to fabric: cotton goes through a complex production process and is touched by many different hands in the supply chain before it can be transformed into the clothes you wear.
Join us to explore the environmental and social challenges of cotton production, and the complexity and diversity of cotton farming, which underpins the fashion industry.
We'll shine a light on some of the common sustainability challenges we hear about the fashion industry, before looking at the importance of cotton for farmers and their families.
With help from our speakers, we'll share insights from workers in the global supply chain, and examine what responsible consumption looks like for Western consumers, alongside the demands of fast fashion.
Speakers: Dr Mark Sumner (University of Leeds), Alia Malik (Better Cotton Initiative), Allan Williams (Cotton Research and Development Corporation - Australian Cotton)
Photo by Rio Lecatompessy on Unsplash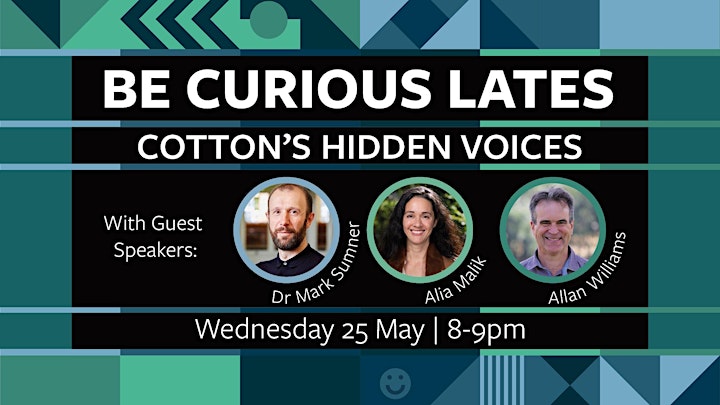 This event is the second in a series of three Be Curious LATES events, which will explore the complex, challenging and globally important history, production and consumption of cotton, with contributions from universities, the fashion industry, historians and sustainability experts.
Wednesday 30 March, Be Curious LATES: Cotton – unpicking the stories woven into our clothes (watch back here)
Wednesday 25 May, 8–9pm: Cotton's Hidden Voices
Wednesday 13 July, 8–9pm: Future Fashion