Learn how to create a media art performance piece focused on character design, light, movement and music.
About this event
Attendees will learn how to create an online media art performance piece focused on character design, light, movement and music. They will be guided on the process to design and produce their own performance as well as being helped to record it. The workshop will be using accessible technology and materials that attendees will have at home making it accessible for all. This activity will be encouraging collaboration within the household as well as facilitating self-expression and new ways of creating.
We have only 10 spaces available for 10 households (each household will need 2 people to collaborate on the workshop) +12 years old
Tickets are free but you need to apply to be selected as one of the attendees by answering some simple questions after you have booked your tickets.
About the lead artist:
This workshop will be lead by Maria Almena, a multidisciplinary artist, creative director of Kimatica studio as well as curator of Art in Flux. This is her first introductory workshop to the creative methodology that she has used to create many of the media performance with Kimatica. Her media performances are pioneering the way in this upcoming art genre and her work has been commissioned by Tate Museum, British Council and Battersea Arts Centre to name few.
Basic workshop requirements:
Two members from the house-hold will need to participate: one person will be more focused on the technical side and the other person will be more focused on the creative side.
Access to a computer to use Zoom as an in-browser software. The computer will need to have camera or an external webcam will need to be connected.
Light sources such as bedside lamps or phone's torch (the more the merrier)
Clothing and makeup to create the performance character.
Access to play music with an speaker nearby
A small space around the computer to move/dance in front of the computer's camera.
Ps, a video of their performance will be sent via email after the event so everyone can keep a copy.
This workshop is funded by SPACE, South East Creatives, SECADDS and the European Union.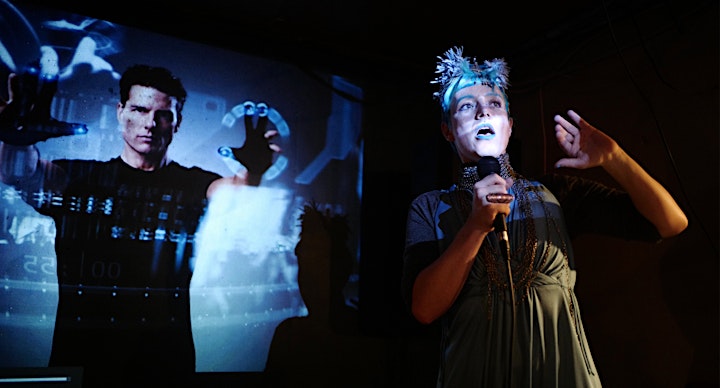 Organiser of "BE-MORPH" A collaborative media-performance workshop
​FLUX is a forum hosted by artists to discuss strategies, processes and collective themes within the media arts. FLUX is a fluid platform committed to the ever-changing needs of media artists working right NOW in the UK and will remain in a dynamic state of change in order to facilitate them.

Currently FLUX hosts two different events which are a response to the needs of our associated artists. We hold quarterly talks events which are curated by one of the hosts and facilitate the exchange of ideas, as media artists come together to profile their work. Hosted at the Dalston Boys Club these larger events offer a space for the exchange of creativity, inspiration and support. Between these larger events smaller groups meet monthly at special artist studio visits which are social events for artists to meet and talk creatively about their ideas and projects.