When you can work from anywhere why not an island in Scotland? Join our co-being residencies
About this event
The past 18 months have been challenging
And yet, the enforced lockdowns meant many of us had time to pause and reflect. We've spent less hours on doing and more on thinking about where we're going. We've rekindled a love of nature, found the time to be creative—and realised that we didn't want to go "back to normal."
Craigberoch offers an opportunity to let those nascent ideas and dreams grow.
Located on the idyllic Isle of Bute in Scotland, Craigberoch provides a platform for social innovation, operating at the nexus of business, the arts, the environment and well-being.
A "decelerated" approach to life and work is possible, even as the world speeds up again. Slowing down helps us to tap into our innate creativity and desire for purpose—to drive transformation in ourselves, within organisations and in the world around us.
Enjoy a range of experiences. Whether you join an immersive programme with our cast of trainers and performers or take advantage a more self-directed "co-being" residency, the red thread of pace, passion and purpose is common to all.
By participating in one of our decelerator programmes, businesses can benefit from:
Breakthrough innovation that opens up new sources of value
Increased resilience and well-being in the workplace
Renewed ability to retain and inspire high-performing talent
Join us to explore the art of the possible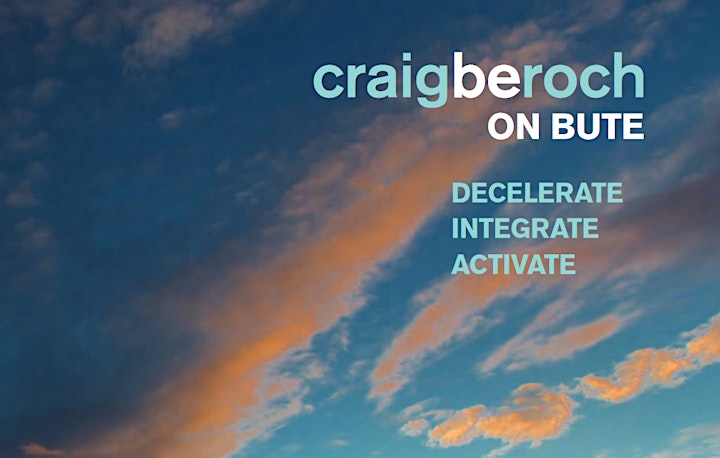 Fees & downpayment
The cost for a full residential week varies if you are part of a organisation or company, a not-for-profit structure, or an individual without affiliation:
£ 1,450 (+VAT) per person for organisations
£ 950 (+VAT) for individuals and not-for-profits
The tickets that are sold on Eventbrite only cover a downpayment for the event.
This downpayment confirms your registration and is refundable according to Eventbrite's policy - Craigberoch seeks to align the refund and cancellation policy with this service and the latest version of the policy can be found here: https://craigberoch.org/terms
Our team will reach out to you with instructions on how to complete the remaining payment at a closer date to the event.
For all questions and concerns email info [at] craigberoch.org
Organiser of BE on Bute co-being residency - September Week 1