Join us for this evening event to find out how you can be the change and be the future...by becoming a B Corp.
About this event
Together, we can be a force for good.
Being a B Corp means that you are honestly committed to creating real environmental and societal benefits.
People want to work for, buy from, and invest in businesses they believe in. The B Corp Certification is a powerful way to build trust and value for your organisation.
72% of the UK public think businesses should have a legal responsibility to the planet and people, alongside their profit aspirations.
Be the change by joining us to find out how you can become a B Corp business.
Expect informative talks, valuable networking opportunities and inspiring discussions to further support your ability to discover, collaborate and innovate.
More information to be announced.
If you purchase a physical ticket but the event is moved fully online, you can choose to have your ticket fully refunded or attend virtually with a partial-refund.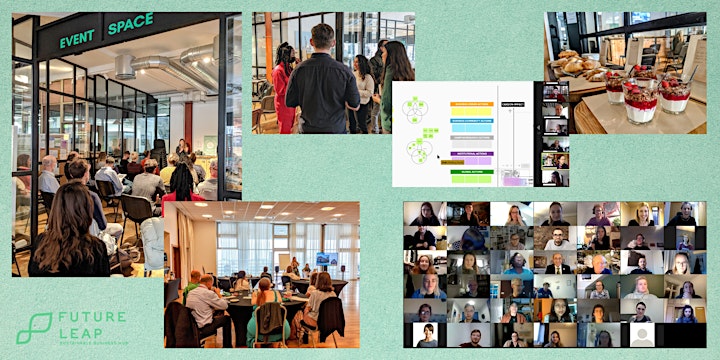 Andy Hawkins, B Corp Consultant, Future Leap
For many years companies have understood the need to measure and improve their Social & Environmental Impact. This session will overview B Corp and investigate why it is so necessary as well as looking at the how. You will come away with an action plan and ideas to help challenge and inspire.
Steve Fuller, Creative Head, The House
In 2006, The House took the decision to move away from the drinks industry and focus solely on clients with an overtly positive role in society. Since then, it has worked with (Prince's Trust) Youth Business International, Fiskars (global consumer products company), Petainer (global recycled packaging manufacturer), Prima Dental (the world's leading precision dental products manufacturer), Centrica (British Gas Solar) and Essilor (the world's largest optical lens manufacturer).
The House became a B Corporation 4 years ago, joining companies like Ben & Jerry's, Danone, Hootsuite and Kickstarter. The consultancy's core competencies are purpose driven business strategy (what Steve likes to call purposeful advantage), values led leadership and organizational culture and inspiring brand stories – internal and consumer.
Karyn Williams, Head of Social Value at Stride Treglown, will be speaking on "B Corp, a business ethos which balances purpose with profit".
Stride Treglown were welcomed into the B Corp movement earlier this year, the first major UK architecture practice to do so. B Corp certification ensures businesses place purpose ahead of profit and the rigorous evaluation process digs deep into your business operations, your social and environmental performance as well your wider relationships with clients and your supply chain. Hear more about our journey to B Corp Certification in this session.
Agenda
18:00 - 18:20 - Registration, Refreshments and Networking
18:20 - 18:30 - Introduction
18:30 - 18:45 - Andy Hawkins, Future Leap
18:45 - 18:55 - Q&A
18:55 - 19:10 – Steven Fuller, The House
19:10 - 19:20 - Q&A
19:20 - 19:35 – Karyn Williams, Stride Treglown
19:35 - 19:45 – Q&A
19:45 – 19:50 - 60 Second Pitches
19:50 – 19:55 – Close
19:55 – 20:30 - Networking & Nibbles
Meet The Speakers!
Andy Hawkins, B Corp Consultant, Future Leap
Andy Hawkins, founder of Business on Purpose, has been in business for more than 30 years helping companies transform the way they work using technology.
He also spent 5 years doing community development in Africa and a further 5 years in environmental services.
These experiences are now helping clients assess and improve their Environmental, Social and Governance (ESG) utilising the B Corp process and B Impact Assessment.
Having supported dozens of clients across a range of sectors, as a B Leader he is well placed to provide support how, where and when it is needed.
Steve Fuller, Creative Head, The House
The House has worked with global and local brands for 25 years. It supports CEOs and business leaders who want to create a company that is a force for good. The consultancy's founders had their own purpose journey, most notably, they gave up 70% of their turnover 15 years ago to focus on creating a business with impact.
Steve has worked with some of the biggest names in the drinks, retail and entertainment industry like Diageo, Jack Daniels and Swatch. As a roster agency for Diageo for over 10 years, The House developed brand and communication programmes that travelled the world – it was one of only a handful of agencies outside the U.S. to develop advertising for Jack Daniels as well as creating global promotional platforms like Mr Jack's Birthday. The House created world-firsts technology for Smirnoff in World Duty Free and won awards for ground-breaking consumer web experiences.
Karyn Williams, Head of Social Value at Stride Treglown
Stride Treglown is an AJ100 employee-owned architectural practice whose people driven culture and social value focus has been longstanding. Stride Treglown stands for Better Places, Empowered People and Resilient Partnerships. Together 300 people work in a collective of 9 studios across the UK, formed of architects, designers and specialists and are embedded in the communities that they work and live in. Together with their clients, they aim to improve the lives of future generations. Stride Treglown promotes a form of design that isn't driven by ego, but by purpose.
Karyn has developed the company's evolving social value strategy, raising awareness, the implementation and measurement.
----------------------------
Want to Know More?
If you would like to join our sustainable business community please get in touch via info@futureleap.co.uk or sign up easily here.
Follow the Future Leap Network on Facebook, Twitter, Instagram & Linkedin
Never miss what's next in sustainability by signing up to our monthly newsletter HERE
Opportunities, Suggestions and Conditions
Physical Attendees: It is important we look after each other and keep safe. We recommend all attendees take a lateral flow test prior to arrival. Please do not attend if you have any covid symptoms or are having to self isolate. Physical attendees must adhere to all safety guidelines sent in advance of the event.
You can get 20% off your next online event with us by choosing the add on option during booking.
Most of our events are available on demand here, however this does not include opportunities to network, take part in the discussions or do a 60 second pitch!
We will share your name, job title & company with the other event attendees for this event only. If you don't want this information to be shared please let us know when you have purchased your ticket.
We take photos at our events for marketing purposes, if you don't want your picture taken please let us know in advance.
We record some of our events for marketing purposes, if you don't want to be in the recording please let us know in advance.
We have included a £1 carbon offsetting fee to all event tickets in our commitment to being carbon neutral in our operations. You can find out about our chosen charity here.
Please let us know at least one week in advance if you require closed captions or have any other accessibility needs.
If you require a complimentary carers/assistant ticket, please email events@futureleap.co.uk at least one week in advance and we will be happy to support you!
#wegrowthhub #business #seminar #sustainable #sme #bristol #businesswithpurpose #climateaction #climateleader #sustainablebusiness #bcorp #bcorporation #bleader #socialsustainability
Organiser of Be The Change: B Corp