Description
After a hugely successful 2019 overseas Beach Tag & Surf weekend, we are pleased to confirm a return in 2020 with the option to expand capacity and offer you even more flexibility with how long you plan to stay.
With the options of staying in a huge converted farmhouse, a 'Sheddie' or a 'Glamping' tent in the village of Aia, you will be stunned by the scenery behind San Sebastian, with views across the rolling hills, farms and forests. You'll enjoy chef-prepared meals together, play Tag Rugby on the beach and catch some waves on the best surfing beach in Spain.
From the backyard of the house, paths wind their way up the mountain and into the Pagoeta Nature Reserve. From the front, you will take a short drive to Zarautz surf beach to play tag and surf before getting ready for a great Saturday night. You may choose to relax in the house after dinner whilst enjoying your all-inclusive beer and Sangria or hop on the bus in to San Sebastian itself to enjoy the local pintxos (Basque tapas) for a 'Tapas Crawl' across town (See Tapas Crawl below).
On the beach, fun and friendly qualified surf instructors are there to make sure whatever your level of surfing you're having the best session possible and are always improving. When the session is done we have lunch on the beach, play beach games or just chill out under the sun before heading back.
Create your own Itinerary
You will be responsible for organising your own flights. If flying to Bilbao Airport, jump on the DO50B (make sure you have a few

€uros) and go

straight to San Pelayo- Zarautz bus stop, it takes 55 minutes and leaves at 45 minutes past the hour every hour. You will then be greeted by our hosts for a quick 15 minute transfer to the front door of our accommodation.

You can arrive any time during the day, but you must send Toby (see below under 'Flights') your flight details as soon as you book them so we ensure the transfer is notified.


Enjoy your evening meal with old faces and new, the firepit will already be roaring and the banter will be too.


A filling breakfast will see you ready for the day ahead when we will jump on the transport that takes us straight to the beach, ahhh the beach. Saturday morning will see us all participating in the 5-a-side Beach Tag Tournament (Squads of 6 or 7).


Enjoy lunch on the beach, play games, build sand castles, play more tag for fun, go for a swim - it's a beach, you can do whatever you like (within reason).


Saturday afternoon is surf time. In two waves, everyone will enjoy a two hour surf lesson, catching some waves, probably falling in a few as well - it's going to be an epic day.


Saturday evening will see you enjoying another great buffet meal put together by our private chef, enjoy unlimited sangria and beer and see in the early hours. You may choose to throw on the glad rags and hit town for a Tapas Crawl or just a local bar crawl, we've been assured the food is to die for, you will need to buy your own food & drinks whilst in town.


Saturday late - whether you decided to stay or if your are heading back from town, make whatever you want of the evening - there is loads of entertaining space in the farmhouse, pool table, darts and much more.


Sunday morning will all depend on how hard you hit Saturday night. Either jump on the complimentary transport, hit the beach and sleep it off on the sand. Alternatively, you can enjoy another surf lesson or stay back at the house for a solid yoga session (You will be asked when registering what option you prefer).


Sunday lunch at the farmhouse to settle the stomach before heading back to the airport for your flight home if that's your plan (make sure you have a few €uros). As with the Friday, you will be transferred to Zarautz where you will jump on the bus straight back to Bilbao Airport and takes approx 55 minutes. You can depart any time during the day, but you must send Toby (see below under 'Flights') your flight details as soon as you book them.


Sounds like a hell of a weekend and with Stoke Travel as our Partners, we are confident that this San Sebastian Beach Tag & Surf Camp will continue to be the start of something very big.
There is a maximum capacity - 35 people in the Farm House. After this, we will open registration for people to use the nearby camping grounds, which have the same facilities, just not the 4 walls at night. You will be able to join everyone at the Farm House for meals, relaxing, partying etc. So time is of the essence none-other than flights will be cheaper now than later, you don't have to fly to Bilbao, plenty of options in all directions and maybe a scenic drive - after all - its your long weekend. Registration is all individual to ensure we get all the necessary requirements from each person - but don't worry, if you are travelling as a group, we will do all we can to accommodate you as such, just let us know.
Tapas Crawl:
On Saturday evening, after you've enjoyed your dinner and all inclusive drinks at the farmhouse, head down to town where you can enjoy the local tapas and a wide range of local drinks. You will need to advise the organiser by 3pm on Saturday afternoon if you wish to go, transport is an additional 10 Euros and can be paid on the day. When you are in town, any purchases are at your own cost and you will be advised of the transport pick up point and time. At the registration stage, you will be asked for an expression of interest to help gauge transport requirements but you are not committed should you wish to change your mind.
Accommodation:
In order to create capacity of 35 - we have pushed the boundaries. The farm house accommodates 31 people across one large mixed dorm and a couple of same sex dorms, so please note, you are not being put up in a 5* ensuite hotel with a king size bed all to yourself, but it's comfortable and a lot of fun. You will be asked at the time of registration for a few details in regards to accommodation preferences to ensure we are able accommodate everyone's needs. It is essential when you register, you see additional items to add the period of time you plan to stay (do not register for the event and not add your accommodation). The other 4 places are in 'Sheddie & 'Glamping' accommodation (see images below). Located in the garden of the farm house, they are real beds, with side tables, electricity etc and we are not going to squeeze you in like sardines, quite the opposite. Those opting for the 'Sheddies' & 'Glamping' accommodation will also benefit from a slightly reduced cost, even though you get to enjoy all that the house has to offer and will probably only spend actual sleep time in your outside abode.
Flight Details:
Flights to Bilbao Airport depart from Stansted, Gatwick & Heathrow. Flights depart throughout the day and pricing varies subject to airport and time. You are advised to book your flights straight away to ensure favourable pricing. You are not restricted to flying to Bilbao, you could also fly to Biarritz which is only 60 minutes by car (No easy public transport though) - this is an option if you are thinking of hiring a car for the weekend. As soon as you book flights, please send the details to tobyhartley@trytagrugby.com so we can manage your movements on arrival.
Location:
For the avoidance of doubt, It's called the San Sebastian Beach Tag & Surf Weekend because everyone has heard of San Sebastian. As described above, we are located just outside the main town in the foothills of the mountains called Arrutiegia Auzoa which is about 15 minutes drive to the beach in Zarautz.
Pricing:
The price of attending includes everything outlined above (Excludes your bus to and from the airport, the optional Tapas Crawl and does not include alcohol at the accommodation on the Friday night). Of course everyone is welcome to bring as much alcohol with them to the house as you like, there is a big kitchen with fridges and all the cutlery, crockery, glassware you could need, so no limitations.
Insurance:
You are advised to consider all insurance eventualities as your choosing to participate in this trip is purely at your discretion.
Registration & Refunds:
Please note that no places will be put on hold for people, registration is made on a first come first served basis and no refunds will be applicable.
Kit:
ITF approved Tag Rugby shorts or tights are compulsory, available from the Try Tag Rugby Shop in advance or via card on the day. Details on ITF Approved (Tag Rugby) Shorts / Details on Kit Items not Permitted
Accommodation Options:
SHEDDIES - We have 1 Sheddie available which each have a double bed, plenty of storage, electricity and offer a nice alternative to 'Dorm' style accommodation in the house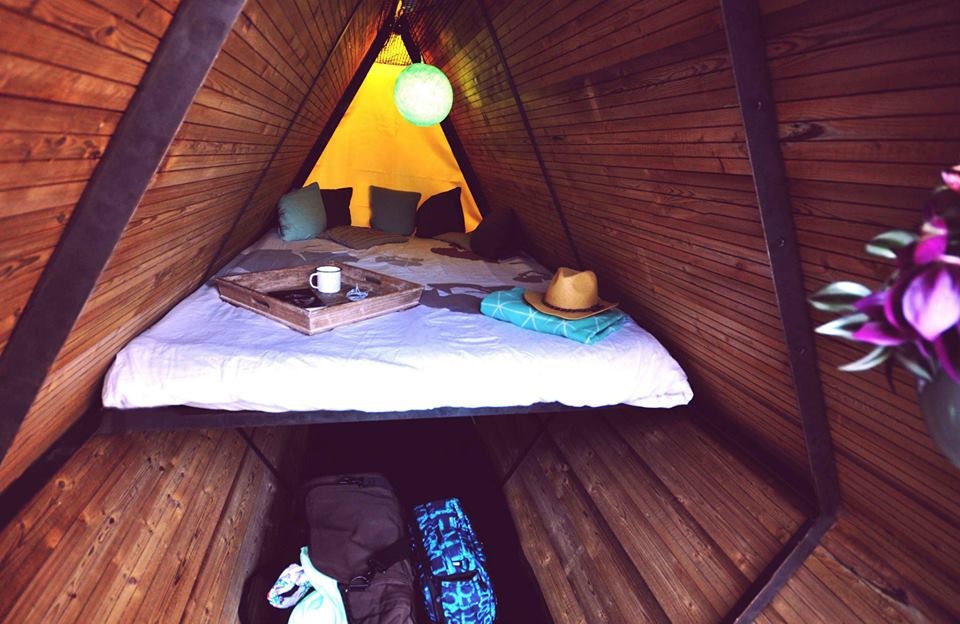 GLAMPING - This is not just a tent, it's a 'posh' tent and we have only 1 of them. With 2 single beds or a double bed, electricity, side table and plenty of space, it's a nice way of enjoying the elements whilst saving a bit of money.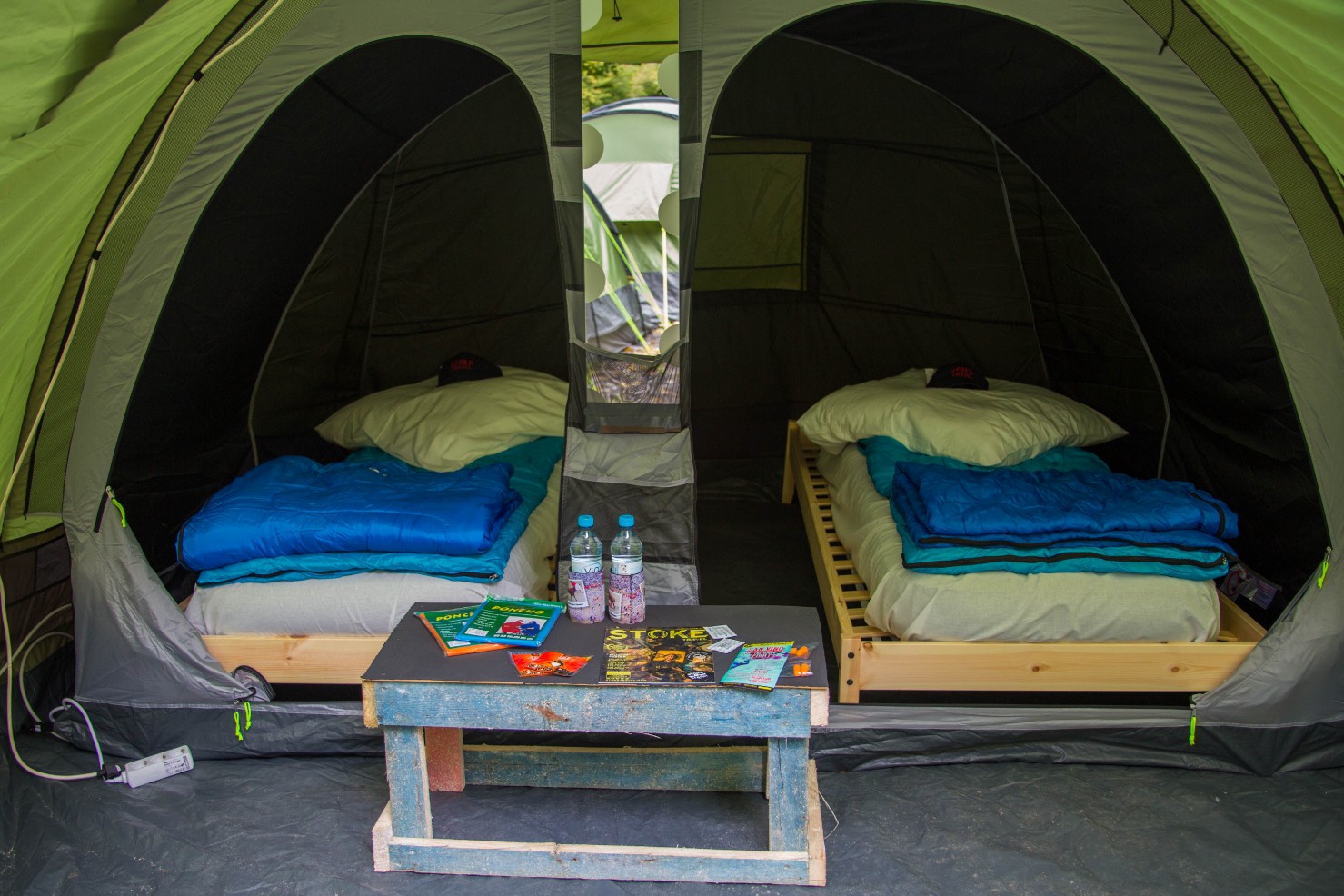 THE FARMHOUSE - With a variety of different sizes of 'Dorm' style accommodation, bunk beds are super comfy and shown in the image, the entertaining space is exemplary.