Location
DN35 0BY
Cleethorpes Leisure Centre
Cleethorpes
DN35 0BY
United Kingdom
Refund policy
Contact the organiser to request a refund.
Eventbrite's fee is nonrefundable.
Guests from TV, Film and Gaming , Comic Artists, Props & Attractions , Cosplay zone and fabulous Traders to fill your inner geek
About this event
ABOUT THIS EVENT
LUXX Events UK presents BEACHSIDE COMIC CON, a fun filled weekend with some fantastic guests from your favourite TV shows, movies & Gaming, as well as some very special Comic Artists. We will have an array of awesome props, attractions, exhibitors and vehicles, and have a fantastic selection of traders where you can purchase anything confectionery to collectibles!
We will also be hosting a Cosplay competition in our cosplay area with our very talented LUXX Cosplay Team, and encourage cosplayers of all forms to join in!
Whats the saying ?....
"It's 106 miles to Chicago, we've got a full tank of gas, half a pack of cigarettes, it's dark and we're wearing sunglasses." "Hit it!" - Elwood, The Blues Brothers
We can't wait to see there!!!!
XX
Team LUXX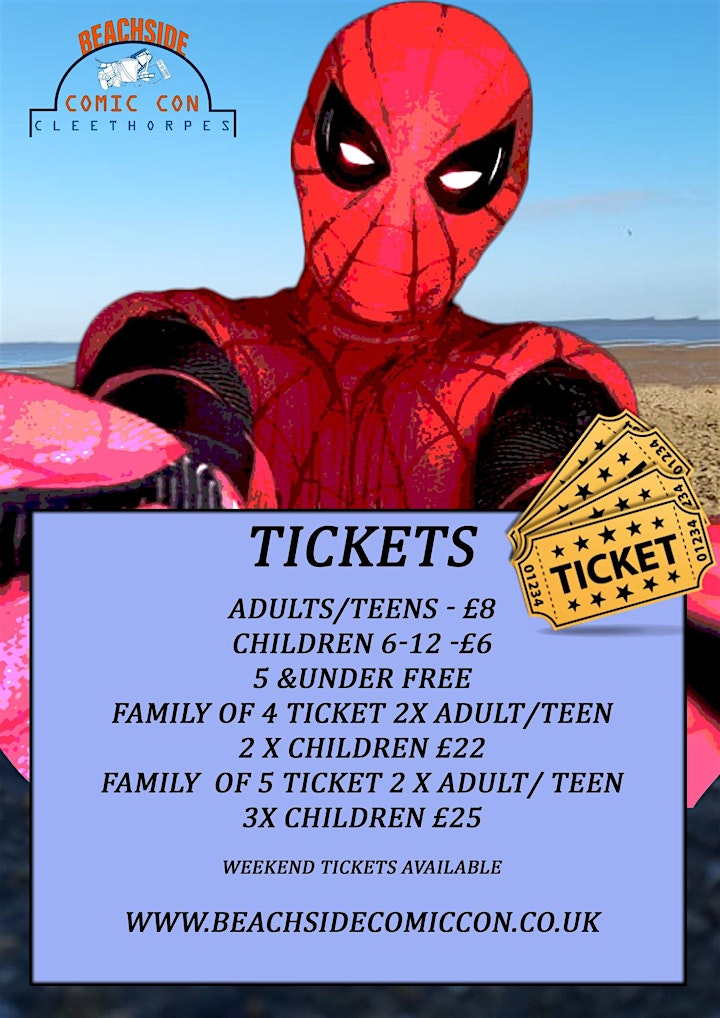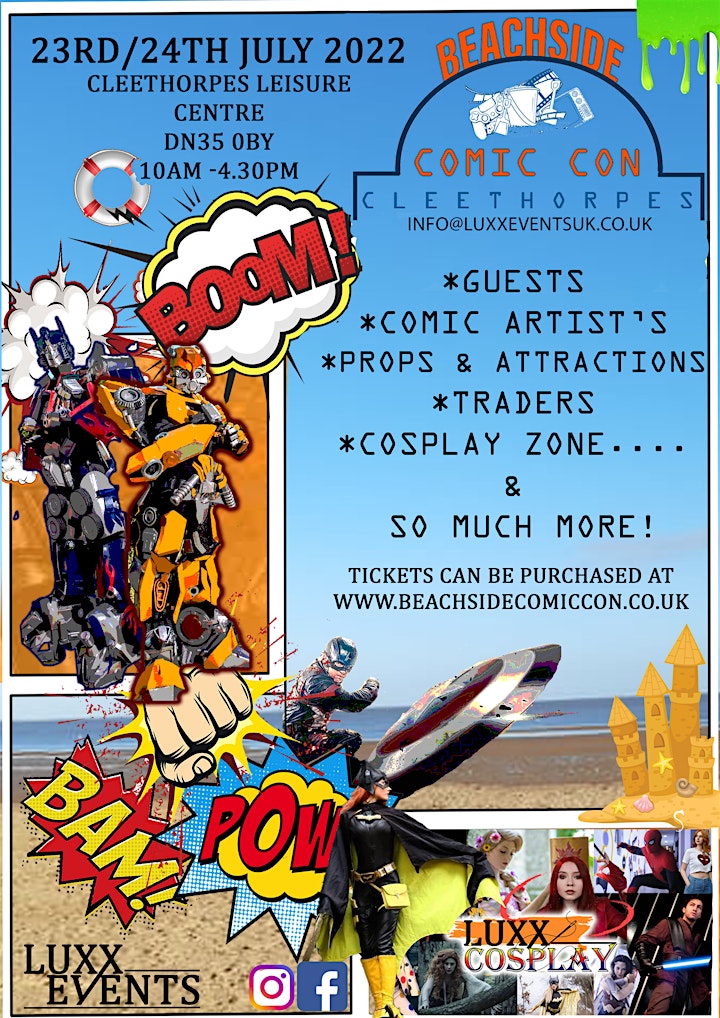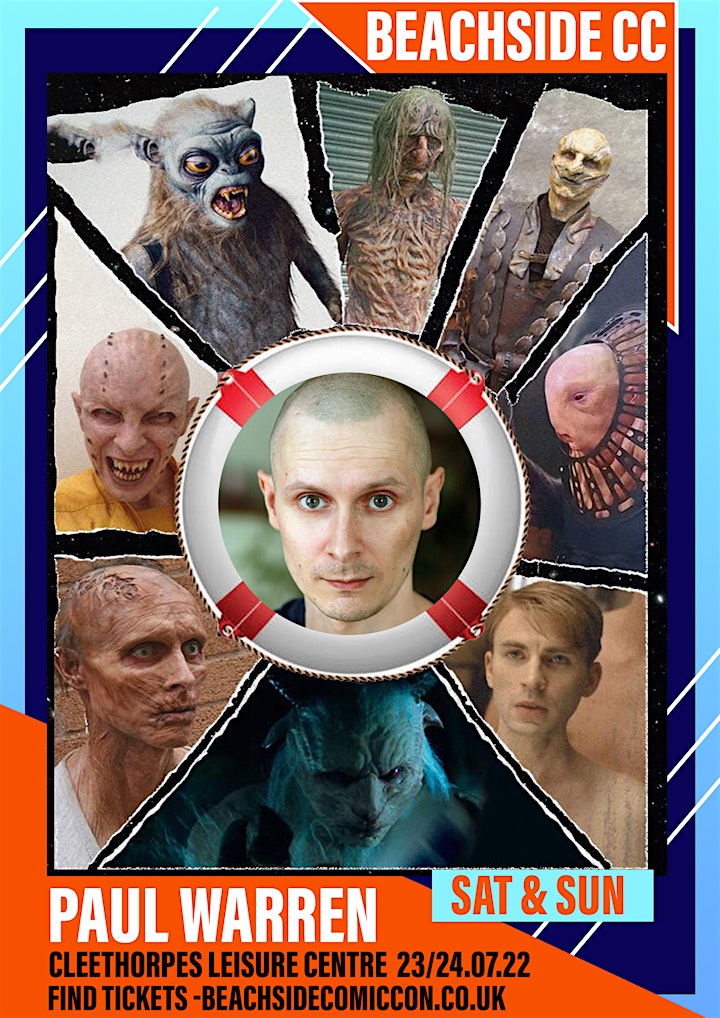 GUEST ANNOUNCEMENT!
PAUL WARREN!!!
Paul is a British actor and creature performer, he began his film career as a body double for Daniel Radcliffe on the film Harry Potter & the Order of the Phoenix and was one of the Skinny Steve Rogers VFX doubles in Marvel's Captain America.
He is also known for playing aliens and monsters in such films as Guardians of the Galaxy, Thor: The Dark World, Star Wars: The Force Awakens , Star Wars: The Last Jedi, Clash of the Titans, World War Z and Ghost Stories.
Paul has vast experience in front of the camera and we cant wait to welcome him to Beachside Comic Con on both Saturday and Sunday to share with you all his experiences and maybe a story or two!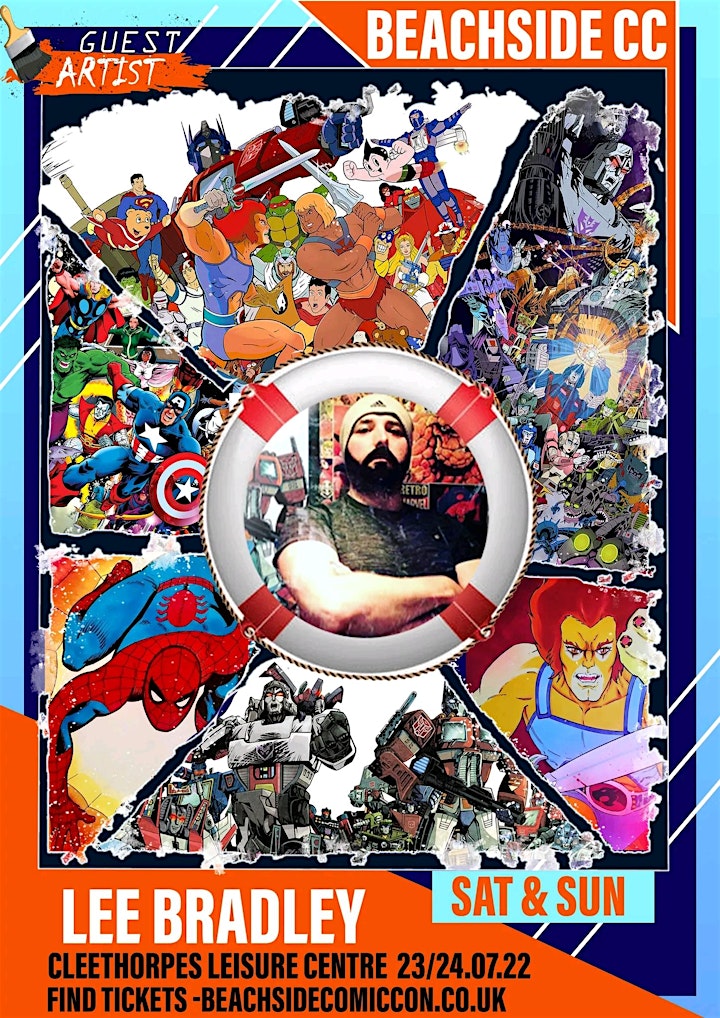 GUEST ARTIST ANNOUNCEMENT!!!
Taking it back to where it started with this amazing Guest Artist.....
LEE BRADLEY!!!!
Lee Bradley is a UK based freelance illustrator that works within the comics industry. He has worked on a variety of comic book properties including Spider-man, Transformers, Transformers Animated, Teenage Mutant Ninja Turtles and the Middle Eastern comic book The '99. Along with the Transformers How-to-Draw Guide.
Lee works on all aspects of comic book illustration in various roles from penciler, inker to colourist. He has worked as an illustrator on a variety of different MARVEL products from Sketch Card series such as Retro MARVEL, MARVELS Greatest Battles, Women of MARVEL, AVENGERS Age of Ultron & the Marvel Masterwork's Card Series.
Lee now works full time creating Artwork for Exhibitions. His next Exhibition "Retro Kids Cartoons" will be running from the 9th -24th April
Lee is a Lucasfilm Accredited Artist.
Make sure to pop along and get some of your favorite character prints or why not get Lee to Commission you something special.
We look Forward to having Lee with us
Dont forget to get your tickets here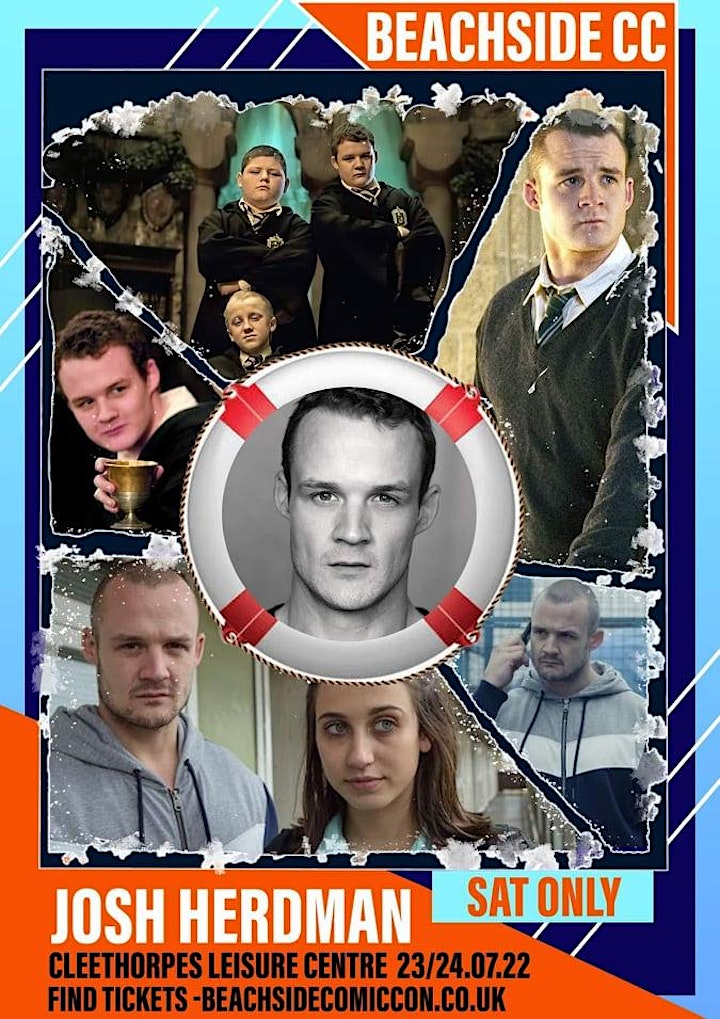 GUEST ANNOUNCEMENT!!
JOSH HERDMAN!!
Josh is a UK based actor who started his acting career at the age of 7. He got his big break when he auditioned for "Harry Potter and the Philosophers Stone" and got the part of Gregory Goyle He has since then appeared at the Slytherins bad boy Draco Malfoys side for all 8 movies and has become a well known Slytherin fan favourite.
Josh has since appeared in many more films such as Robin hood, Giant Land and sink aswell as appearing in many T.V roles such as the T.V hit Marcella, he is also known in the MMA world after training and compeiting in matches with his first win in 2016.
We are super excited to have Josh with us at Beachside Comic Con
Josh will only be with us for the Saturday so make sure you get those tickets here
For your chance to speak with him and get those auotgraphs and photo's, and who knows maybe even a story or two!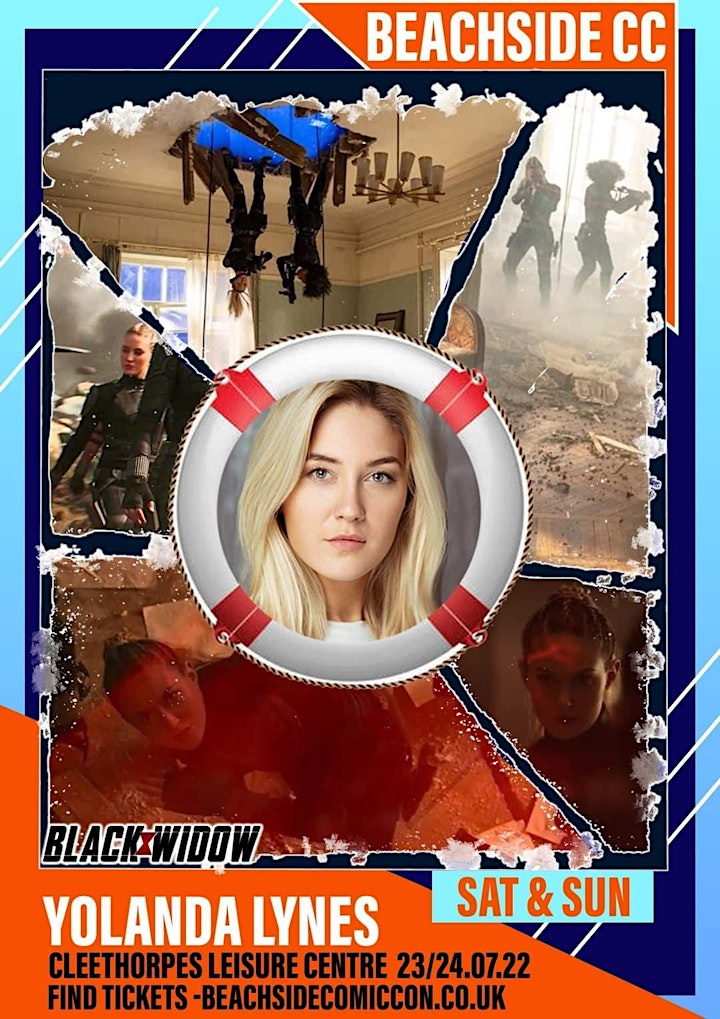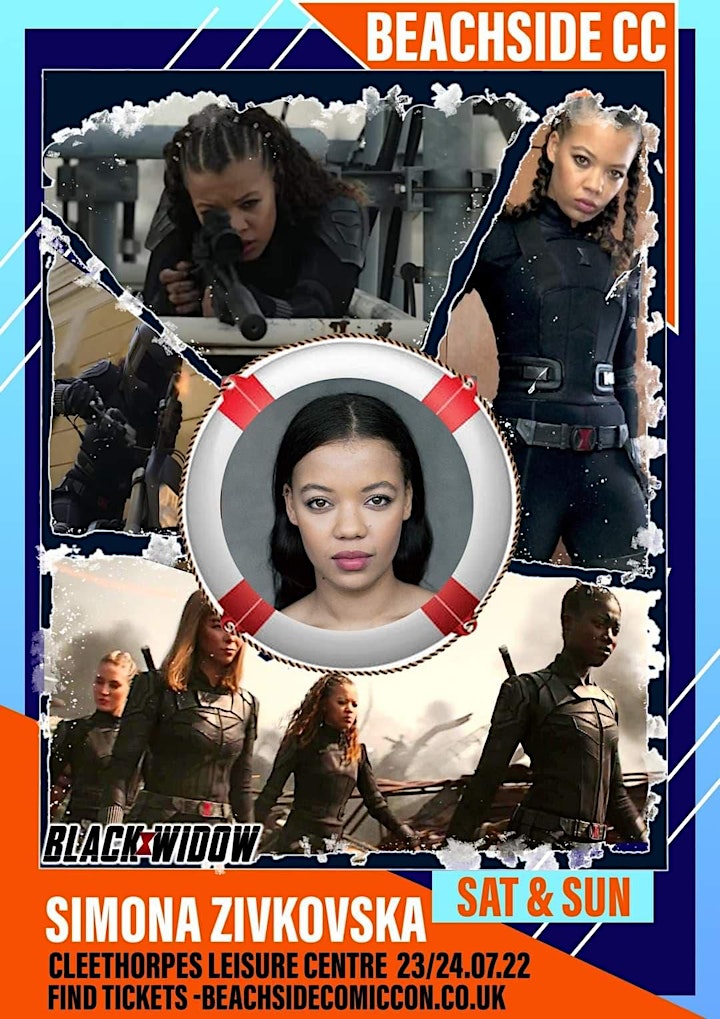 GUEST ANNOUNCEMENT
How could we not announce these 2 Amazing ladies together !
We are super excited to announce ......
YOLANDA LYNES & SIMONA ZIVKOVSKA
2 Widow Sisters from the Marvel universe and film BLACK WIDOW!
These kick ass ladies joined Scarlette Johansson in her solo film taking us deeper into the Widows Past as her fellow Widow sisters.....
Both ladies have done several different things including things from films to t.v shows and lots of stunt work so make sure to look out for these two kick ass women in the future!
Both Ladies will be with us for Saturday & Sunday so make sure you get your tickets booked here -->
We look forward to seeing you all !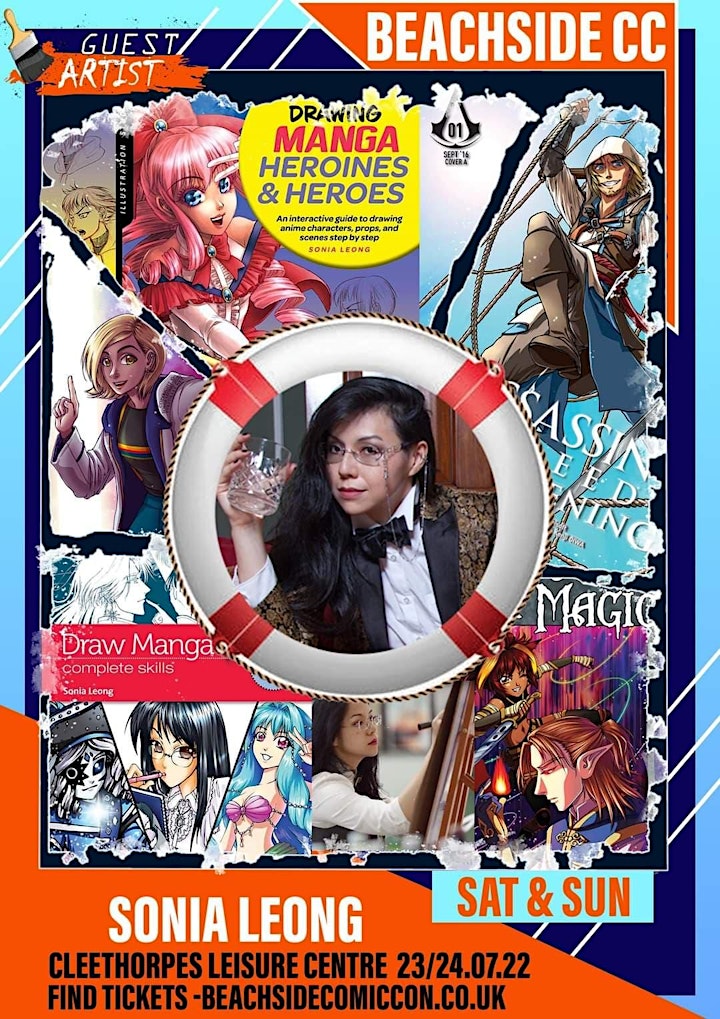 GUEST ARTIST ANNOUNCEMENT!!
SONIA LEONG
Sonia Leong is a comics/manga illustrator and author of many drawing guides, including Draw Manga: Complete Skills (Search Press). Her debut graphic novel was Manga Shakespeare: Romeo and Juliet (SelfMadeHero). She's worked on Doctor Who (BBC Books), Assassin's Creed (Titan), Domo-kun (TokyoPop) and Bravest Warriors (VIZ), among many other projects in comics.
She also illustrates for children's books, fashion, advertising, film and television. She is the Director of Sweatdrop Studios, an independent comic publisher based in the United Kingdom and is currently working on the Chronicles Of Ciel, an illustrated series of fantasy light novels ,and lots of photos and art/book covers!
Sonia will be hosting a drawing workshop with us so make sure to pop along and see her or why not bring your sketch pad and pencil and join in!
We are looking forward to having Sonia and her talents join us at Beachside CC
Don't forget to get your tickets here ---->>>>
or visit our website! -->> https://beachsidecomiccon.co.uk/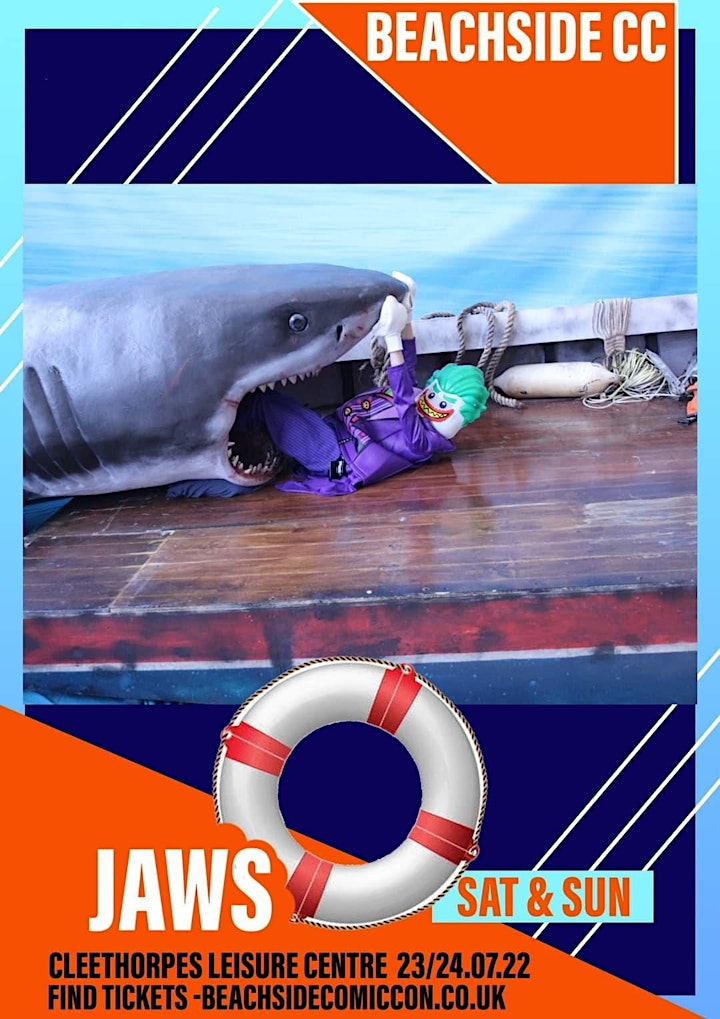 PROP ANNOUNCEMENT!!
When a killer shark unleashes chaos on a beach community off Long Island, it's up to a local sheriff, a marine biologist, an old seafarer and YOU!!
Will you Get eaten by this man hunting SHARK! or will you crawl to freedom ?
We are super excited to welcome this amazing interactive Jaws prop to Beachside Comic Con This July!
Make sure to stop by and SNAP! up those photo memories
(There is a separate £3 fee for photos )
Don't forget to hit that like button, turn on those notifications to keep updated with even more announcements to come , we have so much more to share ......
Also stop by and grab you tickets HERE--->
If you fancy a swim without the fear of the shark, but all the fun head to Cleethorpes Leisure Centre where our event is being held over the 23rd 24th July to book in for your sessions! @Lincs Inspire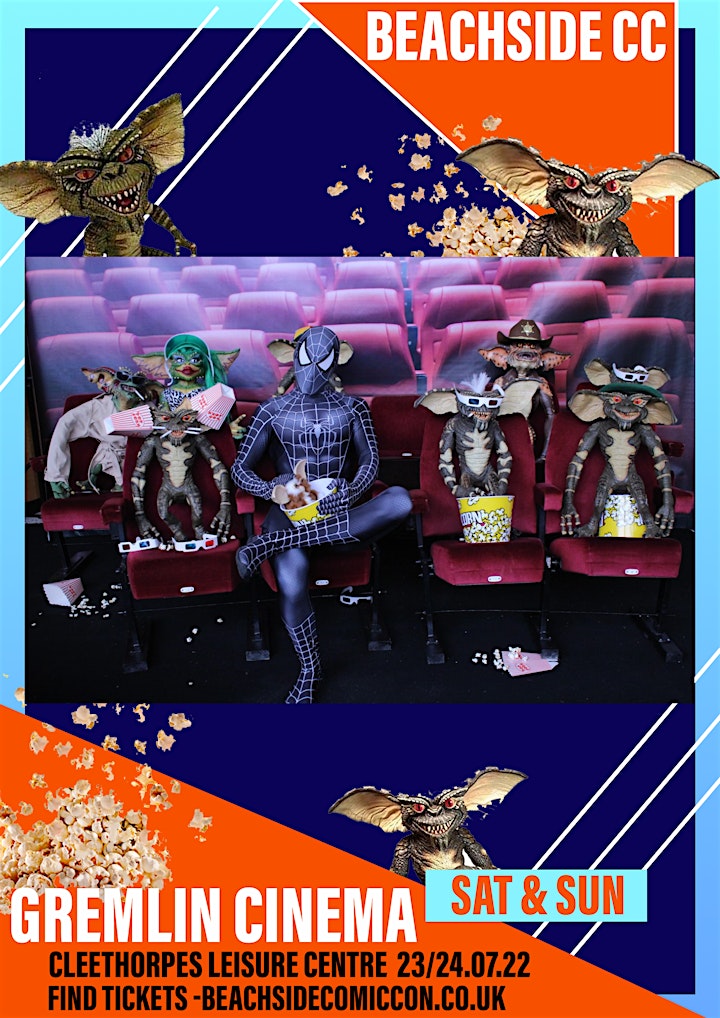 PROP ANNOUNCEMENT!!
GREMLIN CINEMA!
Take a seat at the cinema with these mischievous creatures, just remember to keep an eye on your popcorn !
These Gremlins will be around Saturday and Sunday for photo opportunities.
We are super excited being these to Beachside CC
Don't forger to get those tickets here--->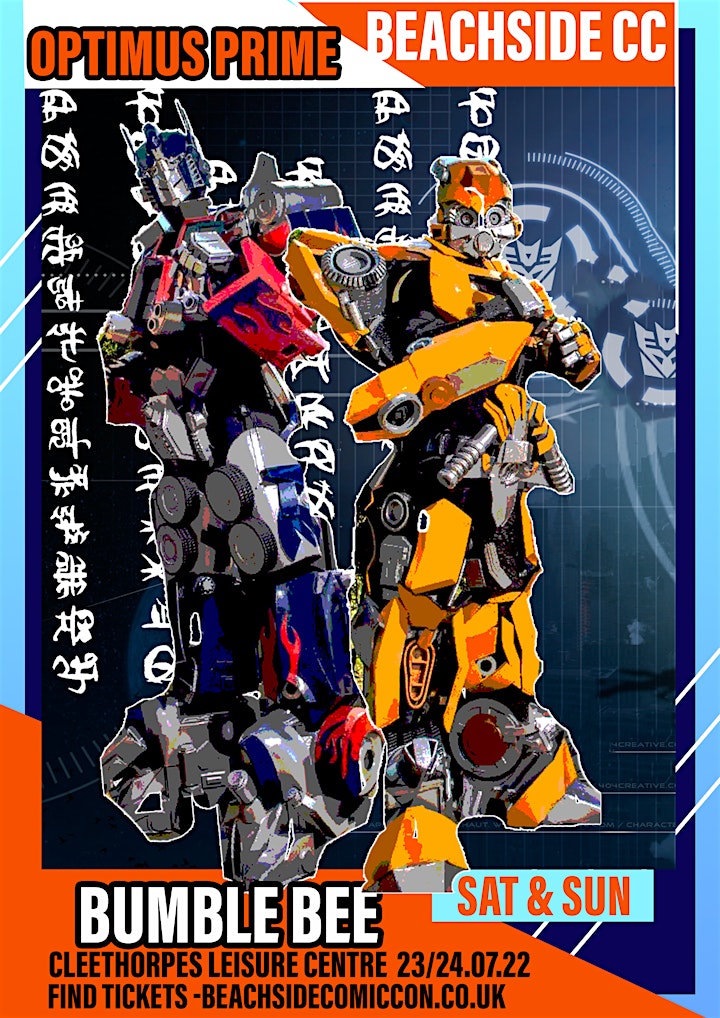 AUTOBOTS........ROLL OUT!!!!!
OPTIMUS PRIME & BUMBLEBEE !!
Keeping watch over Beachside Comic Con were super excited to welcome these two Autobots who will be joining us for both days!
Make sure to get in those High 5's and Photos
Don't forget to get your tickets here--->>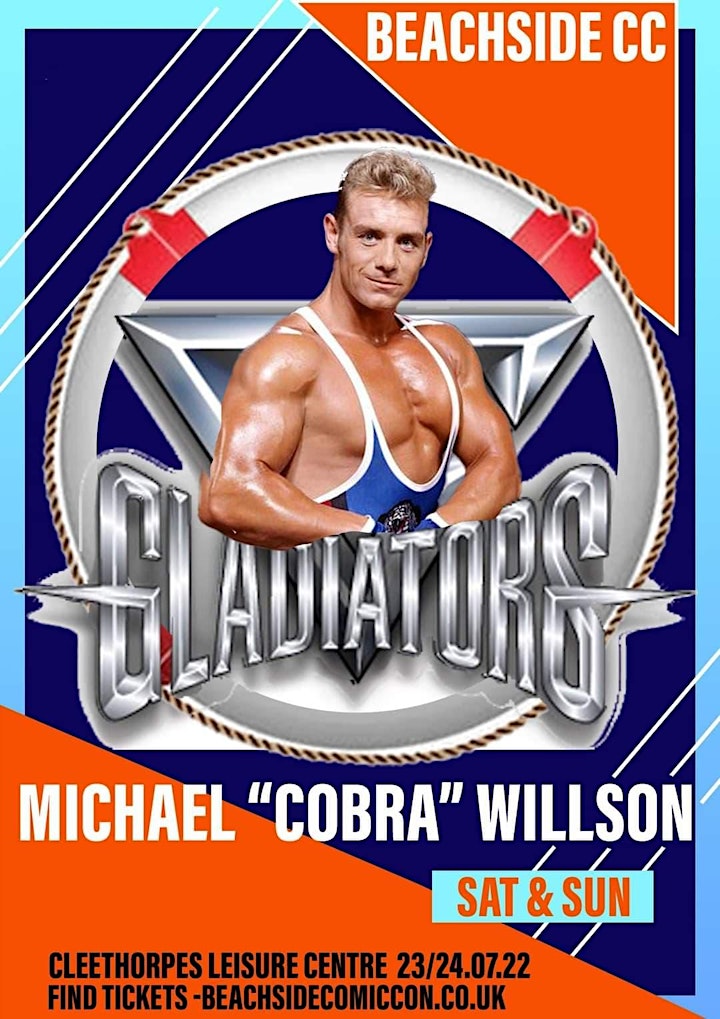 ATTENDEES READY !!!!..............................................
GLADIATORS READY!!!........................................
PLEASE WELCOME ....MICHAEL "COBRA" WILLSON
Michael is a well loved Gladiator on the UK version of the Hit TV show GLADIATORS. He is known for being the best on the Duel podium, in which he has never been knocked off by a contender also a master of the Hang Tough rings. Cobra was also part of the special UK international team and headed off to compete against South Africa in the Springbok Challenge 2000.
He now spends time visiting schools and youth clubs up and down the UK, promoting that keeping fit can be fun.
We are super excited to welcome him to Beachside Comic Con
Don't forget to meet Michael and the rest of our amazing line up, as well as visiting our traders, props and attractions and have an all round great day out! please.
Still lots more to be announcement so remember to hit that like button and turn on those notifications !
** Please note that all Guest appearances are subject to their work and personal commitments.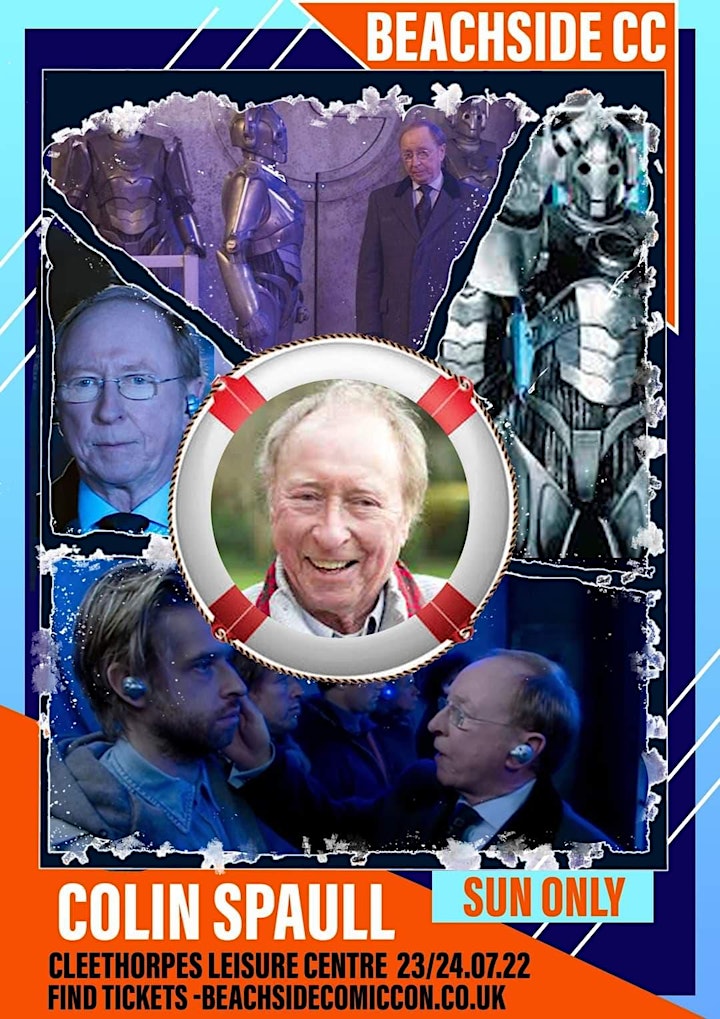 GUEST ANNOUNCEMENT !
COLIN SPAULL
one for all you whovians out there, we are very pleased to welcome the lovely Colin to Beachside Comic Con.
Colin Spaull is among a small band of actors who have appeared in the Classic and the New series of Doctor Who and Has acted in both a Dalek Doctor Who Story and A Cybermen Doctor Who Story.
His television appearances include 'Morse', 'The Last Detective', 'The Inbetweeners', 'Doctors', 'Holby City', 'Eastenders', 'Casualty', 'The Brittas Empire', the list is endless!
We can't wait for you all to meet Colin, he will be joining us for Sunday Only.
** Please note that all Guest appearances are subject to their work and personal commitments.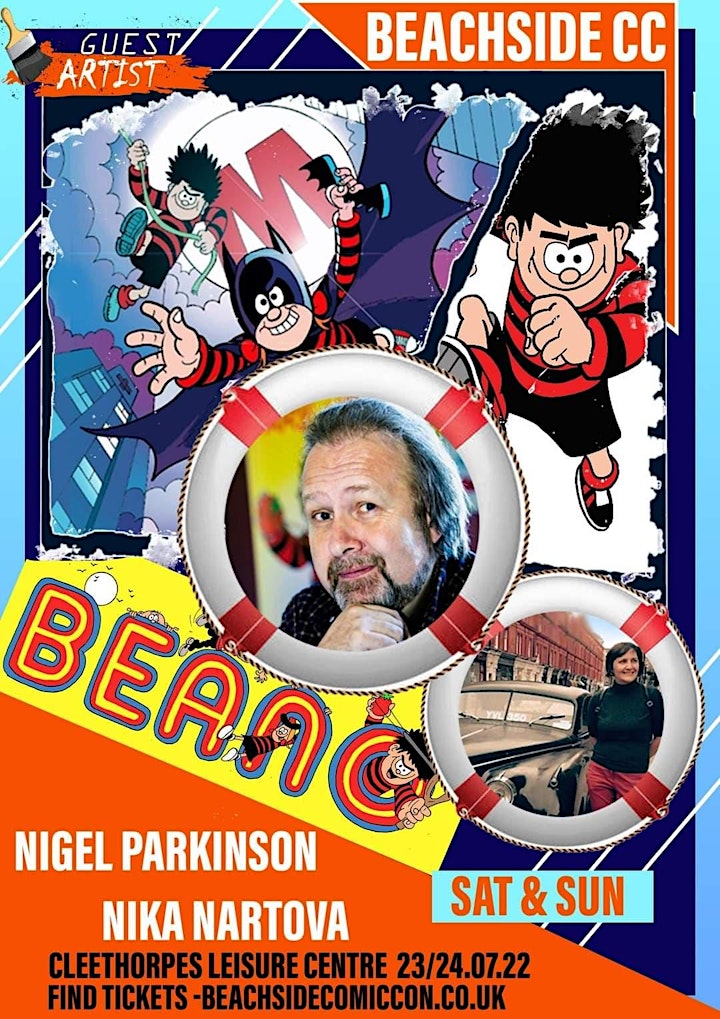 GUEST ARTIST ANNOUNCEMENT!!
Please welcome Nigel Parkinson & Nika Nartova
Nigel Parkinson is a Beano cartoonist who Draws Dennis (the Menace) and Gnasher and most other Beano and Dandy characters at some time or other for the weekly comic, the annuals, summer and winters specials and the latest "Boomics" books about Dennis and Beanotown. Special Beano projects such as 2021's Royal Mail Dennis stamps and regular media stories involving Beano-styled celebrities from Rees Mogg to Little Mix, will all have been his work. He was responsible for the acclaimed "Harry Hill's Adventures in TV Land" for The Dandy. He's also drawn Thunderbirds, Grange Hill, Baywatch, Stingray, Count Arthur Strong, Ace Ventura Pet Detective etc, etc over a 42 year career.
Nika Nartova is a Colourist
Nika colours Dennis, Beano covers, and regularly other Beano pages and more. Her colouring style is a big favourite with industry insiders. Nika grew up in the Soviet Union and didn't read a comic until she was 22. She began colouring comics in 2005
We cant wait for you to meet them at Beachside Comic!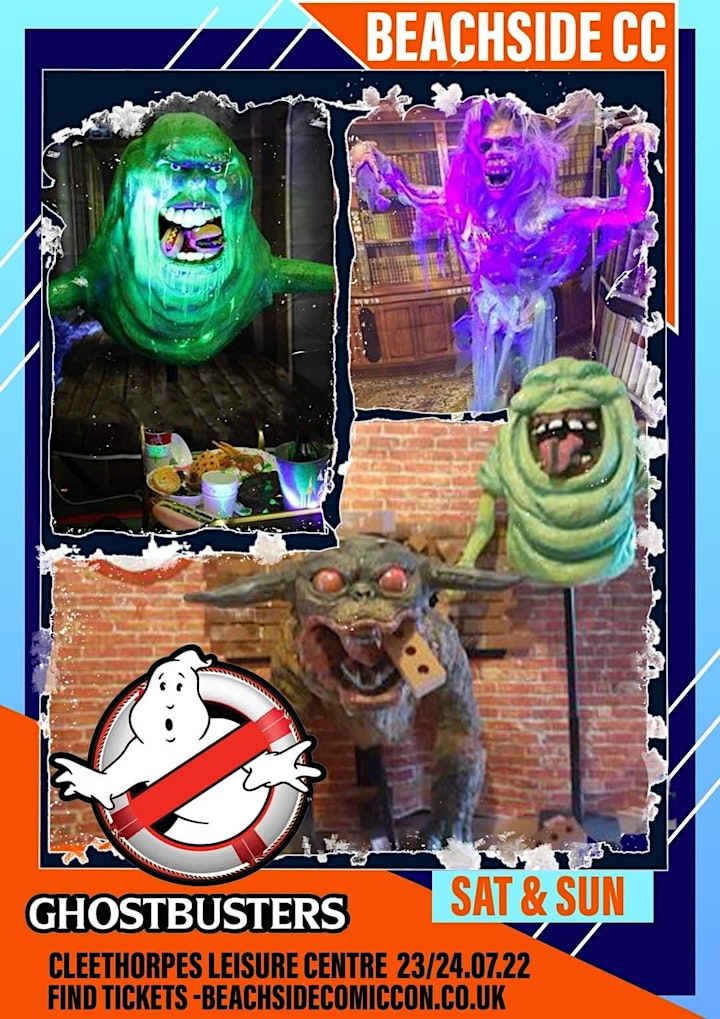 When there's something strange, at your comic con, Who you gonna call ?
GHOSTBUSTERS!!
SLIMING & TERRORising there way to Beachside Comic Con is this awesome Ghostbusters Prop.
You can interact and have Photos with The Library Ghost, Slimer & the Terror Dog!