About this Event
Join us for the next festival on Saturday13 July 2019. Participants include Jane Wenham-Jones, Leigh Russell, Robert Daws and Quentin Bates, and events include our popular New Voices Panel, a crime fiction panel, a 'Wannabe a Writer?' workshop and more. Proceeds go to Beacon Villages Community Library.
BEACONLIT PROGRAMME - Saturday 13 July 2019
9am-9.30am Arrival and Registration
Check in at registration, grab your goodie bag (containing books, beer and more from our sponsors and authors) and be ready to take your seat at the first session of the day.
9.30am-9.35am Welcome
9.35am-10.25am New Voices
Jane Wenham-Jones introduces three hot new talents: West Camel, Noelle Holten and Fiona Vigo Marshall. Meet some of the rising stars of the literary world in this ever-popular panel. Sponsored by Orenda Books
10.45am-11.35am Quentin Bates in Conversation with Dave Sivers
As one of the very few British authors writing Scandi Noir set in Iceland, Quentin Bates has a deep understanding of the place. He has translated Icelandic authors into English and is also co-founder of the Icelandic Noir Festival. Find out more about the frozen land from someone who knows. BeaconLit co-founder and crime writer Dave Sivers asks the questions. Sponsored by Roy Chapman, Tring
11.55am-12.45pm What Makes a Book Tick?
Join Jane Wenham-Jones, author of the 'Wannabe a Writer' series, and Morgen Bailey, writer, editor and podcaster for a unique insight into the book industry, with an extended Q&A session. Whether you're a writer or an avid reader, here's your chance to ask those questions you've always wanted to ask. Sponsored by The King's Head, Ivinghoe
12.45pm-1.15pm BeaconFlash Competition Results
Judge Morgen Bailey reveals the winners of our popular flash fiction competition. Will you be among them? Sponsored by Tesco, Tring
1.15pm – 2pm Lunch Break
2pm-2.50pm The Crime Panel
Hear from four very different authors who kill people for a living. BeaconLit welcomes back Alison Bruce, who will attempt to keep order as AB Morgan, Leigh Russell and Dave Sivers discuss their grisly trade. Sponsored by Tring Brewery
3.10pm-4pm Robert Daws in Conversation with Adina Campbell
Star of the West End Stage, television (including Poldark) and the airwaves, Robert Dawes is also a bestselling thriller writer. BBC correspondent Adina Campbell grills him about his life and work. Sponsored by John's Executive Cars, Tring
4.20pm-5.10pm Indie Opportunities
Self-published 'Indie' authors have become an established part of an ever-changing literary landscape. Jane Davis, Lesley Lodge and Georgia Twynham talk about the rough and tumble of going it alone. Author and editor Morgen Bailey is in the chair. Sponsored by PCL Corporatewear, Pitstone
5.30 Close
Supporting Beacon Villages Community Library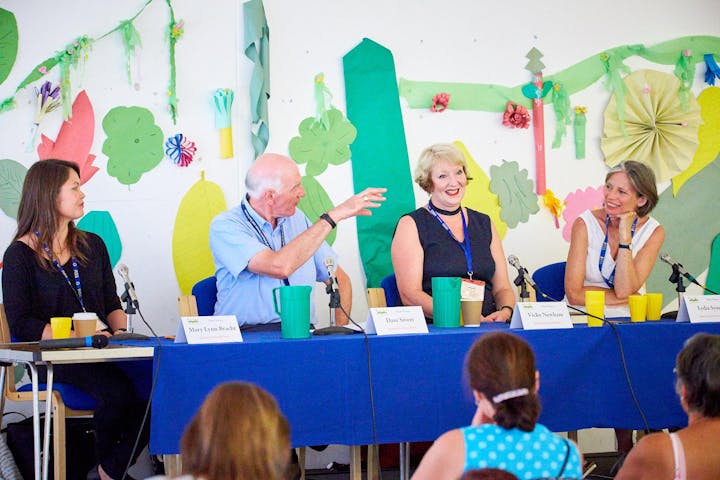 Mary Lynn Bracht, Dave Sivers, Vicky Newham and Lydia Syson at Festival 2018