About this Event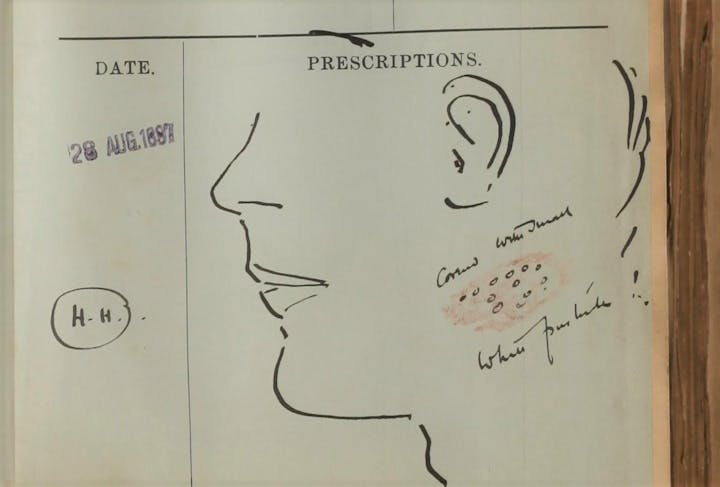 Why would a new mother drink powdered crystal? How can you map the nervous system using skin rashes? What state were Samuel Johnson's testicles in when he died?
Discover extraordinary documents that reveal possible answers to these questions and shed light on our understanding of the human body over the centuries. To celebrate Explore Your Archive week, the RCP is inviting you to encounter first-hand some of our spectacular archives. The records on display will feature images and ideas of the insides of our bodies, coinciding with the current exhibition, Under the skin – anatomy, art and identity. Medical doctors will guide us through the documents and reveal how modern practice compares with that of the past.
Please note: In order for attendees to best view the documents, the event format will be a standing talk, but chairs and folding stools will be available if required.
Programme:
6pm: Arrival and refreshments
6.15pm: Welcome and exploration of the RCP archives led by clinicians and experts.
7pm: 'Under the skin' exhibition viewing and RCP Museum
7.30pm: Close
#ExploreYourArchive
Explore Your Archive is about celebrating local and national heritage and the rich diversity and interconnectedness of local, regional and national documentary heritage. The campaign encourages partnerships and collaboration and can be adopted and adapted to suit specific anniversaries or commemorations at any time of the year. This year partners will programme special events between 23 November - 1 December 2019.
Accessibility
The RCP is fully wheelchair accessible. Lifts and ramps are available in the building and medicinal garden. Assistance dogs are welcome. Our temporary exhibitions are accompanied by large caption texts found in the exhibition space. Full accessibility information can be found on the main RCP website. Please email history@rcplondon.ac.uk with any accessibility queries.
Facilities
• Regents Perk Café open Monday to Friday, 8am – 5pm on the LG floor.
• Accessible toilets
• Baby changing facilities
• Cloakroom
Terms and Conditions
• A photographer may cover this event and the images may be used to publicise future RCP events on our website and/or social media. If you wish not to be in any photographic documentation, please talk to a member of staff.
• On entry to the event, you agree to accept and abide by any venue rules.
• The RCP reserves the right to refuse admission to any ticket holder.
Privacy Policy
The details you provide will be used in line with the RCP's GDPR obligations. For information on how we will handle your personal data please see our Privacy Policy. The RCP will use the data collected on this form to process your booking and manage your application. This includes using the email address provided to send attendee information, updates and joining instructions.