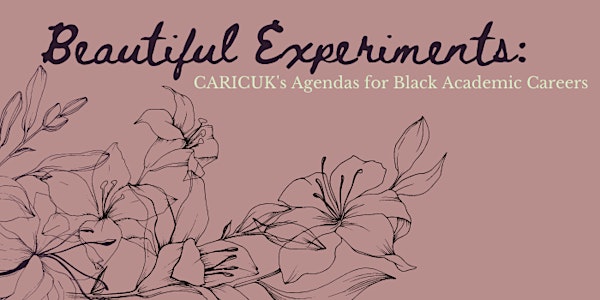 Beautiful Experiments: CARICUK's Agendas for Black Academic Careers
Rita Gayle, Tia-Monique Uzor and Pat Noxolo reflect on CARIUCK and Black women's creativity in walking the tightrope of in/security
About this event
Beautiful Experiments: CARICUK's Agendas for Black Academic Careers
In CARICUK's final event, we think about what CARICUK has begun: creative approaches to the in/securities of Black education and careers in the UK academy. The three Black women at its core (Rita Gayle, Tia-Monique Uzor and Pat Noxolo) will reflect on the lessons we have learnt - about Black women's creativity in walking the tightrope between security and insecurity in our artistic and academic lives - and we invite all those who have taken part in CARICUK to join in with our discussion. What's next for creative approaches to race and in/security?
After the conversation, there will be an opportunity for the online audience to ask questions via Youtube.
This is a free online streamed event. Further details will be released to those registered on the day of the event.
#CARICUK
More about this event:
CARICUK
Creative Approaches to Race and In/Security in the Caribbean and the UK is a year-long collaboration between artists and educators, which aims to transform discussions about race and anti-racism in UK higher education. It aims to highlight everyday negotiations between security and insecurity (in/security) in the Caribbean, and also to set up negotiations around anti-racism between the UK higher education sector and Britain's black communities. It will include three artistic provocations, three short films and a publication experiment. Each of these is designed to provoke discussion about the Caribbean and racialised in/securities, which will each be followed by public discussion events. Additionally, an online learning pack for schools will lead into a large-scale arts participation and exhibition.
Funded by Arts and Humanities Research Council
Dr Pat Noxolo
Dr Pat Noxolo is a senior lecturer in the Geography department at the University of Birmingham, UK. Her research is on cultural and postcolonial geographies, particularly thinking about creative practices in the Caribbean and its diaspora. Recently, she has led a Leverhulme-funded network on Caribbean In/securities and Creativity, and this has led into her AHRC-funded fellowship CARICUK (Creative Approaches to Race and In/security in the Caribbean and the UK). Dr Noxolo is the Principal Investigator on the CARICUK project. She has brought together a range of Caribbean artists to produce and showcase work that provokes thought and participation around race and in/security. Her vision is to draw in students at several levels (secondary school, university and trainee teachers) to take this vision into the future, and to participate in an exhibition and a range of public discussion events.
Dr Tia-Monique Uzor
Tia-Monique Uzor is an artist-researcher trained in contemporary and Africanist dance forms. Her work critically engages Africanist dance as a vehicle for creating and interrogating African and African Diasporic worlds through interdisciplinary approaches, embodied research, choreography, film, and collage. Tia-Monique assists Dr Pat Noxolo run the CARIUCK project as a research fellow and directed the film The Noise My Leaves make commisioned by the project.
@tia-moniqueuzor
Rita Gayle
Rita Gayle is a PhD researcher based at the University of Birmingham and funded by Midlands4Cities. As the Postgraduate Research Assistant on the CARICUK project, she has coordinated the build of Global Black Geographies Zine.
Rita is a creative working at the intersections of race, gender and cultural geography. She is currently investigating the Millennial generation of Black feminist, womxn and non-binary creative collectives in Britain. In addition, Rita is a co-founder of Anticipating Black Futures, curated Millennial Black Feminist Creative Collectives 2020 and currently co-presents the New Nationwide Project on Repeater Radio.
@rita_gayle