Description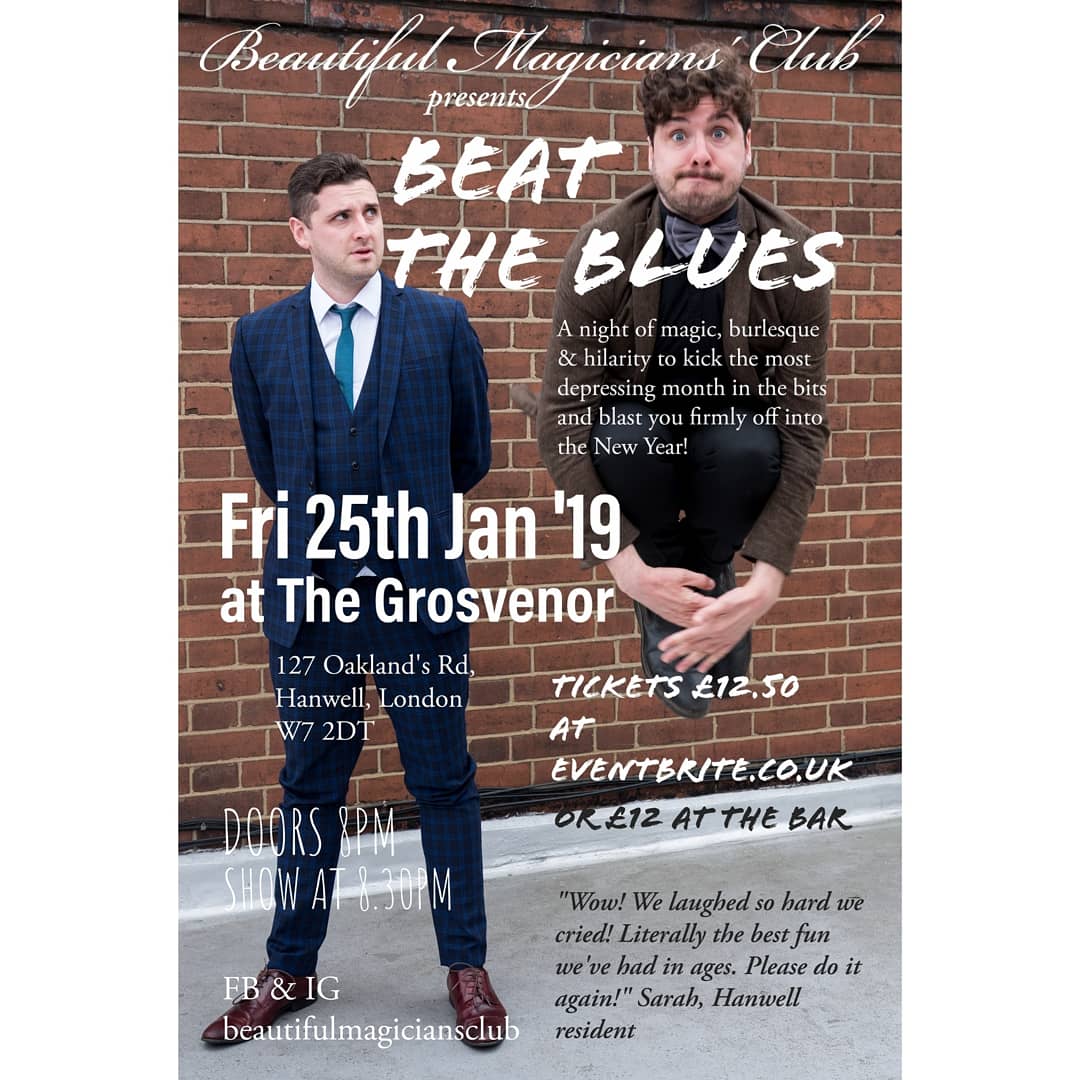 Beautiful Magicians' Club return after yet another sold out show to bring you a night of magic, burlesque & hilarity to get you through the post Christmas buzz which, let's face it, is a bit anti-climatic!
The most depressing day of the year is, in fact, January 21st, officially known as Blue Monday.
We've purposely taken on this week to return to the Grosvenor to do everything within our powers to get you over that slump. We want to help you 'Beat the Blues'!
Our last show sold out in advance. Tickets are strictly limited to 70 only. When they're gone they're gone!
Come for a laugh, a bit of danger, a dash of thrilling magic. We have you covered for increasing those serotonin levels and we want your bums on all the seats.
Starring sensational burlesque star ELIZA DELITE, an enthusiast for all things golden era Holllywood. Eliza performs regularly on the international circuit, at respected events around the world in Italy, Switzerland, Germany, Las Vegas.
Eliza has extensively toured the US both independently and as a member of an ensemble cast appearing on stages in San Francisco, Chicago, New York, New Orleans, Dallas, Houston, Atlanta, Tucson, Long Beach, Portland, Pittsburgh and more!
Eliza holds two awards "British Female Crown" & "International Female Crown" from the World Burlesque Games in 2012 & 2014 respectively (held in London). She has also been listed in the Top 20 UK burlesque artists for 5 consecutive years (from 2013 - 2017).
Also starring KANE & ABEL, two of Britian's most exciting magicians.
27 years ago these showbiz twins successfully escaped their mothers womb, and since then they have been travelling the world performing magic and escapology.
Up close they perform award winning sleight of hand like no other magician, taking full advantage of having double the limbs as any other performer.
On stage they read minds, break world records, amputate limbs and even recreate their birth.
You'd be mad to miss these original founding magicians join the BMC crew once again.

Doors 8pm. Show starts at 8.30pm with an interval. The upstairs bar will be open for this show for your convenience.
It's ureserved seating as always, so come closer to doors if you'd like more choice.