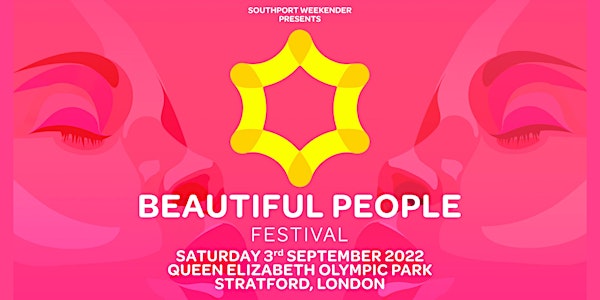 Beautiful People Festival 2022
Performers
Masters At Work, Arrested Development, Jazzy Jeff, DJ Jazzy Jeff, David Rodigan, Evelyn "Champagne" King
Dave Lee, Anane, Easy Mo Bee, DJ Spinna, Moodymann, DJ Spen, Teddy Douglas, Spooney, Artful Dodger, DJ Hype, Brandon Block, Masterstepz, Matt Jam Lamont, Matt White, Minco, Mike Lloyd, Melon Bomb, Neil Pierce, Norris Windross, MC Creed, Ricky Morrison, Ronnie Herel, Shortee Blitz, Souldynamic, Sy Sez, Wookie, Abel, Atjazz, Booker T, Bigger, David Harness, Jason Kaye, Jumpin Jack Frost
Location
Queen Elizabeth Olympic Par
Hopkins Field
London
E15 2HB
United Kingdom
Beautiful People Festival at the Queen Elizabeth Olympic Park ft: House to Hip Hop, Garage and Jungle, Soul, Reggae, RnB and African Beats
About this event
Southport Weekender events are produced with love, care, attention to detail and decades of experience, featuring a fantastic & diverse range of music that ticks all the boxes. Beautiful People Festival is the brand new name which replaces Southport Weekender Festival – we hope you love our new festival name and hopefully it won't be as confusing for everyone. Starting off with the legendary Pontins Weekenders back in the day, the brand now hosts this huge annual London festival, a week long pioneering event in Croatia (Suncebeat) as well as returning to stage the traditional Weekenders at the state of the art Butlins resorts.
MASTERS AT WORK
CELEBRATE 25 YEARS OF NUYORICAN SOUL (DJ SET)
CURATING THE MAIN STAGE WITH GUESTS
ANANÉ • EASY MO BEE • DJ SPINNA
MOODYMANN • A VERY SPECIAL GUEST TBA
ARRESTED DEVELOPMENT LIVE
EVELYN 'CHAMPAGNE' KING LIVE
DAVID RODIGAN • DJ JAZZY JEFF
DAVE LEE ZR • DJ SPEN B2B TEDDY DOUGLAS
ARTFUL DODGER • DJ SPOONY • DJ HYPE
A-Z
ABEL & ATJAZZ • BOOKER T • BIGGER • BRANDON BLOCK
DAVID HARNESS • D-NYCE • JASON KAYE • JUMPIN JACK FROST
MASTERSTEPZ • MATT 'JAM' LAMONT • MATT WHITE • MINCO
MIKE LLOYD • MELON BOMB • NEIL PIERCE
NORRIS 'DA BOSS' WINDROSS & MC CREED (GODFATHERS OF GARAGE)
RICKY MORRISON • RONNIE HEREL • SHORTEE BLITZ • SOULDYNAMIC
SY SEZ • WOOKIE
MC KIE • MC RANKIN • MC PSG
ABI CLARKE • BOB MASTERS • BRIAN POWER • CALVIN FRANCIS • DANNY LANGAN • DAVID BAILEY
FARO & DAISHA • GORDON MAC • JON JULES • LEV • LIL STEVIE • MAX EVANS • M.A.X.
MITCH TILSON • OMOTOSHO • RYAN PEAKE • STRETCH TAYLOR • TERRY JONES • WEZ WHYNT
FEATURING A BRAND NEW DEDICATED UK GARAGE ARENA
THE MISOUL FAMILY WILL BE THERE ALONG WITH DEEP INTO SOUL,
FUNKBASE ARENA, AMAZING OUTSIDE MAIN STAGE, SUNCEBEAT VIP & VVIP ARENAS
MORE NAMES TBC...
.
18+ - No dress code