Find out how the ageing process works and how it's related to the foods we eat, thoughts we think and our daily skincare routines.
About this event
"I've always believed that one woman's success can only help another woman's success."
- Gloria Vanderbilt -
About this event
Beauty comes from within! Find out how you can stay looking younger for longer.
Nutrition and mindset are equally as important for beauty as your daily skincare routine.
My mission is to make more women aware that this is key to looking younger for longer. 

When we are happy and more aligned with our inner beauty, we improve our outer beauty as well.


The retreat starts on the step of a new moon, which is the best time to implement change and set new goals.
Ten incredible industry leading women will share their years of expertise, experience and proven techniques related to ageing. They will also explain the effect our hormones have on us.
We will be covering:
Nutrition Day - How inflammation in the body, and gut health affects our hormones and skin
Mindset Day - Staying in a state of youth and staying motivated when implementing new habits
Skincare Day - Wellness natural skin care products, practical face massage class and meditation

Practical and fun exercises to become more familiar with your body and chemistry.
Magic Day - Moon and menstrual cyclical approach, clothing style and colour code advice, sleeping solutions
This event is all about embodying your true nature and it goes far deeper than superficial beauty treatments.
Full details & schedule below - add 6th to 9th July to your calendar!
Tuesday 6th July: Nutrition  | Understanding your food
10am: Bring you body into balance with Ieva Ābike & Ilona
1pm: Superfoods For A Youthful Skin with Leonie Wright
6pm: Nourish your Skin session with Dr Xanthi Maragkoudaki
Wednesday 7th July: Mindset | The power game
10am: How you can make The Law of Attraction work for you session with Penny Briant
3pm: Turning Thought into Action session with Jane Parslow
7pm: Unlock your natural beauty from within session with Emma Unsworth
Thursday 8th July: Skincare | Connect with yourself
7am: Kundalini Yoga : A New Beginning, A New Life, A New You! session with Laura Vanaga
3pm: River of Life - Lymphatic system session with Ilona Pokallo
6pm: Three simple moves that boost your life force with Claire Dale
8pm:  Calming Self Massage and meditation session with Ilona Pokallo
Friday 9th July: Magic | Icing on the cake
1pm: Style from Within with Ghislaine Walker
6pm: Our sleep ages too (and how to sleep like a baby) with Sam Sadighi
8pm: We are daughters of the moon session with Lauren Moon
Thursday 15th July:
7pm: Wellness & Lifestyle session with Kay Lundy
*book by contacting Kay Lundy befor 8th July to recaive spa sample kit.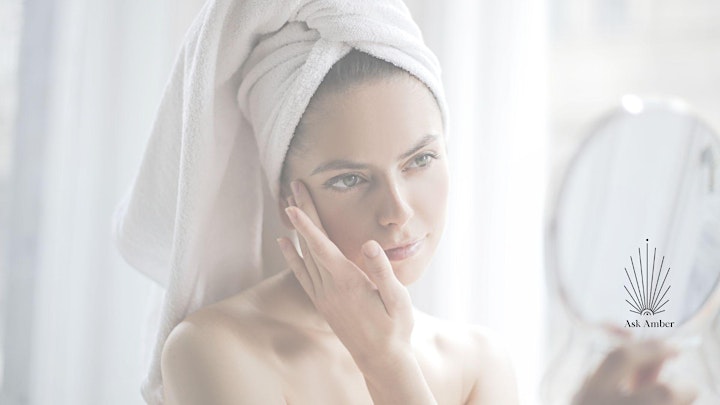 By registering you will be able to book your spot and discover new ideas and tips from the assembled experts.
Please share this with any girlfriends who would like to find out about natural beauty and healthy ageing.
Every week in June, I will feature two speakers on my Instagram platform in 30 min interviews to help deliver important additional information and training to help you on your journey to looking and feeling vibrant and youthful.
Conect at Ask Amber
Ilona Pokallo- Aesthetician / slow ageing mentor
https://www.instagram.com/ask_amber_uk/
AskAmber.thinkific.com