TLA Black Women in tech network event every 2nd Thursday of the month, full of creativity, inspiration, and passionate conversations.
About this event
The best way to increase representation is to get on stage. Let your message be heard by the whole audience so you can make a bigger impact. You can use the power of public speaking to influence decision-making, build networks and empower others. It is a big misconception that a good speech begins with a born great speaker - Want us to prove it to you? This May, these three professional speakers will share their expertise on how you too can elevate your career through the power of public speaking.
TLA Black Women in Tech hosts monthly events to bring together business professionals, and entrepreneurs and companies. The networking event is a great opportunity to meet other like-minded technology and digital businesses/individuals.
Please save those dates. Our events, virtual or in-house, are on the 2nd Thursday of the month from 18:00 to 20:00. Within our amazing community, we are fortunate to have many professionals willing to speak or host the events.
From 2021, our events will be featured around these 3 pillars, ensuring the subjects are relevant to tech entrepreneurs, tech companies and professionals in tech.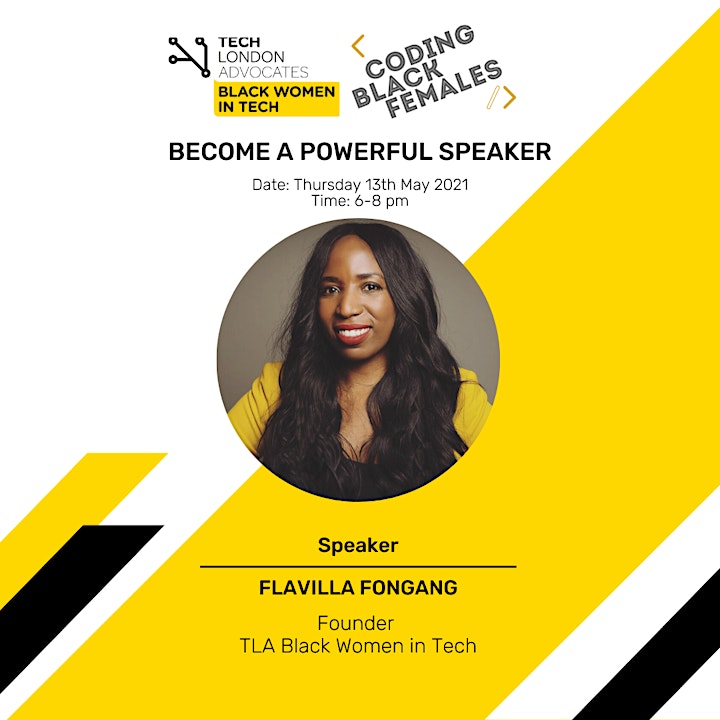 Flavilla Fongang is an award-winning serial entrepreneur. She is a neuroscience brand expert and founder of the award-winning branding and marketing agency 3 Colours Rule. She's the founder of TLA Black Women in Tech and the Tech Brains Talk Podcast host. She is a renowned international multilengual keynote speaker who spoke at AdvertisingWeek, AdWorld, MozCon, CTA Conference, MarTech Fest, DMWF, Orbit and more.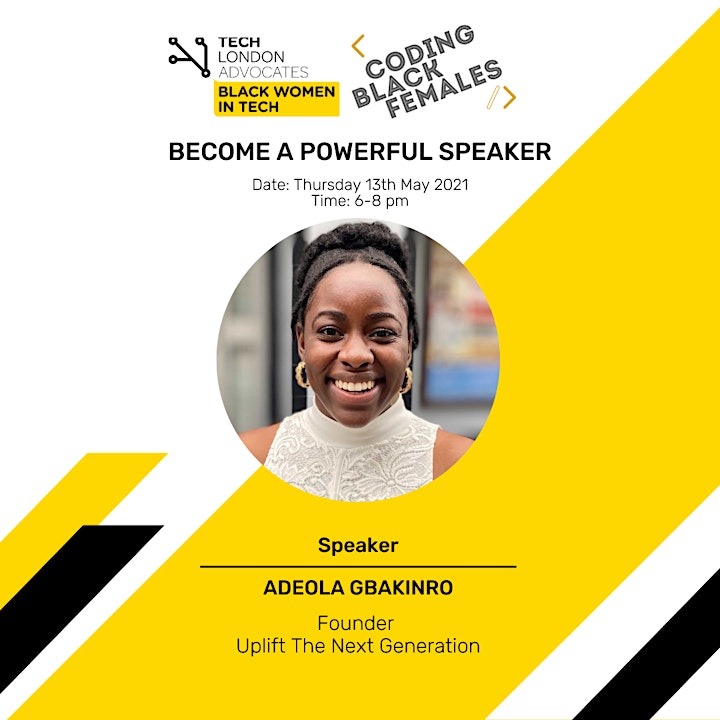 Adeola is an award-winning speaker and the founder of Uplift The Next Generation. She founded the organisation due to her own experience of facing inequalities whilst looking for career opportunities as a non-Russell group university student. Uplift The Next Generation supports young people aged 13-19 from underprivileged communities, connecting them with professionals in different industries - through annual conferences, mentorship and self-development workshops.She is also a digital freelancer specialising in social media, blog writing and web development for non-government organisations.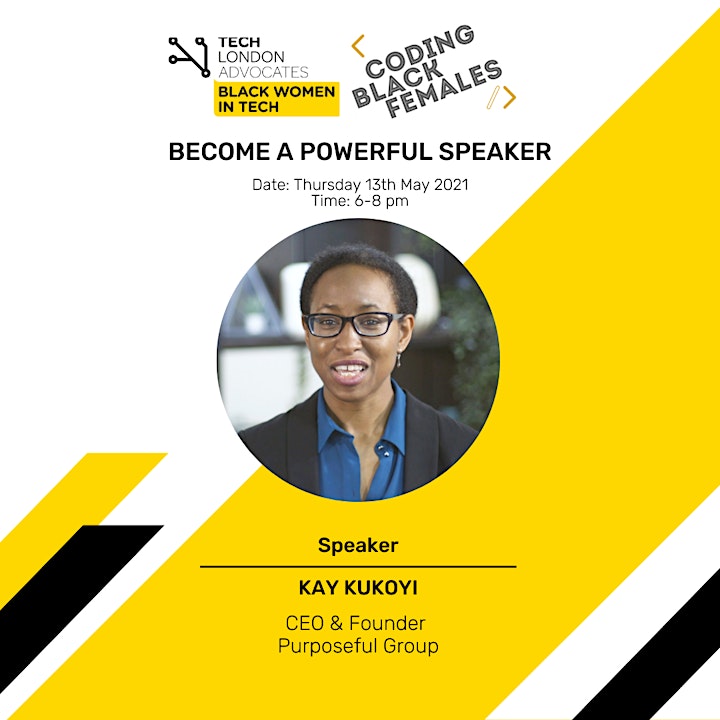 Kay Kukoyi CSM FITOL is an IT Consultant, author, speaker, and lecturer. She is the CEO and Founder of Purposeful Group. Kay has written 5 books for entrepreneurs and SMEs, and has been recognised on the #IB100, the Financial Times and Inclusive Board's list of the 100 Most Influential BAME Leaders in the UK Technology Sector.