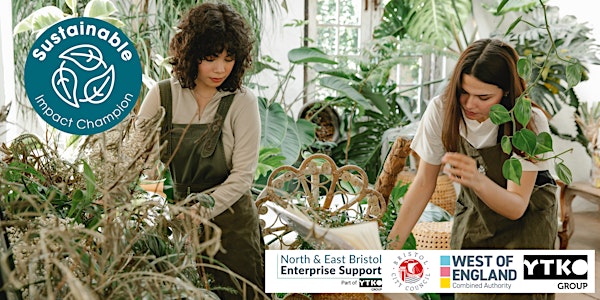 Become a Sustainable Impact Champion - Informative webinar
ONLINE EVENT - Learn more about the steps you can take to become a Sustainable Impact Champion
About this event
Become a Sustainable Impact Champion - Informative webinar
Thank you for taking an interest in becoming one of YTKO's Sustainable Impact Champions, endorsed by the West of England Combined Authority and Bristol City Council.
YTKO understands the financial, operational and behavioural challenges that businesses face in implementing an effective sustainable strategy. That's why we're offering free support to pre-start businesses, the self-employed and SMEs to make these strategies become more accessible.
The first step to becoming a Sustainable Impact Champion is to attend an introductory webinar and learn more about the support, as well as meet other businesses to learn and share experiences.
To get started, please choose a date from one of our fortnightly introductory webinars. If you have any questions about the webinar or the Sustainable Impact Champion initiative, please get in touch with us at westofengland@ytko.com
__________________________________________________________
Booking is essential as places are limited to ensure maximum learning and benefit for each participant. Please ensure that if you are unable to attend the session, that you let us know so that we can move this place to another participant.
If you require any help accessing our courses, please contact us at nebes@ytko.com .