Turn your expertise and experiences into a book that will influence and attract colleagues, collaborators and clients.
About this event
Imagine standing out in your area of expertise?
Imagine being the go-to-expert in your field?
And now imagine putting all those amazing ideas into action and finally writing your book.
It starts with discovering and acknowledging your unique angle, your special version of life and business and creating a book that provides value, sharp insights and offers solutions and answers.
And this webinar sets out to achieve these results.
Do you feel you lack motivation and discipline to write?
Have you found yourself doubting your ability to start writing?
Are you surrounded by monkey mindset monsters?
Then register for the webinar and start to ditch, dismiss and drown out those gremlins.
This month, I shall be revealing some secrets and steps to show you how to become the writer of influence and really stand out in your niche.
The secrets will show you how to:
Confidently acknowledge your expertise and recognise your accomplishments.
Tackle your topic with courage and authenticity.
Use your creativity to make your writing digestible.
I am excited to tell you that writing a business book will be the best investment you could make this year.
And I shall be talking about those powerful benefits to motivate and inspire you to start writing down your brilliant ideas and impressive experiences in a book.
It will be a high powered and fun session to show you how you can start writing a business book that will bring huge changes to your life and impact your credibility and attract clients to your business.
I will also share with you 3 Success stories of authors in different stages of their writing process.
I am a 4 times published author with more than 200 blogs on my website and many years of experience writing in several genres, from plays to poetry, scripts and articles.
Register your place today!
About the presenter
Georgia Varjas is a writer, blogger, author, coach and speaker, who empowers and encourages her clients to step up and stand out so that they can be heard, understood, and ultimately believed.
A multi-book author and blogger, Georgia has written 200 blogs about women empowerment and feminist issues and the art of writing and speaking. Her latest and 4th book Rule It! How To Step Up & Stand Out On Video, Stage & Page was published in March 2020. It is the follow-up book to The Rule Breakers Guide, published in July 2019.
Georgia is uniquely positioned as a book writing coach bringing energy, confidence, and wisdom which stems from her 25-year career as a musician, producer, performance poet, playwright and author, in the showbiz world.
She has received publicity in leading media outlets such as BBC Radio, Glamour, and Thrive Global as well as online sites and magazines including Finance Monthly, Honest Mums, Female First, Soul & Spirit, and Working Mums.
www.georgiavarjas.com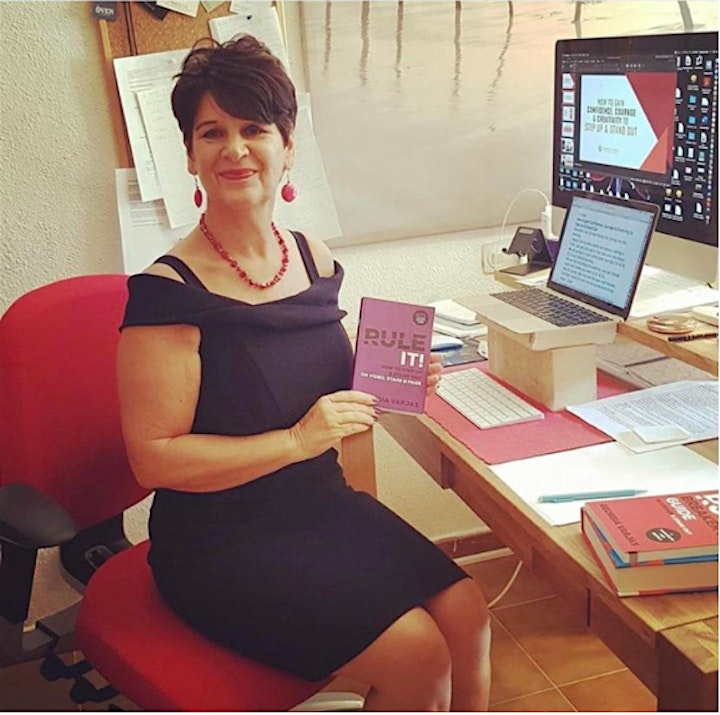 CLIENT TESTIMONIALS
"I am not a writer. I have never considered myself to be a writer.
Your positivity and encouragement always shine through and stop me from doubting myself – which I don't anymore as I truly believe that I have something to say that some people will get real value from.
Without the coaching I am almost certain that I would have stopped by now or if not, the book would not have taken the direction that it has."
- Jacqui Taylor, Director, The Bingley Physiotherapy Practice LTD
"Georgia helped me gain clarity, direction, and understand the role that the 'why' behind a book plays in moving forward with my plans to write a book to help entrepreneurs do their own PR."
- Colette Machado, PR Consultant/Coach
"The most challenging and rewarding was to find my own voice. You immediately awarded me the legitimacy to write. You acknowledged my idea, need, and started to share "how" we could make this "dream come true".
You recognized the little flame that was starting to light in my heart and provided the fuel that made it become a fire!!."
- Anne- Josée Laquerre
NB: Your registration will add you to my mailing list if you're not already subscribed. I send out regular newsletters as well as occasional updates and information. You can unsubscribe at any time and my privacy and GDPR notice are here: https://georgiavarjas.com/privacy-policy/
Organiser of Become a Writer of Influence and Dominate Your Niche