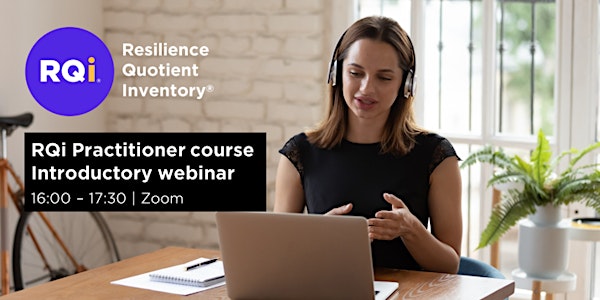 Become an RQi Resilience Coach: Free Webinar. Workplace Wellbeing Training
Learn about the RQi Resilience Programme and the benefits of becoming a certified RQi Resilience Coach.
About this event
RQi - the most comprehensive workplace resilience programme in the world.
Become trained in this critically acclaimed coaching and training tool and enable teams to manage high pressure and adversity, helping to build resilience and boost performance in the workplace.
For independent coaches and consultants with an interest in promoting resilience and wellbeing in the workplace.
LINK FOR LIVE EVENT
https://us02web.zoom.us/j/86894034895?pwd=NE1Ia0NNZk9yclVRbmdaaTlONDY3dz09
BACKGROUND
The RQi resilience programme is the best studied resilience psychometric on the market.
It offers a way of gaining new corporate clients seeking to build resilience and enhance employee wellbeing. The RQi resilience programme is trusted by some of the most successful organisations in the world, including Microsoft, Johnson & Johnson and Imperial College London.
The RQi measures beliefs, behaviours and environmental factors that enable people to cope well under stress and bounce back from adversity. It comes with individual scores and tailored recommendations for building even greater resilience.
Visit www.kirros.com/rqi.
Dr Matthew Critchlow, MD of Kirros and co-developer of the RQi, will talk about the design and development of the RQi and what's involved in training as an RQi Practitioner. There will be a Q&A session at the end.
For future RQi Resilience Coach training dates, please click here.
Terms & conditions: Places are available on a first-come, first-served basis. If you wish to cancel, please kindly inform us no later than 24 hours before the event so we can offer your place to someone else.
#kirros #kirrosconsulting #elevateyourpotential #workplacewellbeingspeakers #resiliencespeaker #workplacewellbeing #workplacewellness #workplacehealth #RQi #resiliencetraining #resiliencecoach
Become an RQi Resilience Coach.
Help teams to boost resilience and enhance performance.
Become an RQi resilience training coach