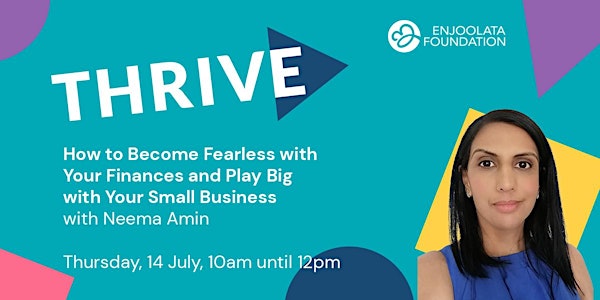 Become Fearless with Your Finances and Play Big with Your Small Business
Understand how you can manage your business finances with more confidence, so that you can achieve your future goals.
About this event
What can I expect?
In this interactive workshop, you will understand how you can manage your business finances with more confidence, in order to achieve your future goals.
In groups and individually, you will reflect on your beliefs and habits about money, and how these impact on your business decisions. You will learn new systems and tools you can use to help you manage your finances more effectively.  
By the end of this workshop, you will:
Understand your money story;
Create a holistic system for your personal and business finances using cashflow management and data to plan for future growth;
Develop your personalised blueprint to reach financial freedom.
Who will deliver this workshop?
Neema Amin MBA is a growth strategist for early-stage startups and growth-oriented individuals. As the Founder of Escape Strategist, Neema helps fledgling entrepreneurs design a sustainable business that integrates work and life whilst positioning for financial freedom. She has guided early-stage startups from ideation to funding, and helped growth-oriented professionals make the leap from an interesting project to a life-changing business that creates a legacy.
As a consultant, Neema draws on her experience from working closely with some of the biggest brands around the world and across multiple industries where she has been a trusted advisor to CEOs who want to take their business to the next level. As a trusted advisor, Neema helps her clients grow and transform their businesses by helping them to focus on what matters most and execute more effectively. In addition to running her business, Neema mentors through incubators, accelerators and universities supporting emerging entrepreneurs to launch their start-up idea and land funding.
Why is this event for women only?
This workshop is open to anyone who identifies as being a woman or a non-binary person.
This workshop is hosted by Thrive - a social enterprise on a mission to enable female solopreneurs everywhere develop the knowledge, confidence and community they need to grow a thriving, small business.
How do I get a ticket?
Tickets are free, thanks to the generous support of Enjoolata Foundation.
Booking is essential. The Zoom link to attend the event will be shared with everyone who registers for a ticket via Eventbrite. This session will not be recorded.