Discover 3 quickest ways that will see you Drop 1 Dress Size in 1 Week.
About this event
During this FREE event you will discover..
The quickest 3 ways that will give you a radical change with your weight, that are 100% natural so that you can become someone who feels far more confident, looks fabulous and has reached her first mile stone in a short space of time.
You'll get…
1. To discover what is not only blocking but stopping your weight loss
2. Uncover your NO 1 Trigger to why your body cannot access or release what is stored in your cells.
3. Realize that your nutrition and key fuel system are not working for you as they should, and what your Body Code could be telling you she wants, needs and is lacking the most.
4. Learn how to kick start a surprising brand new relationship with food and your body that gets you further and faster and to where you want to be.
5. Discover how to do this for yourself 100% safely, easily and naturally
*This Is A FREE Online Event. There Are No Costs, But Seats Are Limited
**You will receive an email with a zoom link after your registration confirmation
This is ideal for you if:
-If you are fed up with Yo-Yo dieting
-You've lost weight for a period of time followed by bouts of uncontrolled eating.
-Have feelings of guilt, shame, or embarrassment about your weight or the way you are eating
-Eat when you're not hungry, or not eat when your body needs nourishment
-Severely restrict your food intake to control your weight
-Fantasize about how much better life would be if you were a different size or weight
-Spend too much time thinking about food, arguing with yourself about what to eat or whether to eat, planning the next diet, exercise cure, or counting calories
This is not for you if:
-You have no issues and do not carrying excess weight
-Looking for a quick win to lose weight with no effort on your part
-You have never tried a diet or weight loss solution before
-You are not searching for freedom with food and your body
FAQ – Frequently asked questions.
Should I take Notes? Yes it's a good idea to take notes of key important items
Is there a minimum age requirement for this training? No this is suitable for any age
Do I need to understand about nutrition? No, This training is easy to follow without nutritional training
Is this training all about Nutrition? No, I offer a very rounded look at the body and how she operates and how all symptoms are reversible.
How can I contact the speaker? You can contact the speaker on email Fiona@fionarobertson.co
Client Visit : www.fionarobertson.co
Fiona Robertson the Body Renewer, health & fitness trained healer and coach with her specific skills in food and eating disorders.
Fiona gets to the heart of the matter with health, weight and physical symptoms, she changes the perceptions of nutrition, stress and weight management. She helps transform your mindset so that you can finally drop dress sizes.
She re-educates women how to eat again intuitively with nutrition counseling, to feel radiant on the inside and renew their bodies inside out and so how women can feel FREE and at peace with food and in her body and TURN HEADS AGAIN
She strongly advocates listening to the body cue's and messages (The psychology of eating - from cravings, persistent physical symptoms, metal over thinking, and repeated behaviors) to provide adequate fuel for her unique 'Body Code' type that will then maintain a healthy body she loves.
Fiona Robertson the one and only "Body Whisperer" — is a teacher and up and coming best-selling author of 'Girls just want to have Fun', mother and all round personality, founder of the dropping 2.2.2 and Feeling Priceless programs that see women discovering their bodies again. The Home Detox Box (home detox kit) and Retreat Biarritz (the place to have a detox, quality rest and time out)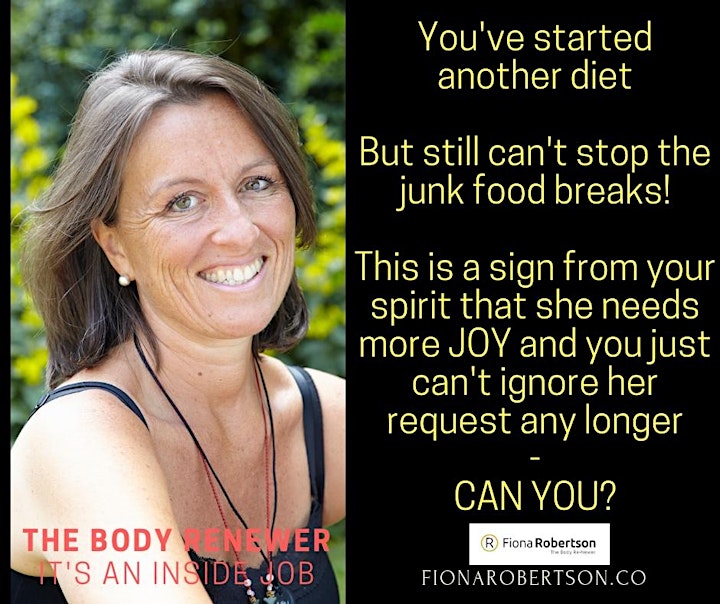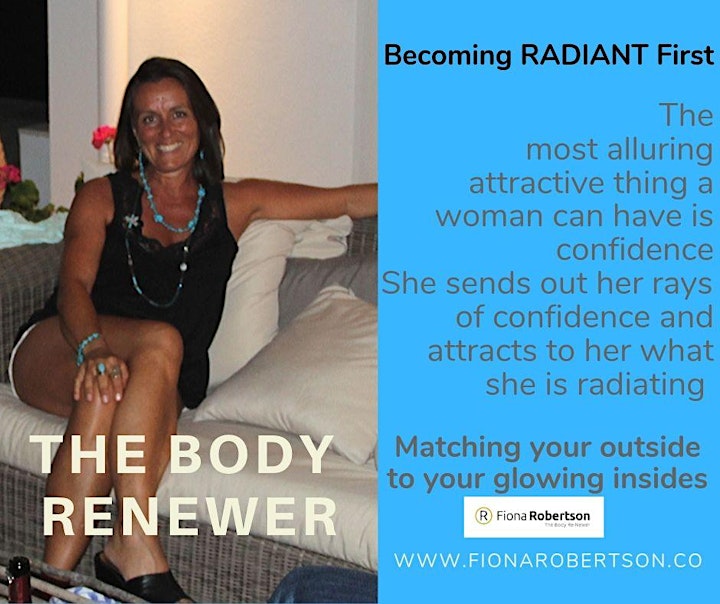 Organiser of Become Radiant & Drop 1 Dress Size In 1 Week - FREE online event
 Hey, I am Fiona and I am an intuitive 'Soul Assisted' Coach and host of The Practical Magic TV show and The Soul Assisted Spiritual Entrepreneurs School
I help soul led women reconnected with their true nature and purpose and natural intuition, so that they can make better decisions in personal life and with their business, knowing their soul is intimately guiding them
Having spend most of my life appearing confident, chatty and in control running a successful business in the UK as an entrepreneur, in my 30's with 1 divorce, 2 engagements and a business partner less, I was realising that a lot of what had happened to me was soul intervention in my life.
I discovered that behind my façade of The Good Life lay self criticism and not knowing what I really valued and what I wanted.
I was disconnected for who I was and from what I wanted out of life.
I was frustrated and un fulfilled and saw the generations before me living and settled for unsatisfied life. I decided to commit to whatever it took to deepen my relationship with myself, the universe, god and my soul and the life I wanted to create when I woke to a loud voice asking me "Do you want to be doing this in 5 years time?" Then repeating the question for 3 years and finally 1 years time. Then I knew there was something else waiting for me that I set out on a quest to discover.
So this is my personal mission and purpose: to reconnect women with their true nature as an intuitive soul assisted being, and accept their divine and soul purpose, to trust themselves before anyone else, to become so phenomenally strong and happy that no ones criticism, judgement or rejection can ever rock them. So that they can make powerful decisions in life and business with ease, knowing and trusting themselves as soul assisted in everything.
My motto is - Simple is best and Easy is right and so it is when you are soul assisted
I am your host of Soul Assisted Spiritual Entrepreneurs group and School where I take on enrolment every trimester for soul activation to trust yourself as soul and become who you are here to be.
Random & fun facts : I am a single mum of 2 gorgeous boys (now teenagers) who are soul connected and creating the life they want the way they want it.
I was guided to go travel the world for a year with a ruc sac at 39
I was guided to move live in France and raise my family here
I was guided to create the Home Detox Box and Retreat Biarritz
We have adopted a goat and bottle fed him as a baby
I have created 3 houses in France just as I wanted to experience them , I designed them from the number of bedrooms to the location and the exact price I wanted to pay without ever using an estate agent
I am very happy and honored to have you here.
I look forward to meeting you very soon on one of my LIVE Thursday calls, training sessions or breakthrough calls.
Fiona
The Agent For Your Soul