Multiple Dates
Becoming a Writer - HoneyLeaf Creative Writing Course for Beginners
Description
An introduction to creative writing for beginners with Mel Parks from HoneyLeaf Writing. We will look at the writing process, character, language, setting and point of view using prompts, games, exercises and examples from poetry and prose.
This course is for you if you:
- have always wanted to write but don't know where to start
- have been scribbling in a notebook and wonder if these ideas could turn into something else
- could do with some help bringing your writing alive.
I will share techniques, tools and tips to help:
- your writing flow
- bring your writing alive
- create a writing habit
- you understand what works well in a piece of writing
- experiment with language
- you feel part of a writing community.
There will be plenty of:
- fun exercises, writing together and reading out (if you feel comfortable)
- suggestions of things to try inbetween the weekly sessions
- a toolkit of ideas, resources and exercises you can return to when the course ends
- gentle guidance as you gain confidence in your writing
- tea and coffee to keep those words flowing.
What to bring:
Paper, pens and a willingness to try new things.
---
The course takes place on Friday mornings between 10 and 12 (except Friday 31 March - 9:30 to 11:30). This outline is a guide - the course will be tailored to suit the participants.
Week 1: Play with Language (3 Mar)
Using all the senses and imagery to bring your writing alive.
Week 2: Creating Characters (10 Mar)
How to write believable characters, giving them a voice and taking inspiration from real people.
Week 3: Building the world (17 Mar)
Describing and using place and setting as inspiration.
Week 4: Point of view (24 Mar)
Choosing between first, second and third person and why it's important. Showing not telling.

Week 5: Bringing it all together (31 Mar)
What's next, sharing writing from previous weeks, and keeping going.
If there's anything you'd like to learn and don't see covered here, just let me know.
---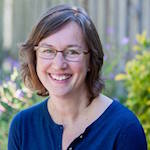 Mel Parks has been writing, editing and producing publications for 20 years. Inspired by a desire to share what she's learnt over the years, Mel started HoneyLeaf Writing - aimed at taking the stress out of the blank page with workshops, coaching and copywriting services. She runs creative writing courses and workshops in the East Grinstead and Forest Row community. Mel is also studying for a Masters in Creative Writing at Brighton University. She is a member of NUJ, NAWE and is fully insured and DBS checked.