Location
Bridewell Studios and Gallery
101 Prescot Street
Liverpool
L7 8UL
United Kingdom
Refund policy
Refunds up to 30 days before event
Bed and Breakfast is turning 1, let's celebrate together!
About this event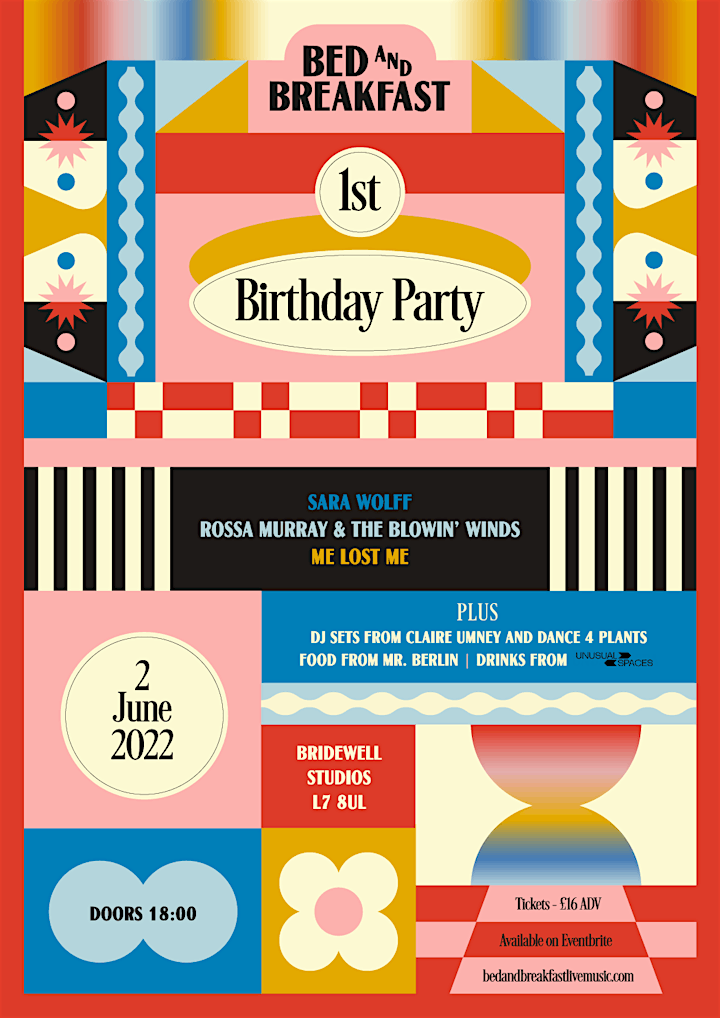 We're turning one and are throwing a huge birthday bash at Bridewell Studios with Sara Wolff, Rossa Murray and the Blowin' Winds, Me Lost Me, and more!
2 June 2022
18:00-1:00
SARA WOLFF - Sara Wolff is not good at writing about herself, but she is an independent artist and independent artists have to do that sort of thing. Her friends in Liverpool say that she makes alternative folk music. She says that's probably true, but she is influenced by a lot of other sounds too.
She released her debut EP, 'When you Left The Room', in 2021. It is an EP about fraying relationships and botched social interactions, recalling the off-kilter approach of Fiona Apple and Cate Le Bon. 
Accompanied by visuals, a cassette machine and her guitar, Sara will play time-warped versions of her EP as well as a handful of new works.
Listen here.
ROSSA MURRAY AND THE BLOWIN' WINDS - 3 piece alt-rock & Irish soul playing out of Liverpool with over 1.5 million streams from debut releases and continually packed rooms across the UK & Ireland, Rossa Murray & the blowin' winds combine emotive sounds with profound lyrics to create something truly original. New EP 'who really wants to get clean - part 1' is out 28/04/22
Listen here.
ME LOST ME - Me Lost Me is the project of Newcastle based electronic folk innovator Jayne Dent, recent recipient of the Paul Hamlyn Foundation Award for Composers and former Artist in Residence at internationally renowned concert venue The Sage Gateshead. Described by BBC Radio 6's Tom Robinson as a "brilliant peculiar noise", Me Lost Me delights in experimenting with genre and songwriting, taking influence from folk, electronica, art pop, ambient and noise music to create a beguiling mix of soaring vocals, synth, field recordings and hypnotic rhythms. Her live shows are atmospheric and playful, with a repertoire that explores storytelling and textural world-building through original songs, improvisation and reworkings of traditional ballads.
Listen here.
PLUS
DJ Sets from Claire Umney and Dance 4 Plants
Food from Mr. Berlin
Drinks from Unusual Spaces
The performance space & toilets at the Bridewell are wheelchair accessible & zero-step access is available through the back of the venue. No flashing lights/strobes will be used during the event.