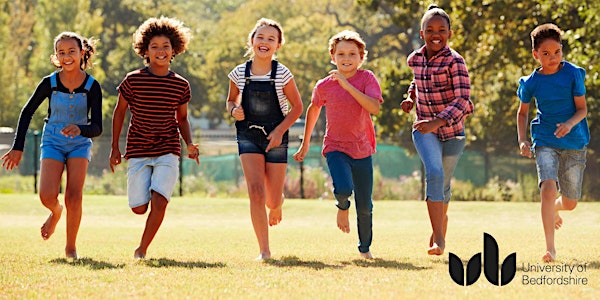 Beds Talks - Promoting young people's health and wellbeing through physical...
Description
Why is physical activity good for children and young people? How much should young people do to stay healthy? How can we encourage children and young people to become more active? These are questions that gain media interest and are often debated and misunderstood. With this in mind, we aim to help the public to understand more about physical activity for young people through this exciting event hosted at the University of Bedfordshire.
Physical activity has significant potential to transform people's lives. Not only does increased physical activity improve mental health, wellbeing, and body weight levels, it can help improve academic achievement, a sense of social belonging and reduce the risk of developing disease later in life. Despite these benefits, a large proportion of young people do not take part in sufficient levels of physical activity in our local community, nationally and across the globe. The Institute for Sport and Physical Activity Research (ISPAR) is passionate about engaging the public in discussions around how we can encourage young people to engage in more physical activity to benefit their health, wellbeing and academic development.
What will I gain from attending this event?
Knowledge of physical activity guidelines to improve health and well-being in young people.

Sign-posting to physical activity opportunities in the local community.

Strategies to support you to increase young people's physical activity levels in and outside of school, college and university.

Networking with local academics, practitioners and policy makers involved with children and young people's physical activity and education.
Date: Wednesday 29th January 2020, 17:15-20:00
Agenda
17:15-17:45 – registration and refreshments
Session 1 (17:45-18:45)
- Information talk on physical activity guidelines for children and young people
- Interactive talk on the benefits of physical activity for young people
- Interactive session on how to make a change towards increased physical activity
18:45-19:30: networking, activities and stalls related to changing physical activity in children and young people, local physical activity opportunities, and physically active games for these age groups.
Session 2 (19:30-20:00)
- Invited expert speaker
- Closing
Organising team and speakers
Dr Daniel Bailey: Senior Lecturer in Health, Nutrition & Exercise and expert in physical activity and health.
Dr Julia Zakrzewski-Fruer: Lecturer in Health, Nutrition & Exercise and contributor to 2018 UK government physical activity guidelines in children and young people.
Dr Angel Chater: Reader in Health Psychology & Behaviour Change. Chair of the British Psychological Society Division of Health Psychology and Behaviour Change Lead for the 'READY trial' investigating physical activity for the treatment of depression in adolescents.
Dr Lindsey Smith: Senior Lecturer in Sport and Physical Education (Physical Activity & Health)
Dr Paul Sammon: Senior Lecturer & PGCE Physical Education Subject Lead
Dr Andrew Mitchell: Director of ISPAR. Head of School for Sport Science & Physical Activity.
Organiser of Beds Talks - Promoting young people's health and wellbeing through physical activity