Description
BeeLive is a series of live vocals | music | dance pop-up events. BeeLive [Vol 1] launch will take place on Thu 26 April at The Lounge, Manchester.
The events are to feature young, emerging Manchester artists (18-25), who have the potential to break into the commercial market of entertainment industry. The selection of artists will be based on originality of work and performance styles.
BeeLive events will be held in a variety of settings, ranging from clubs, studios and art venues. They will feature headliners, unsigned artists and new rising talents in music, dance and spoken word.
Join the movement! xx #BeeLive

Special Guests:
Nat James
Reggie 'Roc' Gray + Andrew C + Dre Don Redman + Shellz (FlexN Brooklyn, NY)
Yandass Ndlovu
Featuring:
NoTTwins
Manni
Aleks
Tobija Wilson
Manny & Frank
See bios below
Support:
Nadia
Falyra Bloom
Scarlett-Rose Summers

Hosted by DJ SteveO (Unity Radio 92.8FM)
**Discounted Early Bird tickets available for a limited time.
**To sign up for Open Mic - send your links/videos/bio/image to Yatie@me.com or Whatsapp 07766390911 by Fri 30 Mar
**MUST BE 18 or OVER and PROVIDE VALID PHOTOGRAPHIC ID UPON ENTRY TO VENUE*
For more info, follow us @NoTTwinsUK on FB, IG, Twitter, YT
Supported by The Lounge and PNTworldwyde | PNTclothing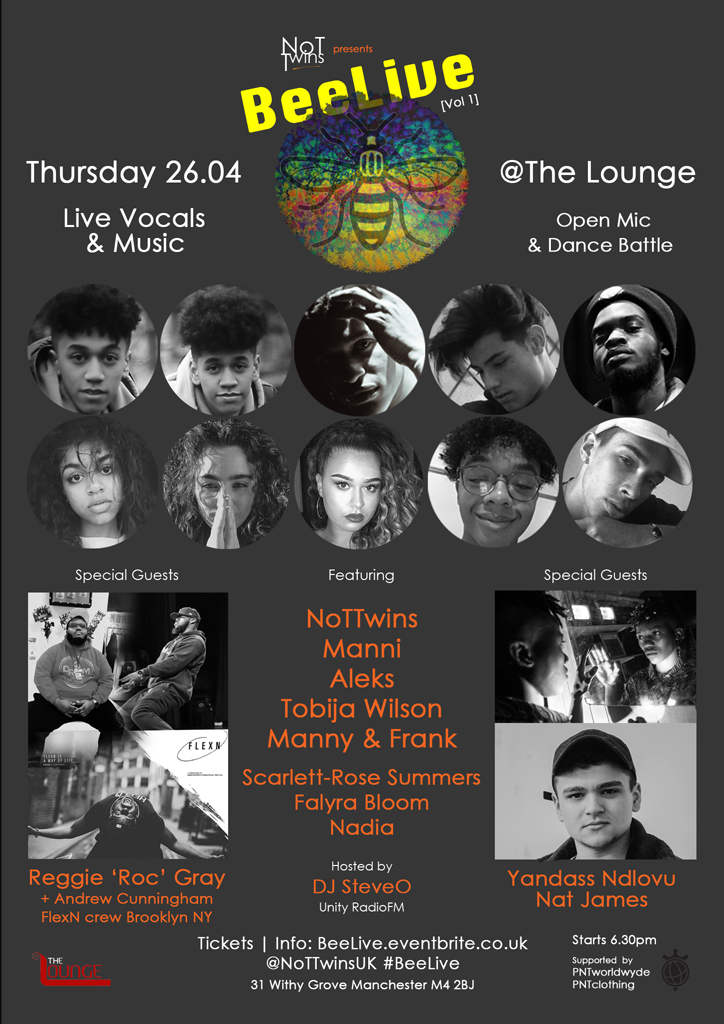 Nat James

Nat James is a deep-spirited rapper and producer with an extensive musical talent for flows and conscious lyrics. His funk/soul inspired beats have evolved to mashup Hip Hop, Trap & RnB into one captivating performance - one that has taken him to new heights with performances in Europe, United States and around the UK.
Expect dynamic sounds from his critically acclaimed debut EP 'Soul Capital', as he tours Greater Manchester to showcase new beats, bars and basslines.
Soul Capital EP on Spotify
Soul Capital EP on Apple Music
FB @NatJames
Reggie 'Roc' Gray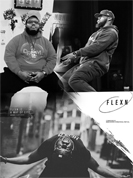 American dancer and choreographer Reggie (Regg Roc) Gray was born and raised in Brooklyn, New York. At the age of three, he became fascinated by Michael Jackson, and as a teenager, he turned to the hyper-expressive styles of dance that originated in the Jamaican street culture of Brooklyn, such as bruk-up and dancehall. He was one of the founders of a new hybrid dance form, FlexN: a combination of various styles from the local scene, such as bone breaking, pauzin, gliding, get-low, connecting, hat tricks and punchlines. The style was named after the regional TV programme Flex N Brooklyn, where local dancers showed off their latest moves.
Reggie has travelled all over the world with his award-winning dance crew Ring Masters, and in 2011 he founded a new company, named The D.R.E.A.M. RING (Dance Rules Everything Around Me). In 2015, he produced his first major choreography, FLEXN, for the Park Avenue Armory in New York. This production went on to tour the Brisbane Festival, the Festival de Marseille, the Napoli Teatro Festival, Jacob's Pillow Dance Festival, and Dartmouth College. Gray is a regular feature on American TV, for example in the third season of America's Best Dance Crew, various adverts, and in music videos for Wayne Wonder, Sean Paul, Nicki Minaj and other artists. Last year, together with his crew, he provided choreography for Public Works; The Odyssey (2015) at New York's Public Theater.
Yandass Ndlovu

Yandass is currently training in dance and performance at the Arden School of Theatre.
Theatre credits include: Jubilee, Our Town | Birth: Orchid | Nothing | Factory and Brink (Royal Exchange Theatre, Manchester).
Dance credits include: MIF's Flexn Manchester (Old Granada Studios) | Festival Number 6 (Portmeirion).
Film and Television credits include: The X Factor | Run Boy Run (Short Film).
Directing: See Me After (HOME) | Run Boy Run.
IG @Y.andass
NoTTwins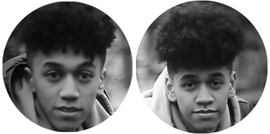 NoTTwins consists of two brothers from Manchester. Shaquille (20) is a singer-songwriter/musician who has roots in RnB and acoustic music. Shameer (19) is a rapper/dancer/producer whose style is influenced by HipHop and sub-genres. Each of them inhabits different art forms, which has been recently spread into a wider spectrum of music genres and styles.
Performance credits include: BBC1Xtra | iLuvLive | Manchester International Festival's Creative50, FlexN, What Is the City but the People? | Contact's Black Sound Series | NoSpace 'The Out Of Body EP' Launch | F*CKCONFORMITY Open Mic.
IG / FB / Twitter / YT / SoundCloud @NoTTwinsUK
Manni

Rapper/singer-songwriter and poet reigning out of Manchester UK, Manni (21) brings a new energy to the stage one can only attribute to overwhelming creativity and charisma - definitely one to look out for.
Performance credits include: The Roundhouse Slam | iLuvLive | One Mic Stand | Slam of the North | BBC 1XTRA's Words First competition | Hatch as part of Young Identity collective | BBC Radio 5 | F*CKCONFORMITY Open Mic.
FB / YT / SoundCloud @Manni
Aleks

Aleks is an 18 year-old singer-songwriter originally from Bulgaria, and has been living in Manchester for the last 5 years. When it comes to music, Aleks is self-taught in every aspect, with Michael Jackson being his main musical influence. Alek's original music is a mixture of predominately RnB, Pop and Soul.
Performance credits include: Wembley SSE Arena | Gorilla-Headlining Live and Lyrical | Deaf Institute| iLuvLive
FB @ALEKS
IG @aleksgmusic
Tobija Wilson

Tobija Wilson is a 20-year-old Manchester artist. He studies Music Technology at The Manchester College, exploring musical composition & musical transformations. Tobija manages Phunkadelic Forces founded by Chi Prophecy, Blakk Ice, Buddha Hunter (Ife Ra)+, which focuses on HipHop, R&B and Grime. He is also 1/8 member of NoSpace collective.
Performance credits include: NoSpace - The Out Of Body EP Launch | Contact's Black Sound Series | F*CKCONFORMITY Open Mic | Leanin' MCR.
SoundCloud @Tobija_MCR
MixCloud @TobijaWilson
Manny & Frank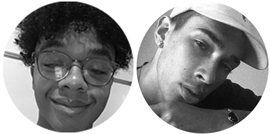 Manny (22) and Frank (21) are a pair of artists from near Cheetham Hill, Manchester. They pride themselves on innovation, which feeds their plethora of unique sounds with no two songs sounding exactly the same. Their deep references to culture, both popular and more obscure, keeps them fresh and ever growing. Layton (Manny) is Isaac Rodgers in hit CBBC show the "4 O'Clock Club".
Performance credits include: SWERVE (Curated by DJB) - Performances alongside Fumez & Sween, Pezmo and Izzie Gibbs | F*CKCONFORMITY Open Mic - performing with rising talents in Manchester.
Twitter @FrankFromM7 & @TheMannyBlake
SoundCloud @Manny&Frank
IG @lateyblake & @frankfromm7

Nadia | Scarlett-Rose Summers | Falyra Bloom
Disclaimer: all details are currently up-to-date. We apologize for any change of circumstances beyond our control on the day of the event.