BEEMS Final Conference 2014

Wednesday, 14 May 2014 from 09:00 to 16:40 (BST)
Event Details


The conference is targeted at organisations working in the Marine Renewable Energy (MRE) sector interested in common cross border or global training standards. We also welcome those in the MRE supply-chain.

La conférence s'adresse aux organisations travaillant dans le secteur des énergies marines renouvelables (EMR) et intéressées par la création de normes communes au niveau transmanche voire mondial. Nous souhaitons accueillir également les divers acteurs de la filière EMR.

Conference aims:
•    Convey the BEEMS vision: The vision for the project is the adoption of a cross-border common  standard for developing workforce employment opportunities and practices in the marine renewable energy sector, including offshore wind, wave and tidal flow, throughout the cross border region;

•    Engage with the marine renewable energy industry regarding common industry training standards;

•    Disseminate the outputs of the BEEMS project;

•    Deliver the UK launch the BEEMS Anglo-French training and education network

The conference will be chaired by Iain Shepherd, Chairman of Marine South East.

Industry speakers to include:
Ian Perryman - Technical Training Manager, Wind Power, Siemens.
Rob Moore - Client Manager, Renewables,  National Skills Academy for Power.
Anne-Claire Perrot - Maison de l'Emploi et de la Formation du Cotentin.

Delegates attending to assist with technical input include those from The Crown Estate, GROW:Offshore Wind and Renewable UK, and representatives from French governmental organisations and SMEs.

Les domaines d'intervention de la conférence seront les suivants:

•    La diffusion de la vision du projet Beems d'une commune agissant en faveur de l'emploi et de la main-d'œuvre dans le secteur des  EMR, notamment de l'éolien offshore, de l'hydrolien et de l'énergie houlomotrice, dans la zone Manche.
•    La participation des industriels des EMR à la question précitée.

•    La diffusion des résultats du projet Beems

•    Le lancement au Royaume-Uni du réseau franco-anglais de formateurs intervenant dans le  secteur des EMR.

La conférence est animée par Iain Shepherd, président de Marine South East.

Les intervenants du monde de l'industrie seront :
Ian Perryman – responsable de la formation technique, Wind Power, Siemens.
Rob Moore – responsable clientèle, énergies renouvelables, National Skills Academy for Power.
Anne-Claire Perrot - Maison de l'Emploi et de la Formation du Cotentin.

                                                          Outline Programme
                                   Southampton Solent University Conference Suite
                                                               Southampton
                                                           9:00am - 16.40pm

Timing
Activity
Speaker

09.00 -   9.30

Registration/coffee

 

09.30 - 09.45

Open conference

Dawn Baxendale, Chief Executive, Southampton City Council

Morning sessions

Marine renewable energy context and structure of day





BEEMS overview of aims and achievements

Conference Chair, Iain Shepherd, Marine South East





BEEMS Project Manager, Katie Hornby

Benefits of industry-led training standards to stakeholders and mechanisms for implementation

Ian Perryman, Siemens, Technical Training Manager

Preparation for education and training provision to support the offshore wind industry in Basse-Normandie

Anne-Claire Perrot, Responsable Pôle GPECT,




Maison De L'Emploi et de la Formation Du Cotentin

Industry, Education and Skills : BEEMS research and implementation, including :
Online Skills and Training Directory and Anglo-French Training and Education Network.

BEEMS Project partners

Conclusions and themes from the morning

Conference Chair/BEEMS project manager

13:00

Buffet Lunch

13:45 - 16:40

Afternoon session -  Register


 

Tools and techniques in securing industry-led  training standards

Rob Moore, National Skills Academy for Power

Structured and facilitated group discussions:





1.    Summarising and overcoming barriers to cross-border industry-led training and education standards for offshore marine renewables





2.   Potential follow-on projects:




Erasmus+, INTERREG5a (France) Channel (England) Programme to further develop BEEMS objectives.





3.    Visioning a cross-border offshore economy: how to manage a sustainable skills overlap between the construction and operations and maintenance phases in Marine Renewable Energy projects

Led by facilitators and technical/industry experts

Report-back on action points from three structured discussion groups

Conference Chair and BEEMS Project Manager

Conference conclusions

Conference Chair and BEEMS Project Manager

Speaker Biographies:

Iain Shepherd, Marine Systems Group of MARCOM Defence
Iain Shepherd has worked in the Marine Industry for over 40 years, having studied at the Britannia Royal Naval College, US Naval Academy and the German Naval College he served in the Royal Navy for over 20 years, specialising initially in Navigation and subsequently in Underwater Warfare.  Wider staff duties included direction of major equipment trials at the USN deep water test range in the Bahamas (AUTEC) as well as trials with the US Military Space Shuttle programme.
Subsequently he has worked on a wide range of contracts in the defence and maritime industries, including a period in Shipbuilding, the Oil & Gas Industry, Fishery Protection (as an Expert Witness) the Port sector and was the Independent Consultant on the UK Prison Ship Project. 
Iain has had numerous papers and articles published on a wide variety of maritime subjects; he is a regular speaker at international conferences on Underwater & Maritime Security issues.  Iain was the invited Author of the UN paper on Automated Port Entry and Exit and has recently had published the history of Underwater Communications.
He currently manages the Marine Systems Group of MARCOM Defence, overseeing the design and production of new acoustic systems.  He is active in various Maritime Industry Forums and is Chairman of Marine South East.  He is currently acting Chair of the National Oceanography Centre Advisory Council and sits on the European Network of Maritime Clusters.
Iain was involved in the Inter-Action project to create an inter-active marine science centre for children in the Historic Portsmouth Dockyard and was invited to be an EU Ambassador of the Sea in 2007; he chaired the international Underwater Battlespace Conference in Rome in 2011 and the Anti-Submarine Warfare Conference in London in 2013.

Ian Perryman, Technical Training Manager, Siemens Energy Wind Power
I have been working for Siemens Energy Wind Power since 2012 initially as UK technical training manager and since the beginning of the year as Global Competency Manager for all technical training.  As such I am the owner of the Siemens Wind Technicians Competency Framework for all our business regions around the world.  In short this means we set the training requirements to ensure our own and sub contractor technicians have the correct level of training and competence to build our turbines.  Through this role I have been involved in setting up an installation and commissioning apprenticeship with industry.  I am also a member of the RUK Health and Safety Training Group and chair the Renewable Training Network review panel, which has been instrumental in setting a UK renewable training standard.  Prior to Siemens I had a long career in the British Royal Navy firstly as an engineer and then as a Training and Learning consultant.  Besides work my greatest passion is sailing and I have skippered a number of yachts in some of the biggest ocean-going races, such as the Sydney- Hobart and Fastnet.


Anne-Claire PERROT, Responsable Pôle GPECT, Maison de l'Emploi et de la Formation du Cotentin, Cherbourg
Français :
Je travaille depuis 11 ans à la MEF du Cotentin. J'anime l'équipe projet Energies Marines Renouvelables qui a pour objectif d'accompagner le développement de cette activité dans le Cotentin.
J'ai occupé plusieurs postes différents pour arriver aujourd'hui à celui de responsable du Pôle GPEC. Je travaille principalement sur 3 projets : le projet EMR ;  l'animation d'une plateforme de service Ressource humaine pour aider les entreprises à s'implanter ou se développer dans le cotentin. De même, je participe à la mise en œuvre d'une GPEC territoriale qui a pour objectif d'anticiper les besoins en compétences des entreprises pour les 5 ans à venir. Il y a un travail important aussi avec EDF-EN et ALSTOM mais aussi les autres acteurs industriels (DCNS-SIEMENS- CMN-VOITH- GDF) dans le cadre du développement de l'hydrolien.

Anglais:
I have been working for 11 years at MEF Cotentin. I lead the team Marine Renewable Energies which aims to support the development of this activity in the Cotentin. I held several different positions to get where I am today as Responsible GPEC Pole. I mainly work on three projects: the MRE project; the management of a human resource service to help companies to set up or expand in the Cotentin; and  similarly, I am involved in the implementation of a territorial GPEC which aims to project the skills needs of businesses 5 years ahead. I have been working on some significant projects with EDF-EN, Alstom and other industry actors (DCNS, Siemens, CMN, VOITH and GDF) within the framework of developing tidal power.


Rob Moore, Client Manager, Renewables,  National Skills Academy for Power
Rob Moore is the business solutions director for Moore Effective Solutions Ltd. Working for and alongside industry leaders Rob has spent the last 7 years focusing on the power industry skills agenda as part of the National Skills Academy for Power team, with the last 4 years focused on renewable energy skills. Rob led the industry team that created the City and Guilds Wind Turbine qualifications and has been supporting the delivery of the Wind Turbine Engineering Apprenticeship since it was launched in 2010.
Rob runs the Renewables Network Group for the National Skills Academy for Power and sits on the UK Government's Offshore Wind Programme Board skills group. He is currently developing the new renewables standards and training being used by the Energy and Efficiency Industrial Partnership, the first industrial partnership under the Employer Ownership of Skills Pilot.

Directions to venue:
There is no car parking at the venue. The nearest long stay car parks are Grosvenor Square and Bedford Place car parks. Should these car parks be full, please use the link below for details of other city centre parking facilities.
City centre parking leaflet
If you have mobility difficulties and wish to park on site, please contact us to reserve one of the accessible parking bays.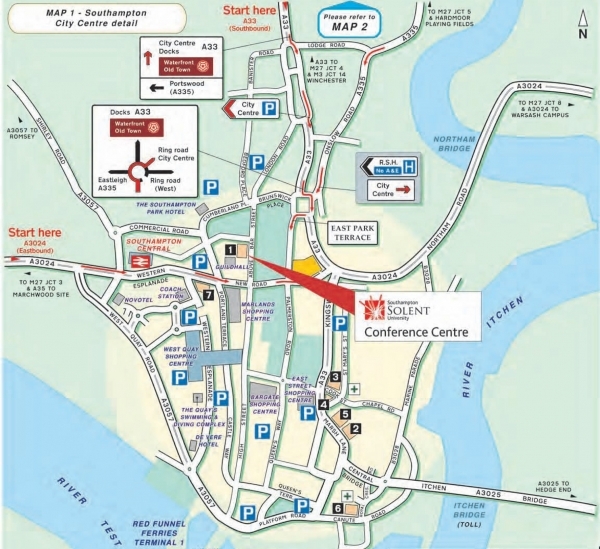 When & Where

Southampton Solent University Conference Centre
157-187 Above Bar Street
SO14 7NN Southampton
United Kingdom


Wednesday, 14 May 2014 from 09:00 to 16:40 (BST)
Add to my calendar
Organiser
CHANNEL MOR is a cluster of Marine Renewable Energy related projects which have been selected under the Interreg IV A France (Channel)-England programme.
The project aims to support small businesses in accessing MRE markets
and provide the Channel area with greater networking opportunities.
Project partners:
Bretagne Développement Innovation - Lead Partner

Chambre de commerce et d'industrie de Dieppe
Cornwall Marine Network
Maison de l'emploi et de la formation professionnelle du pays de Brest
Pôle Mer Bretagne Atlantique
Région Haute Normandie
Southampton City Council
Technopôle Brest Iroise
Technopole Cherbourg Normandie
Université du Havre
University of Chichester
University of Portsmouth