Description
BREW SCHOOL & BEER TASTING
Spend the day learning how to make beer from scratch on our full day brew school masterclass. If you love beer this is a great way to learn more about the processes and the ingredients that go into making all your favourite brews. Over the course of the day you will not only taste, smell and touch each ingredient but you will be actively brewing your own batch of beer to take home with you at the end of the day! And we will be sampling many a beer along the way, because you cant brew without a brew!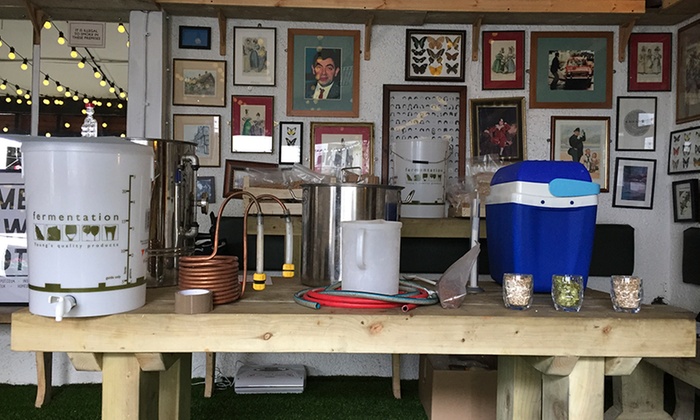 Learn about the equipment used to make beer, from 1 gallon stove-top set ups to the 5 gallon standard sized kits, all-in-one systems and huge 100 litre nanobrewery kits!

Discover all the ingredients that go into making beer, how each ingredient changes the flavour and aroma profile and what additional ingredients can be added to brew truly unique beers

Get your hands dirty! Everyone needs to muck in as each team of four brewers will share the duties of brewing a 5 gallon batch of beer to be split up and taken home on the day.

The Brewmaster will guide you throughout the day, and will lead group discussions on the craft beer industry, the home brew scene and any other beer related topics that may arise.

We will taste a selection of beers throughout the course of the day, covering a variety of styles and flavour profiles and discuss what makes each beer different form one another.

An amazing pub lunch will be served half way through the course (vegetarian and vegan available).

Take home your beer at the end of the day! Every participant will receive a 1 gallon plastic demijohn of beer to take home and ferment. Thats a dozen bottles of your own beer.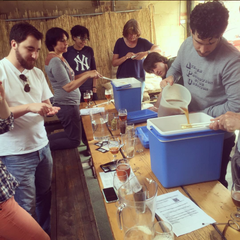 Each course runs from 12:30pm - 5:30pm (the Adam & Eve opens at 12:00). The course has a maximum of 16 participants split over four brew stations. Lunch & beer tastings are included (min four 175ml pours) and the Adam & Eve has a wide array of craft beer & real ales on offer as well.
Discounts for groups of 8 or more are available - email beerboars@gmail.com for more info
Beer Boars have been running 'Brew Schools & Beer Tastings' since 2014, and over 1000 people have taken our course since we started. Check out some testimonials below!
"Simon talked us through the science of each of the ingredients in great detail, handing round samples of different ingredients as he went. Despite the depth of detail he was never boring and I learnt a great deal of interesting information about beer" Jamie, Time Out
"Had an amazing time at the Home Brewing class. Our teacher was entertaining, personable and very knowledgable. Looking forward to trying my own beer in 3 weeks" Grimiscool, Google Review
"My dad loved his day with you. Many thanks - Louise, Groupon
"I like beer but had no experience in home brew. My overall impression was that the course was excellent, taught by a guy who knew his stuff and left me so enthused that I am converted" Martin, Time Out
"It was a great day out - learnt about beer while drinking beer and making beer. Simon was very well informed, enthusiastic and friendly. Highly recommend!" - Daniel, Google Review
Had a great time and learned a ton! I've been home brewing for a while, but most people had never brewed before. Really accessible, good instruction" - Colin, Google Review
"Great course. Very friendly and informative" - Karen, Groupon