10 New Ales, 8 New Ciders, 4 New Lagers, Cocktails, Live Music, Friends Quiz and more. Welcome to the Hogarth's Beer and Music Festival.
About this event
BEER AND MUSIC FESTIVAL 2021
Our beer and music festival is back and BIGGER than ever. With 10 ales, 10 ciders and 4 lagers you'll be spoilt for choice! For those that can't choose we offer different types of beer vouchers to ensure you can try the most for your money:
1/2 Pint
1 Pint
3 Pints
5 Pints
Ultimate Pass
Every day will host a different activity for you to enjoy, please see below for the line up.
THURSDAY NIGHT
Sorry we've been on a break, the point is no longer moo.
We're celebrating their reunion with one of our own. Our first ever is quiz is back and it's friends themed. Matched with our beer festival you'll bet tested with general friends knowledge, picture, video rounds and more. £3 per person and max teams of six, because that's a good size for a friends group no?
Friends themed prizes and £60 bar tab for the winner.
BOOKING LINK
https://bit.ly/3uIGt9J
FRIDAY NIGHT
Restrictions are lifted, it's time to party and there's a lot of time to make up for.
Starting soft from 5pm with Funk Soul House from DJs Grant Dee and Dan Harrison then moving on to an old school garage rave at 10pm. With a little bit of luck you you can make it through this night!
BOOKING LINK
https://bit.ly/3fITnA9
SATURDAY NIGHT
Our loved and resident band make their first return to The Hogarth in over a year. Covering songs from Daft Punk to The Beatles there is something for everyone to sing-a-long too. Starting at 8pm then following from 10pm with a DJ set they are sure to show you a great time.
BOOKING LINK:
https://bit.ly/3fITnA9
SUNDAY OPEN MIC
Hear from Teddington's artists at the smoothest way to end your week, Hogarth's Open Mic Sundays. Its first come first serve from 6 o clock and all acts are welcome.
BOOKING LINK:
https://bit.ly/3fITnA9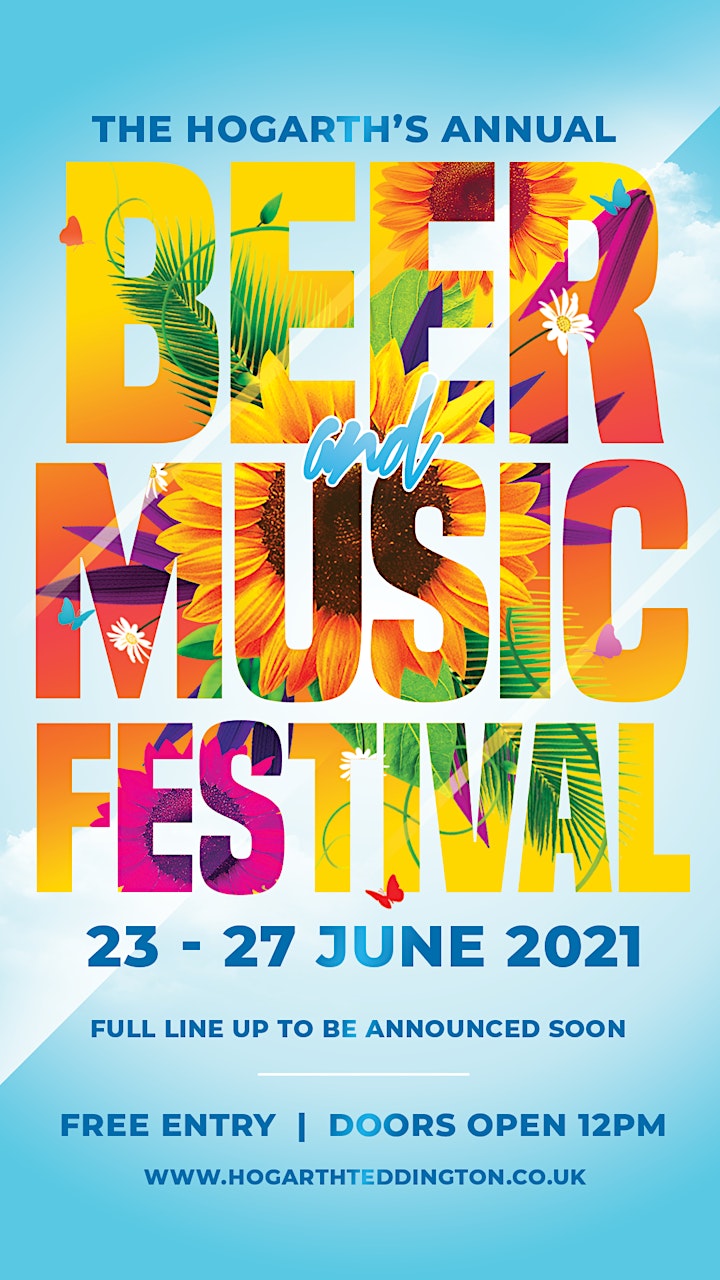 Organiser of Beer & Music Festival
The Hogarth Pub
Modern Pub, newly refurbished in the heart of Teddington.
Indepandantly owned serving modern pub quisine with american and continantal twists. Creative cocktails, stunning wines and craf beers.
Great community vibes with many excellent events!
Suntrap garden, board games, dog friendly