Description
The ultimate eco project: biodegradable Beeswax Wraps, the people and planet friendly alternative to cling film & tinfoil. They are sustainable, reusable food storage wraps that are an alternative to cling film. They are made from 100% cotton, oils and Beeswax and can be used to wrap sandwiches or top storage jars. You just use the heat from your hands to shape the wrap round your food. The wraps can simply be washed in cold water with a little bit of soap and they are ready to roll again. Once you have used your wrap to the max you can pop it on your compost!
Candy is a local BeeKeeper and will bring along her own beeswax for you to use to make these amazing versatible food wraps. We also have some beautiful cottons with fruit and vegetable designs.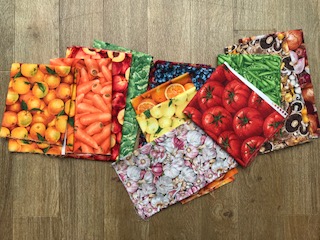 All equipment provided. Cost includes home-made cake and refresments and beeswax. There will also be Beewax on Sale during the evening, if you want to try this at home!