Beethoven 'Pastoral' Symphony - Ben Schoeman & Tessa Uys piano duet
Ben Schoeman & Tessa Uys, piano duet | Experience live classical music and an enchanting organic garden in London W8
About this event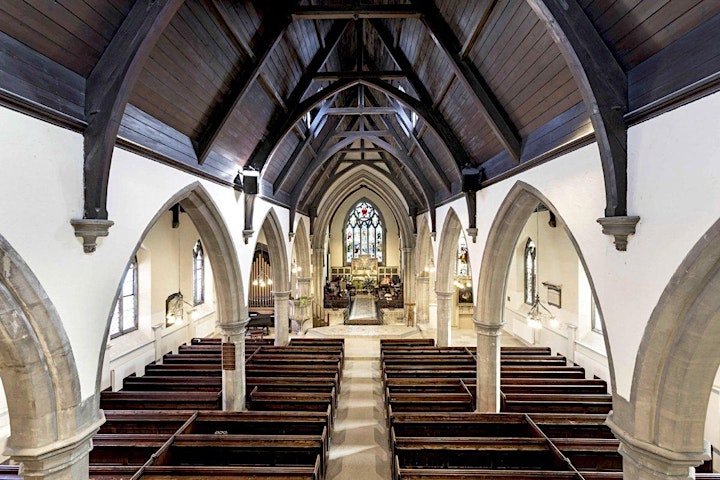 Music. Garden. Community. Every two weeks.
Concerts at Christ Church Kensington is a new concert series which brings together stunning acoustics, diverse musical talents and an enchanting organic garden in a charming neighbourhood in London.
Co-directed by Sam Barber, music director at Christ Church, and pianist Annie Yim, the inaugural concert series 2021/22 includes music ranging from the 12th century to contemporary composers. The bi-monthly lunchtime and evening concerts will feature award-winning soloists and ensembles, as well as student showcases from London music conservatoires.
As a non-profit community project, the concert series aims to pioneer a holistic approach to the concert experience. In partnership with Growing Space, a community organic garden at Christ Church, artists and audiences are invited to the enclosed garden (with covered areas) for a post-concert reception*.
WEDNESDAY 8 DECEMBER, 1 pm
Concert 3: Ben Schoeman & Tessa Uys, piano duet
Ludwig van Beethoven - Symphony no. 6 in F major, Op. 68, 'Pastorale'
Johannes Brahms - Hungarian Dances for piano four hands, WoO1
Doors open at 12:45 pm for general seating.
*Ticket holders will enjoy organic refreshments at the post-concert reception.
About Ben Schoeman & Tessa Uys
In 2010, Tessa Uys and Ben Schoeman established a duo partnership after being invited to give a two-piano recital at the Royal Over-Seas League in London. Ever since, they have performed regularly at music societies, festivals and at the BBC. In 2015, they embarked on their journey with the 9 Beethoven Symphonies transcribed for piano four hands by Franz Xaver Scharwenka. They are currently recording the complete Beethoven/Scharwenka Symphonies for SOMM Recordings.
Tessa Uys
Born in Cape Town, Tessa Uys was first taught by her mother, Helga Bassel, herself a noted concert pianist. At sixteen, she won a Royal Schools Associated Board Scholarship and continued her studies at the Royal Academy in London where she studied with Gordon Green. In her final year she was awarded the MacFarren Medal. Further studies in London with Maria Curcio, and in Siena with Guido Agosti followed. Shortly after this Tessa Uys won the Royal Over-Seas League Competition and was elected an Associate of the Royal Academy of Music.
During the past decades, Tessa Uys has established herself an impressive reputation, both as concert performer, and as a broadcasting artiste, performing at many concert venues throughout the world. She has performed at the Wigmore Hall, Southbank, Barbican and St John's Smith Square, and has played under such distinguished conductors as Sir Neville Marriner, Walter Susskind, Louis Frémaux and Nicholas Kraemer.
Ben Schoeman
Ben Schoeman was born in South Africa. He studied piano with Joseph Stanford at the University of Pretoria and then received post-graduate tuition from Boris Petrushansky, Louis Lortie, Michel Dalberto, Ronan O'Hora and Eliso Virsaladze in Imola, London and Florence. In 2016, he obtained a doctorate from City, University of London and the Guildhall School of Music and Drama. He won the first prize in the 11th UNISA International Piano Competition, the gold medal in the Royal Over-Seas League Competition, the contemporary music prize at the Cleveland International Piano Competition, and the Huberte Rupert Prize from the South African Academy for Science and Art. He has performed at the Wigmore, Barbican and Queen Elizabeth Halls in London, Carnegie Hall in New York, the Konzerthaus in Berlin, the Gulbenkian Auditorium in Lisbon and the Enescu Festival in Bucharest. Ben Schoeman is a Steinway Artist and a senior lecturer in piano and musicology at the University of Pretoria.
More about Christ Church Kensington: www.christchurchkensington.com
More about Growing Space: www. growingspace.london
COVID-19 Guidelines
In order to enjoy the concert safely, all visitors should wear a face covering indoors.
There will be a hand sanitizing station at the entrance.
We thank you for your cooperation and look forward to sharing our safe event with you.
Organizer of Beethoven 'Pastoral' Symphony - Ben Schoeman & Tessa Uys piano duet