Description
Before the Make-Over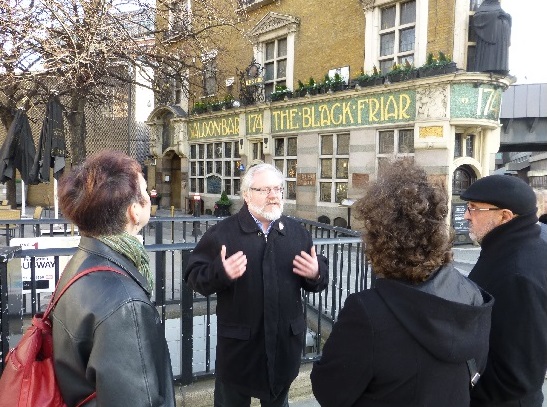 Picture: the Blackfriar by Geoff Kaye
In 1666, almost the entire City of London was destroyed by fire. Soon Sir Christopher Wren was giving the ruined City a serious make-over. Medieval London was lost forever.
Or was it?
Kings and commoners, merchants and rebels: though they are long gone, their stories have been embedded deep into the fabric of the City.
Walking the narrow streets of London, passing livery halls and hidden courts, we become aware of echoes of an earlier London, one of wine and wardrobes, trade and treachery.
As we explore medieval streets, we tune in to the echoes of London as it was in the days of the Plantagenets and Tudors, meeting the likes of Richard Whittington and Jack Cade.
Guide tel: 07982 132231.

Meet outside the entrance to Blackfriars underground station. The walk will take approximately 2 hours. For information on travel, please use Transport for London's Journey Planner.